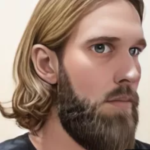 I just received this comment on the previous post:
Cesar, have you watched Adam Green of Know More News' takedowns on Christianity, arguing it's a Jewish scam? He makes many of the same points you make but in video format, posting lots of video evidence as well. If you haven't seen him I think you'll like his stuff [two links].
On Adam Green's Twitter account, I clicked on the video of the pinned tweet and I'm looking at this video. I am liking that Green sees Christianity as an extension of JQ (I wish white nationalists would pay attention to this guy).
I think tonight I'll watch the rest of the video…
11:30 pm. I've watched it. In another of Green's videos we can even see several rabbis confirming it!

______ 卐 ______

Update 18 January
See my exchange with JR1C in the comments section. I'll be watching Green's videos. As JR1C says: they are a perfect complement to what we've been saying here with purely Aryan sources (e.g. Evropa Soberana's literary legacy).
But with this corroboration from the orthodox rabbis themselves of our thesis, that Christianity is a psyop created by 1st-century rabbis, the support for our main thesis has been strengthened.
For those unfamiliar with what we have said here on the subject, see my quotations from David Skrbina's book.