Editor's note: Thanks R.W. for your contribution yesterday!
Below, some quotations from Woman Against Time: Biography and Collection of Letters and Articles of Savitri Devi (Wewelsburg Archives, 2017), a book that also contains texts from Savitri's fans and friends.
I must confess I'm truly impressed: Exactly what I feel about some species of animals she felt it too ('…seeing in the animal welfare legislation enacted in NS Germany the embodiment of cosmic law')! And what Savitri felt about the archetype of Kalki I've also felt (under the name of 'the exterminator of Neanderthals')—decades before I discovered this eccentric writer!

______ 卐 ______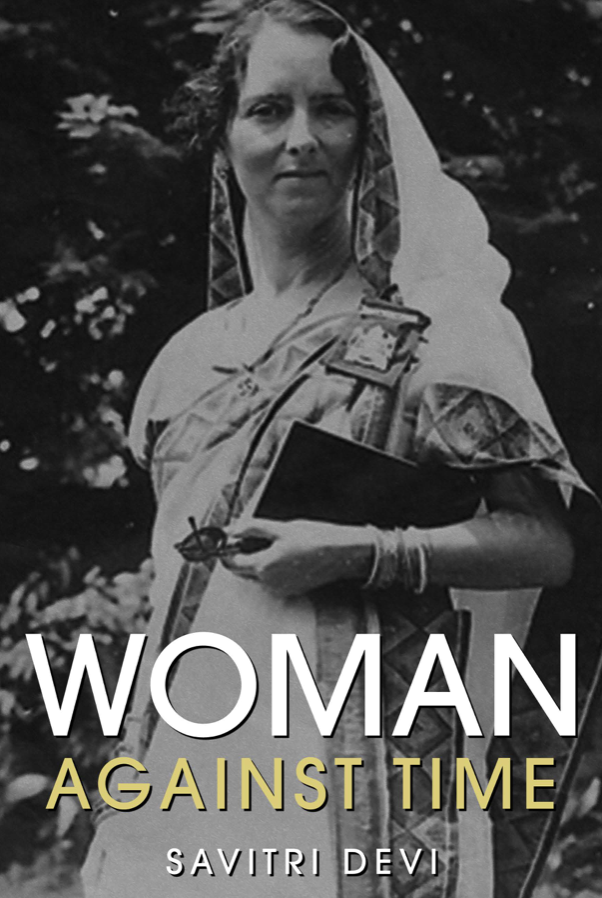 During the war, my mother—although 75 years old in 1940, 80 in 1945—joined the resistance movement in France. I did not know it naturally. There was no communication between Calcutta and Europe. She told me in 1946, when I visited her, and said also that if I had been present in France in 1944 and had actively worked against the resistance (as I then surely would have), she would have handed me over to the resistance.

______ 卐 ______

She [writes Kerry Bolton] was always a champion of animal welfare, as explicated in her last book Impeachment of Man, seeing in the animal welfare legislation enacted in NS Germany the embodiment of cosmic law…
A visit to Palestine in 1929 convinced her that Judeo-Christianity, whose outward observances in the Holy Land repelled her, was an alien intrusion into the West, distorting its natural spiritual evolution and imposing upon it a sterile monotheism and a servile philo-Semitism. It was in Palestine, she later said, that she first realised she was a National Socialist…
In 1932 she traveled to India, in search of the Aryan paganism that Judeo- Christianity had supplanted. On the subcontinent she sought 'gods and rites akin to those of ancient Greece, of ancient Rome, of ancient Britain and ancient Germany, that people of our race carried there, with the cult of the Sun, six thousand years ago'. Her exemplar was Julian the Apostate, the fourth-century emperor who briefly restored paganism and the cult of the Sun to the Roman Empire…
Savitri was eventually arrested along with a comrade in February 1949, convicted of promoting national socialist ideas, and sentenced to six years imprisonment, of which she served only seven months, returning to Lyons in the summer of 1949…
In 1953 Savitri returned illegally to Germany on a self-styled pilgrimage, lasting four years, to the holy sites of National Socialism and Germanic paganism, visiting Braunau am In, Linz (where she met Hitler's tutor), Berchtesgarden, the Berghof, the Feldherrnhalle, and Nuremberg. She lived for two years at Emsdetten in Westphalia at the home of an NS sympathiser, where she wrote Pilgrimage, completed Lightning and the Sun, and added to the stations of her pilgrimage the Hermanns-denkmal and the Externsteine, the former a monument honoring Hermann's defeat of the Romans in A.D. 9, the latter a reputed pagan solar temple, where she experienced a mystical revelation of eventual Aryan victory.
Savitri returned to India in 1957, but was back in Europe three years later. The friendships she had made during her imprisonment provided entrée into murky world of post-war national socialism—she was already on friendly terms with such luminaries as Hans Rudel, Otto Skorzeny, and Leon Degrelle—and while living in London she became involved with the politics of the British Racial Right, attending, along with George Lincoln Rockwell, the international WUNS conference in the Cotswolds in 1962, site of the famous Cotswold Declaration…

______ 卐 ______

The New Mercury [writes R.G. Fowler] was closed by the British in late 1937 or early 1938, and all copies were confiscated… In January 2004, I traveled to India to do research on Savitri Devi and A.K. Mukherji. I searched without success in the National Archives in New Delhi and the National Library in Calcutta for copies of Bishan, Dhruba, the New Mercury, and The Eastern Economist. Copies of the New Mercury may still exist, however, in archives in England, Italy, and Germany. And copies of The Eastern Economist may still come to light in Japan. Any information about surviving copies of these periodicals would be greatly appreciated…
______ 卐 ______

I [Subrata Banerjee] remember her [Savitri] telling me once that animals were better than human beings…
She could not stand loud noise. The flat she used to live in, in Calcutta, was on a busy street and noisy. She used to plug her ears with the pillow and sometimes even sought refuge from the noise in the bathroom… She was known in the locality as the memsahib [White lady] who fed cats and dogs in the streets. That is how I located her residence. The place reeked with foul animal smells. [Editor's Note: This is something I would never do at home.]
On 30 March 1981, she suffered a stroke which left her with partial paralysis on her right side, making it impossible for her to live on her own.
Subrata Banerjee's closing reflections on Savitri [writes Fowler] are also interesting: 'I could never accept her fundamentalist Hindu and Nazi views, but I remember my aunt as a very warm and loving person and even a lovable one, possibly because of her eccentricities'.
______ 卐 ______

I [Muriel Gantry] put the TV on for a short time to watch my usual soap-operas. But had to stop it as she got so upset… She said years ago that she would ban all radio and TV save for half an hour a day of propaganda…
I did get rid of a great deal of Savitri's correspondence, but I did so at night—it would have looked odd had anyone come in while I was burning all that paper. [Editor's Note: This was a crime. The next paragraphs are taken from Fowler's self-interview:]

______ 卐 ______

Everyone wants to know more about the woman who worshiped Hitler as a divine avatar; the woman who criticised Hitler for being too kind; the woman who advocated animal rights but not human rights; the woman who would ban medical experiments on animals and do them on people instead—who would prefer to eat the flesh of an enemy than of an innocent lamb. But what is even more surprising than these views is the fact that Savitri Devi provides a consistent rationale for them…
Savitri Devi, who claimed quite candidly that she was a sceptic about the literal existence of the gods, but had an overwhelming desire to worship them nonetheless…
In my short essay on Savitri Devi and Paul of Tarsus, 'Enemy and Exemplar', I argue that Savitri understood her project to be analogous to that of Saint Paul. Paul took the life and ideas of Jesus, a failed prophet or perhaps merely a would-be revolutionary [Editor's Note: Savitri ignored that Jesus did not exist] and created a religion that eventually triumphed over Rome and all of Europe.
Savitri Devi wished to be the Saint Paul to Hitler's Christ. She too took a failed political leader and transformed him into a divine avatar around which she hoped to crystallise a religion that would serve as a vehicle for the eventual triumph of his ideas. This is a remarkably grandiose ambition for such a modest lady!
Her plans may be grandiose, but I hasten to add that this does not make them absurd or impracticable. After all, it took more than 300 years for Paul's creation to triumph over Rome.
Savitri Devi died in 1982. Since then, interest in her works has grown dramatically. The religion she envisioned may indeed be taking shape. I would love to know what sort of impact Savitri Devi will have three centuries hence. If there are any white people left on the planet, I would like to think that Savitri Devi would have played no small part in ensuring their survival.
Savitri wanted very badly to go to Germany during Adolf Hitler's time. World War II prevented her from ever going and seeing the nation and people she idolised and loved so much in her writings. But if she had, how do you think Adolf Hitler and the others would have received her?
I think that Savitri Devi would have been well-received by German National Socialists. She would have impressed them as a sincere, intelligent, talented, and energetic National Socialist. I am sure that they would have found a way to fully mobilise her talents for the cause. Even her eccentricities would not have held her back, for the National Socialist leadership was filled with artistic, even bohemian types and remarkably free of bourgeois prigs.

______ 卐 ______

Letter to Miguel Serrano:
My spontaneous answer to the six million story was: 'A pity is was not sixteen million! Then the Jewish question would have been well-solved!'
Letter to Matt Koehl:
I had planned to sell my gold jewelry for the printing of this book. Unfortunately, on l March 1974 at 8 p.m. in a scooter carrying me (or expected to carry me) a short distance from here, I was assaulted by a man who jumped in the scooter, with the agreement of the driver, who at once pulled down the flaps, gagged me, sat on me to keep me immobile, and stripped me of all I had: twenty-seven gold bangles; a heavy gold chain (some one hundred grams); a big gold ring, twenty-two carat gold: my savings of sixty years…
I loved your two issues: 20 April and a later one about the events in Vietnam—in which you so clearly show what I have tried to show all my life, namely the more the human part played by our Führer—call Him 'The Prophet of a New Age', call Him a reappearance of the One-who-comes-back, when all seems lost. As I noted in The Lightning and the Sun (I have only one copy left) the Hindus called Kalki, the last incarnation of the divine spirit in our Time Cycle—the One who will destroy utterly that rot that we are taught to call 'civilisation', and open the long 'Age of Truth' (Satya Yuga) or Golden Age that will begin the next time cycle. He is the only successful man (God and Man) who fights against the stream of decay.
If our Führer had been He, He would have won. He could not win because he was not He but merely His Forerunner (as all 'Men against Time' are), and probably the last one. It was too late already, thirty or forty years ago, to give back steady power to the Best, and save what was still worth saving on earth. And it was too early for the coming of a new cycle: the Best had not yet suffered enough to deserve it. (They are suffering now in the post-1945 hell which is the world, wherever you might go.) And it will go from bad to worse. That is the price for choosing hell, instead of choosing Hitler.
It began with Yalta and the three slaves of Jewry: Roosevelt, Churchill, and Stalin… All those who (on whatever pretext) raise their hand against Adolf Hitler and His rejuvenated Germany, or allowed their governments to do so without violent, active protest, will have to go down the drain. England will contain 50,000—or perhaps 20,000 only!— real Englishmen, Aryans (Anglo-Saxons and Celts)…
And what will the 50,000 (or 20,000) English Aryans do? Curse Mr. Churchill—and gather regularly in the private solemnity of a… Hitler cult!—at last—and wait for the Avenger, and praise His ways.
What is the racially conscious Aryan humanity in the USA to do now? Keep fighting against integration, of course, and against drugs and propaganda. But, before all: have racially conscious Aryan children, and never allow the thread of pure blood to break. Until the coming of the One, a thousand times more ruthless than our Führer was, who will destroy this 'civilisation' and open the next time cycle with an Age of Truth.
25 July 1975