what I said earlier this month will come into effect. I will take the drastic step of eliminating the comments section, although that doesn't mean making it impossible for commenters to opine on this site. They will have to send me old-fashioned letters through regular mail commenting on what is said in a specific entry. If a comment comes from a priest of the fourteen words, I'll scan it and use a text converter for the discussion threads.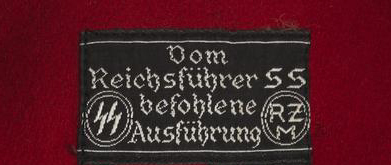 Make no mistake: Very few commenters have reached the level of commitment of SS Germans to save their race from the ongoing program of white extermination throughout the West, and I've run out of patience to continue fooling around with those misnamed 'white nationalists' who, in fact, aren't absolute fanatics of the fourteen words.
And remember that if WordPress takes down this site, the backup also appears in the link of my first line above.