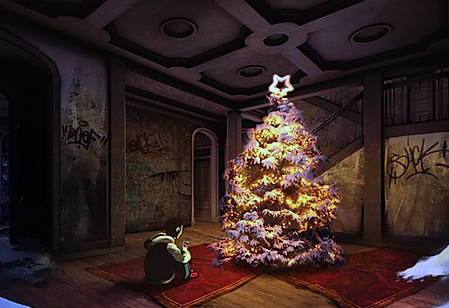 I did not share the Christmas table yesterday and today with what is left of my family after a couple of deaths. And how could I do it if they give me what I call 'air treatment'?
My so-called family has learnt that I've been writing for the last few decades. I have let them know that I write about them in the first comprehensive autobiography of a family tragedy that has been written in history. Only my nephew Cristóbal, when he was six years old, was interested in what I was doing. He is now a degenerate teenager, like the rest of my nephews (we live in the most degenerate era of the West). Although as a child he used to ask me how my literary project was going, now, a decade later, he never does it.
Before my biological family I am air, I was air, and I will continue to be treated as air: they transparent me in their minds as if I were not present.
As I have already confessed on this site, most of my life I thought that Jesus of Nazareth had not only existed, but that he was a special being. It was precisely the tragedy in such a Catholic family that killed two people and left me reduced to a kind of three-eyed crow that moved me to question my parents' religion.
This is something that many white nationalists fail to do for the simple fact that they have not faced tragedies as directly as I have. When I mentioned last year that one of my first cousins strangled his daughter and then hanged himself, even that event seems minor compared to what appears in my first ten books.
I will not explain the details of the family events here. I leave that to my readers once the English translations begin to be available as hard copies. But the point is that, as some may understand, such events force the victim to question everything hold sacred.
Since entangled in a tree I've spent my life 'seeing' the past to understand the present, I've developed the talent of being honest with the bare facts. This is the starting point to understand other issues. If one is honest at the biographical level, one becomes honest at the historical level, as history is simply the sum of the biographies of a conglomerate of people.
History and biography (or autobiography) are interconnected. Once one survives the lies of a family (see the context of this quote [1]: here) it's easier to see the historical lies. Thus, if I cannot sit at the Christmas table it's because what is left of my family plays what I call the perverse game of the happy family. (Don't be surprised that many people get depressed in the Christmas season: playing that perverse game in dysfunctional families causes depression in the most honest or sensitive members.)
I would say the same about many white nationalists. In the Christmas season they play the perverse game of a happy culture, as if the celebration of the Jew Jesus was something good for the 14 words, noble and to be celebrated.
Actually, celebrating the birth of a fictional Jew, or not condemning it openly [2], lays the foundation for Aryan decline. What we should celebrate is the birth of Leonidas, Hermann and Uncle Adolf. The mere fact that millions of whites ignore who Leonidas and Hermann were, or that they have believed the propaganda that demonises the uncle, shows how lost the fair race is.
_____________
(1) 'This other girl is powerless, helpless, trapped, and overwhelmed. She can't stop the abuse, she can't escape it, and she can't predict it. She is trapped in her family's societal denial, her age, threats, physical violence, family rules and double binds. How does the little girl cope?' (a quotation from my only book that has been translated).
(2) See for example the lukewarmness of the articles in this Christmas that appear in Counter-Currents, the 'secular' webzine of white nationalism (1, 2, 3, 4 and 5).