Or:
An opportunity to present the trauma model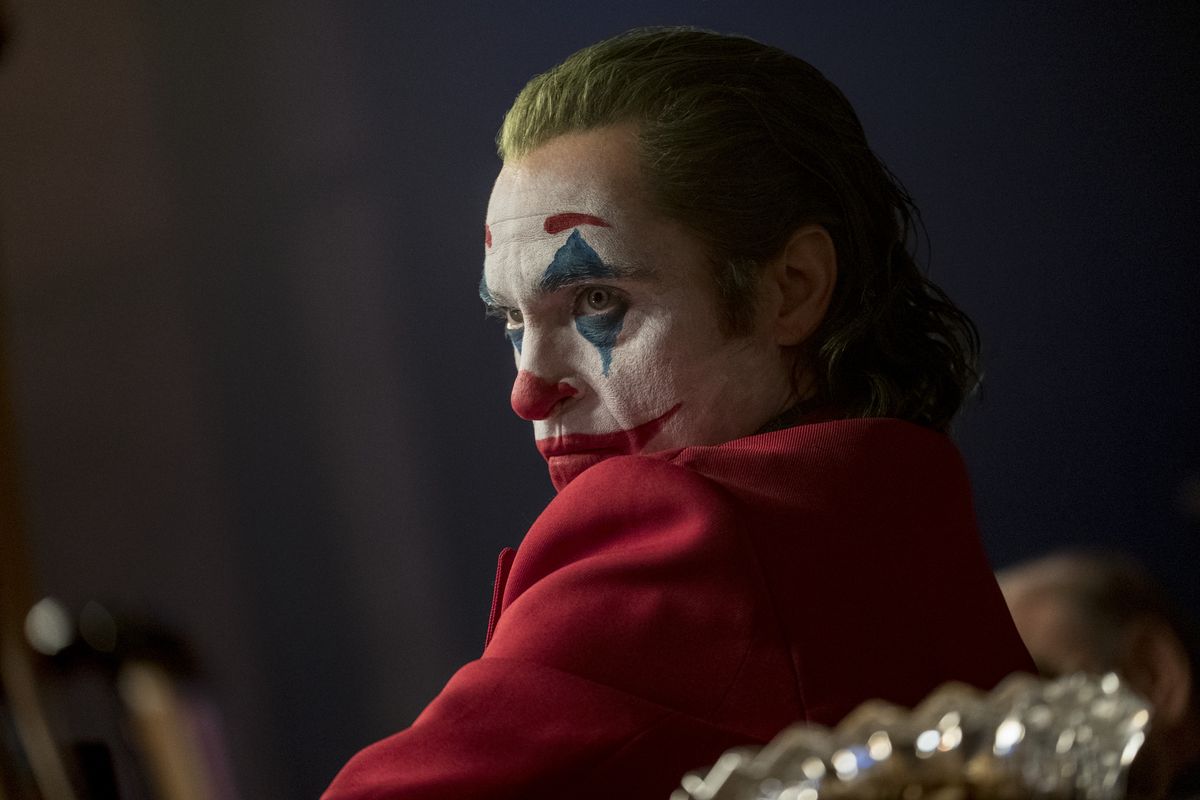 In recent years I don't usually go to the movies. If there is something I say to my nephews when I see them it is that, in the media and the cinema, all the messages are bad. But yesterday I broke my habit after watching Stefan Molyneux's video about the Joker movie.
I am glad that, as Molyneux confessed in one of his latest videos, eighty percent of his audience dropped last year. Is it because of his dishonesty about the JQ? Whatever caused the drop, from alt-lite to neo-Nazism, passing through white nationalism, Molyneux is the only notable personality in our underworld who has consistently talked about child abuse.
As the visitors of this blogsite know, I spent more decades investigating child abuse than the single decade I've dedicated to investigating the darkest hour in the West: whose report, The Fair Race, now appears as a free PDF. Since my oldest specialty is the subject of child abuse I must say that what Molyneux tells us in his one-hour video is, in general terms, correct.
The video revolves around the character Arthur Fleck / Joker, a mentally-ill man who dreams to become a stand-up comedian but so disregarded by a hellish and diverse Gotham City that decides to become a criminal. Curiously, the actor Joaquin Phoenix did not look to previous Joker actors for inspiration: he simply read some reports about political assassinations.
Hollywood movies usually lack psychological realism. For example, in the 1989 Jack Nicholson movie the Joker origin story simply falls into a vat of acid. The 2019 movie, on the other hand, gives its central character a plausible origin. So plausible that the film has been described as reminiscent of mass shootings in the US, and the incel community loved it. What's more, some people from the establishment have expressed concern that Joker could inspire real-world violence.
In a moment of the first minutes of his video, Molyneux confesses that he has received horrific verbal abuse just for mentioning the naked facts of his own childhood, and that hostility toward those who were abused as children or teenagers is not uncommon if the adult victim dares to open his mouth.
At this point I would like to distinguish between dysfunctional parents and schizogenic parents, that is, parents who literally murder their children's souls. While almost everyone I know comes from family dysfunction in one way or another, the category of schizogenic parents simply does not exist in our society. Since the 1950s the Big Pharma has ensured that civil society does not find out that there is a trauma model to understand the mental disorder that competes with its profitable medical model.
But what does all this have to do with the recent film Joker? As can be deduced from Molyneux's video, and regardless of the sinister motivation of its Jewish creators, the film could be used, by us, to present the trauma model to the public. I was the one who started this Wikipedia article on the trauma model, an academic text that appeals to the left hemisphere of our brains. He who wants to delve deeper into this research line, and in a more literary way, can read my book Day of Wrath. On the other hand, he who prefers a personal testimony that presents the trauma model appealing to our right hemisphere could read John Modrow's touching autobiography, How to Become a Schizophrenic.
Furthermore, he who is unwilling even to read any the above literature, but willing to educate himself on the subject having some fun, could see the films Shine (1996), Monster (2003), The Piano Teacher (2001) and even Artificial Intelligence by Spielberg, which can be used to grasp what proponents of the trauma model call 'the problem of attachment to the perpetrator'.
Although it may seem incredible, sometimes fairy tales portray the destructive interaction of parents with their children. In almost all fairy tales, including modern fairy tales like Kubrick/Spielberg's A.I. or Harry Potter, the parental figure is substituted so as not to touch it directly. In the case of the Potter series the abusers are Harry's uncle and aunt. As to David, the child robot in A.I., obviously he had no biological parents but Monica functions like a substitute mother. But sometimes the storyteller sneaks parents directly into the story as the villains who abandon their children (for example in Tom Thumb).
But there are more serious forms of abuse than abandoning your child in the woods, what also happened to David. What Molyneux says about not forgiving schizogenic parents is true. I would go as far as to claim that to forgive such parents is the most toxic thing for the mental health of the victim. Mine is an opposed claim to what the establishment wants us to believe.
Why is the forgiveness that religionists and therapists preach so toxic? Because it is the abusive parents and society the ones who are currently murdering young souls. As the Armenian lawyer said in Spotlight, which won the Academy Award for Best Picture in 2015: 'This city, these people [Boston people] are making the rest of us feel like we don't belong. But they're no better than us. Look at how they treat their children. Mark my words, Mr. Rezendes [another Armenian]: If it takes a village to raise a child, it takes a village to abuse one' (emphasis added).
For the victim, unilaterally forgiving the perpetrator or a society that never accepts its soul-murdering sins is simply a betrayal of oneself and the other adult victims, now suffering from mental stress and even disorders.
In addition to the first minutes of Molyneux's video, using as a paradigm the Joker's abusive interaction with his mother Penny in Gotham City, Molyneux advances ideas analogous to what I have known for a long time. Watch also the segments after minute 35 of his video: how female evil is still taboo in the film industry.
It is curious to note the chasm between those who, like Molyneux and I, have investigated child abuse due to our past, and those who did not have such destructive parenting.
Greg Johnson for example is a Batfan. In his recent review of Joker, which he writes under the penname of Trevor Lynch, Johnson prefers Heath Ledger's Joker in the 2008 The Dark Knight than the Joker of the movie released this month. Johnson expresses very derogatory of this latest Joker: 'You'd want to squash him like a bug'. 'Ledger's Joker launched a million memes, both because of his character and his lines. Phoenix's Joker will have no such influence. He's a pathetic nobody with nothing to say'. 'Arthur [the Joker] is entirely absorbed in self-pity'. 'Joker is a boring movie about a disgusting loser'.
Well, it didn't look boring to me… But the commenters on Counter-Currents who opined about Johnson's review said very similar things: 'People like him deserve to get left behind by society, and the true tragedy of this movie is that successful, well-adjusted men like Thomas Wayne insist on trying to love the Arthur Flecks of the world and take care of them'. Really? The conservative commenter also said: 'The defects like Arthur would be put in mental asylums and [eugenically] sterilized'. [1]
Such commenters remind me that, in the movie, Thomas Wayne, the billionaire father of the future Batman, labels those Gotham residents envious of the wealthy as 'clowns', not only the Joker. I don't know how many viewers enjoyed the moment when, by the end of the movie, a rioter corners the Wayne family in an alley and murders Thomas and his wife sparing the child Bruce. Another commenter said: 'One of the great things about Heath Ledger's Joker in Christopher Nolan's The Dark Knight is that he does not have an origin story'.
I dare not judge the Marvel universe as I feel deeply revolted by it. But in the real world, isn't it good to know, say, the psychopathological motivations of those women in the Charles Manson family? But the commenters' lack of elemental compassion is even noticeable about the previous Joker represented by Heath Ledger, an actor that incidentally has already passed away. In one of the dialogues the now dead Joker explains his scars. He said that his father 'comes at me with a knife. "Why so serious?" He sticks a blade in my mouth. "Let's put a smile on that face".'
This father strikes me as 'soul murderer'. Note this other phrase from the CC commenter: 'Arthur [the Joker who's alive] is far too damaged for any regular person to identify with him'.
How will a normie commenter identify with him if only one percent (or less) of Westerners have endured schizogenic parents?
Incidentally, last night, as I watched the psychological thriller, there were times when I laughed (as the character does in the film) when the audience was serious and nobody laughed. That happened to me, yesterday, in the climax of the film when the Joker kills the establishment character that Robert de Niro represented.
As I said, I usually don't go to the movies now. But decades ago the same phenomenon occurred to me with some films by Luis Buñuel, whom I met personally, in which nobody laughed. It also happened to me when I watched Dr. Strangelove by Kubrick on the big screen. I laughed at the black humour in which the nuclear extermination of humanity was at stake while the hundreds of people watching the movie with me were quiet in the theatre. Only when I read a Kubrick biography by Vincent Lobrutto did I find out that Kubrick had a very black sense of humour. Then did I understand me and the non-laugher spectators of Dr. Strangelove!
Joker ends when Arthur laughs and tells a psychiatrist that she would not understand the joke…
_____________
[1] In the comments section on Joker in Counter-Currents Johnson shows how ignorant he is about psychiatry: a supposed branch of medicine with as little scientific basis as parapsychology or the study of UFOs, as shown in my writings (for example: here). Johnson wrote 'If Arthur is adopted then his mental illness cannot be inherited from this mother'. This is a credulity stance regarding the psychiatric allegations that mental illness is genetic. Apparently, Johnson forgot what I said in one of my articles in which he himself corrected my syntax (see this piece which appears in my Hojas Susurrantes).