This text appears in Day of Wrath
______ 卐 ______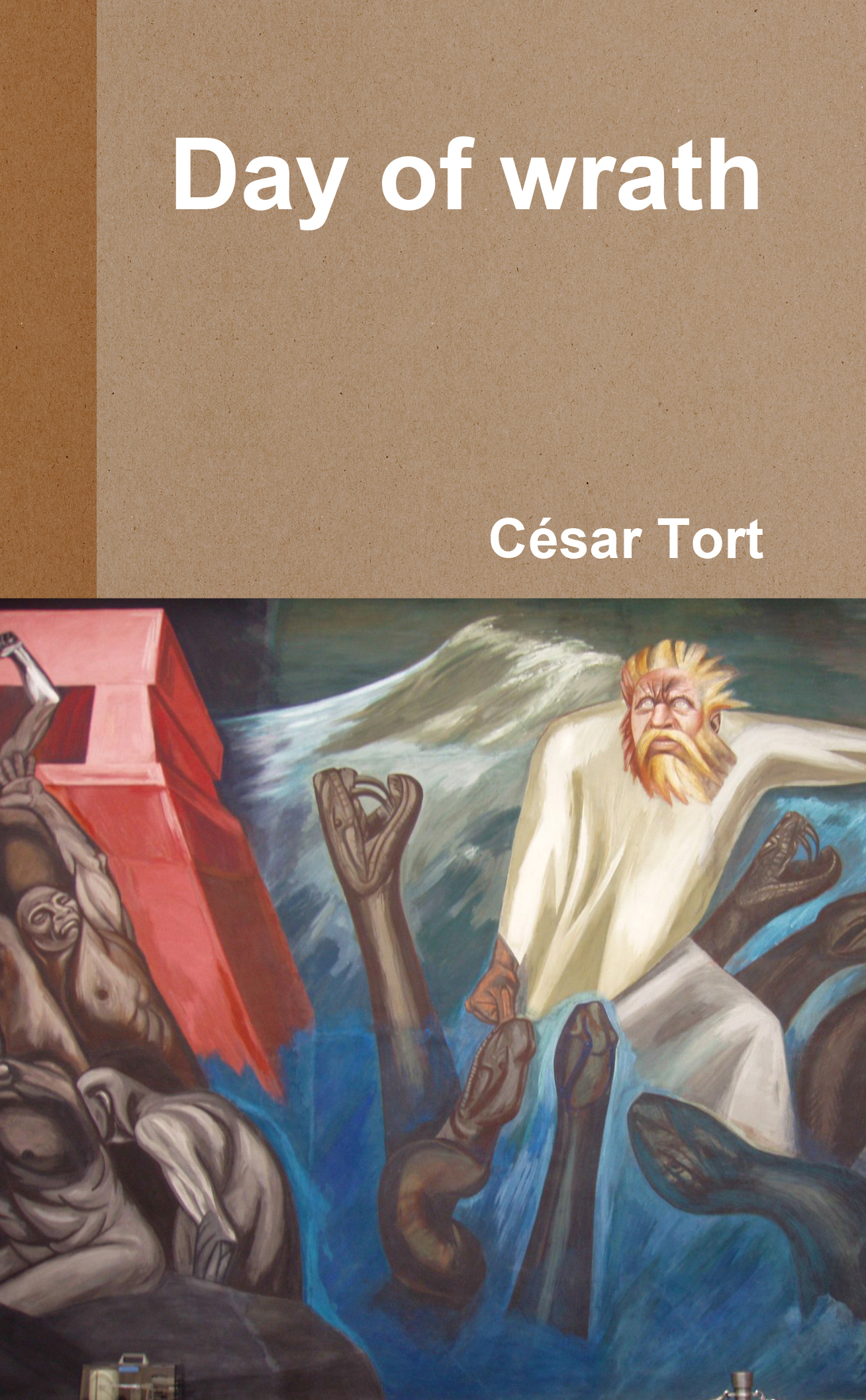 As I said in Hojas Susurrantes, in California I suffered an internal persecutor: a Christian fear of damnation caused by my father's miserable introjects. On May 24, 1988, a few months after returning from California still carrying in my soul a legion of dementors, I dined with my parents in a restaurant [I wasn't living with them]. From the street, three days before I had seen the dry branches of my tree and I believed that the tree would die so, in penance, I shaved my beard the next day after having let them grow for a few months; the only time in life I let them grow.

Saint Augustine
Before telling what happened in the restaurant I must mention that throughout my childhood I lived under the shadow of the figure of St. Augustine; as I recall, the favorite saint of my father when we lived in San Lorenzo (as we know, Augustine's ideas had been one of my greatest dementors in California). At dinner with my parents, barely convalescing from the idea that tormented me, I jumped when (my mother?) mentioned the aforementioned saint. I exclaimed that Augustine had rationalized the eternal fire for unbaptized infants… More than convalescing, the psychic wounds of my family's religion were still open, though not as maddeningly as the suffering in California. My parents felt the vehemence of my words, but not my agony behind them. What my father answered deserves to leave a record and it is worth saying that I wrote it down not in my diary, but in a single sheet. (When planning this volume I had to order my correspondence, documents and loose sheets in dozens of labeled envelopes.) According to my notes, my father answered me:
—Those [Augustine's views] are people's mistakes; human failures. I go to what Jesus says.
When I answered that the Gospel of Matthew put Jesus talking about the gnashing of teeth of the damned, he said:
—I do not see [emphasis in his voice] the anathemas of Jesus. I prefer to see the lilies and the birds; come and they will be given food, dressing be added.
On my single sheet, the following day I addressed myself: "Where is the Augustinian father of San Lorenzo? I am reacting—my Epistle [first book of Hojas Susurrantes] and anti-Christianity—against a father and a mother who no longer exist!"
I wrote that, as I said, in 1988. Today, twenty-seven years later, the dementors still persecute me somehow, although in a very much attenuated way compared to my youth. What I want to get is that, if the perpetrator does not recognize his fault, the mental virus transferred to the adult child goes out of control. If my father had been like, say, my very Catholic friend Paulina (who almost daily goes to church), another would be my story. It is not enough to point out the beautiful verses of Matthew to counterbalance the threats of Jesus about Gehenna in that same gospel. It is necessary to recognize that one committed an outrage when "educating" the son in the Christian doctrine of damnation. In one of her letters that she sent me to England by the end of the century, Paulina wrote to me: "Also, since you are not a believer, and you feel that religion was the first reason for your father to crucify you [my emphasis], you must hate religion. And I understand you. And for you it does not make sense to go to church, to say things you do not believe. And that also caused you harm (hell, torture, sadism)."
My father is not like my humble friend. In a dream I had my unconscious caricaturing him, putting in his mouth these words: "I am very Catholic because I only think of my salvation." To understand the parental egotism that affected me so much, the religious mechanism with which he defended himself from his early sufferings must be analyzed.

God for Miller fans
When I returned from California in my twenty-ninth year, I was not only an extremely damaged young man but also extremely naive. I left in the television room [of my parents' house] a number of books in English that I had brought in such a way that their covers wore the face of Jesus so that my father could see them. At that time I still believed that it was possible to negotiate my father's faith with solid arguments.
Let us take into account that with the words of Jesus it "sufficed him," and what he would tell me during the confrontation of the crucifix [recounted in a previous chapter]: that the fact that the miracles were interwoven with the teachings of Jesus implied that the story was true. I arrived in Mexico in February 1988. By the end of 1989 I began to familiarize myself with the skeptical criticism of the allegations of the paranormal by writers whose magazine I subscribed to, The Skeptical Inquirer. It was thanks to these skeptics that I saw clearly that reasoning like those of my father was fallacious. For example, that the (supposed) goodness of the teachings of Jesus demonstrates the historicity of his miracles cannot be sustained. "Logical systems get in trouble," I paraphrase now from one of the articles in The Skeptical Inquirer, "when they are forced to show their own logic to demonstrate its claims self-referentially."
When on another occasion I confronted my father with what I had read in those books whose covers he saw, I argued that the killing of the innocents could not be historical, as the historian Josephus, who belonged to the Hebrew priestly caste, does not mention it. (This historian of the 1st century did not silence any of Herod's authentically historical cruelties.) My father got angry, but he did not answer my argument. While it is more reasonable to assume that the verses of Matthew and Luke about the killing of the innocents are literary fiction, by pure reason I would never get to communicate with him. However, the writers of the CSICOP (acronym of Committee for the Skeptical Investigation of Claims of the Paranormal), as this group was then called, had a great limitation. Those who helped me overcome my belief in the miraculous narrative did not reach the core of the problem: the defense mechanism. If my grandfather and the elementary school [in the early 1930s] had not tormented the child César [my father], the adult César would not have clung to the idea of a dad God with the impregnable faith that he did. For Alice Miller, a child whose childhood was lived in an atmosphere of respect is perfectly capable of developing his self without needing the idea of a personal God; preferring, instead, human models. The child destined to be my father could not develop his psyche with worldly models. He had to project the parental luminous side onto the deity of the same religion that his parents taught him.
About five years before I wrote the Epistle [ca. 1983], my father had confessed something important that I picked up right there in the old epistle. He was in his youth completely devastated by something terrible that had happened to him, that he did not specify. He opened the gospels and, according to his words, saw the passage "Come blessed of my father…!" If, for theists like my father, a kind Father has replaced the failed human father, we should not be surprised if they experience great fear upon discovering that this substitute Father also has a dark side. My father does not know English and he did not read what I brought from the United States, but from my Spanish books he borrowed without me knowing Respuesta a Job (Answer to Job) published in 1952 by Carl Jung, of which he told me "I read everything."
At his late seventy-six years, the Swiss psychologist had dared to uncover the dark side of the God of Hebrews and Christians. The same year that I wrote the Epistle I wrote down in Answer to Job that my father had exclaimed: "A terrible book!" with great emphasis on his voice when pronouncing "terrible." Jung's essay had disturbed him so much that he had to read a pious text about Job to console himself. What Jung said about the Judeo-Christian deity is valuable to those who have entered the underworld whose door Miller opened. In May of 1991, three years after the anecdote recounted above, I noted down on the back cover of Answer to Job: "This is the only book I know of that does not criticize religion or Christians or the church: it criticizes God itself." I could not say it better today, almost a quarter of a century later. Later that year I noted down that Jung had tried to psychoanalyze God. Much later, in my rereading of 2005, I wrote down:
It is amazing how Miller-like this book can be if we only know the ABC of the mind that Jung did not know. Just replace "Yahweh" with "father" and "God" with "mother" and see what you find.
Read for example pages 25f ("Who is this that darkens counsel by words without wisdom?"). They remind me of the conversation I had with my sister in 2000, the day of the cut tree, about dad: "And who are you to…?" he said to my sister. And page 28 ("Yahweh shows Job his omnipotence with so many thunder and lightning") seems to portray how he treated me in my last confrontation, in 2004 [recounted in my book's previous chapter]. On page 31 Jung says what for a long time I have said: pride is the other side of infantilism.
Pride is the other side of infantilism. How many times have I told myself this when diagnosing my father! Almost at the beginning of his essay, Jung observes something that could be applied to my initiative to confront my father for what he did, citing the Bible: "Job 'wanted to reason with God' (Job, 13:3). Job says 'I will defend my ways before him' (13, 15)." Nice phrase, which could summarize what I have written in hundreds of pages: defend my ways before my parents and their witch doctors. Precisely as it was extremely naive of me to hope that whoever destroyed me could, at the same time, listen to my complaint, that same ingenuity had been committed by Job on another level. (Actually, on the same level if we consider that the theistic narrative is nothing but the internal struggle with the parental introjects.) In the context of the supposed goodness of Yahweh, observes Jung: "From a man who does us evil we can not wait that helps us at the same time," and already openly psychoanalyzing God he adds something that we could impute to either of my parents: "The dependence of the object is absolute when the subject does not possess self-reflection, and, consequently, does not have any vision of oneself." Like any toxic parent—I would say—, about our parental deities Jung writes: "But Yahweh is too unconscious to be 'moral'. Morality presupposes conscience."
What better indication that the idea of God is nothing but the projection of our unresolved, attachment system with our parents! (keep in mind Colin Ross' class). From this angle, the idea of providence is a parental shadow insofar as it is so full of the dark side that we see ourselves in the need to project it outwards: something that Jung himself was afraid to say. Nevertheless, the Swiss dared to write: "It was natural that humanity, superior to God in certain aspects, should remain unconscious"—unaware of the ultimate nature of the deity. The dissident disciple of Freud wrote the following in the text that scared dad: "Yahweh does not show signs of doubt, repentance or compassion, but only of cruelty and disregard. Yahweh cannot come here with the excuse of unconsciousness, for he flagrantly violates at least three of the commandments that he himself had promulgated at Sinai."
This brings back to me the fact that my moral was founded on the moralistic tablets of my father. Recall the [1960s] anecdote of Hojas Susurrantes about the "instantaneous introject" when a swarthy boy threw a stone at a helpless crab on the beach. Unfortunately, and parallel to how my father did not regret what he was doing to us, on the next page Jung writes: "Yahweh does not think… of giving Job at least some moral compensation." And two pages ahead what he says seems to be a reflection of the mentioned speech to Germancito [my nephew], when my father blamed me for my sister's behavior: "Yahweh puts things backwards, so to speak, and blames Job for what he himself does: man must not be allowed to have any opinion about God."
Shadow projected to the deity: "Parents should never be judged," my mother has told me several times. And it is that "Yahweh pays so little attention to the person of Job… that it is not difficult to see that he is totally occupied with himself," which brings back the penetrating observation of Pedro Martín Moreno and Scott Peck about evil. Later Jung speaks of the "fear of Yahweh to become conscious," which also brings back the fear of parents like mine to see their behavior.
Yahweh can project, without frowning, his face shadows on man, and remain unconscious at the expense of him…
Job knew Yahweh only of "hearsay." But now he has experienced the reality of Yahweh even more than David himself. This is an important lesson, which should not be forgotten. Job was once a simpleton; he had come to dream of a "good" God… he believed that God was truthful and faithful…

But to his horror, Job has seen that Yahweh is not a man, but that, in a certain way, he is less than a man, and that he is the same thing that Yahweh says of the Leviathan: "He is king over all the proud" (Job, 41:34).
The mistreated son by his father must not expect moral satisfaction from an intrinsically unconscious being. "I am an amoral natural power, a purely phenomenal force, that does not see its own back." Job, the son at the complete mercy of the Father whose voice of thunder crushes him when he dared to confront him, becomes, secretly, judge of the divinity.
The author of Answer to Job closes the book's chapter with these words: "The drama has been consummated for all eternity: the double nature of Yahweh has been revealed, and someone or something has seen and recorded it."