In chapter three of The Darkening Age: The Christian
Destruction of the Classical World, Catherine Nixey wrote:
A few decades after Celsus wrote On the True Doctrine, an even more monumental assault was made on the Christian faith by another Greek philosopher. It shocked the Christian community with its depth, breadth and brilliance. Yet today this philosopher's name, like Celsus's, has been all but forgotten. He was, we know, called Porphyry. We know that his attack was immense—at least fifteen books; that it was highly erudite and that it was, to the Christians, deeply upsetting. We know that it targeted Old Testament history, and poured scorn on the prophets and on the blind faith of Christians…
This much, then, is known—but not much more. And the reason we don't know is that Porphyry's works were deemed so powerful and frightening that they were completely eradicated. Constantine, the first Christian emperor—now famed for his edict of 'toleration'—started the attack.
In a letter written in the early part of the fourth century; he heaped odium on the long-dead philosopher, describing him as 'that enemy of piety'; an author of 'licentious treatises against religion'. Constantine announced that he was henceforth 'branded with infamy', overwhelmed 'with deserved reproach' and that his 'impious writings' had been destroyed.
In the same letter Constantine also consigned the works of the heretic, Arius, to the flames and announced that anyone who was found hiding one of Arius's books would be put to death.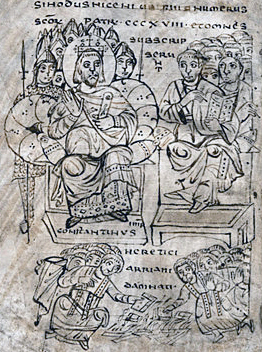 Constantine burning the above-mentioned books
(illustration from a book of canon law, ca. 825).
A century or so later, in AD 448, Porphyry's books were burned again, this time on the orders of the Christian emperors Theodosius II and Valentinian III.