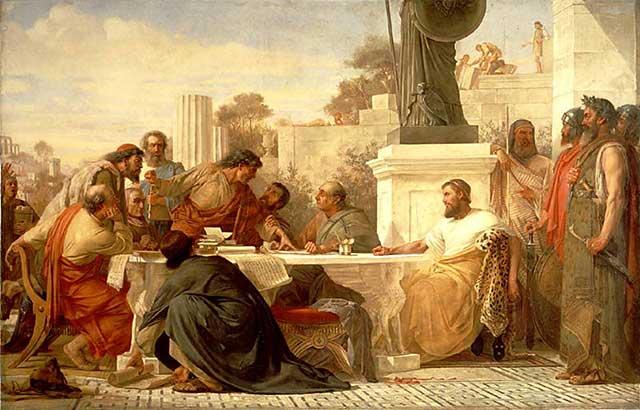 Julian presiding at a conference of Sectarians
(Edward Armitage, 1875)

Priscus: That sounds just like Ecebolius, doesn't it? Of course when Julian became emperor, Ecebolius embraced Hellenism. Then when Valentinian and Valens became co-emperors, Ecebolius threw himself down in front of the Church of the Holy Apostles, crying, "Tread on me! I am as salt which has lost its savour!" I always wondered if anybody did tread on him. I should have liked to. He changed his religion five times in thirty years and died at a fine old age, honoured by all. If there is a moral to his career, it eludes me.
I do recall that story about you and the senator's daughter. Is it true? I always suspected you were rather a lady's man, in your day of course.
Libanius: No, I shall not give Priscus the pleasure of an answer. I shall also suppress Julian's references to that old scandal. It serves no purpose to rake over the past in such a pointless way. I have always known that a story more or less along those lines was circulated about me, but this is the first time I have been confronted with it in all its malice. Envious Sophists will go to any lengths to tear down one's reputation. There was no "senator's daughter", at least not as described. The whole thing is absurd. For one thing, if I had been dismissed by the Emperor on such a charge, why was I then asked by the court to return to Constantinople in 353? Which I did, and remained there several years before coming home to Antioch.
I am far more irritated by Ecebolius' reference to my "facetiousness". That from him! I have always inclined to a grave—some feel too grave—style, only occasionally lightened by humour. Also, if I am as poor a stylist as he suggests, why am I the most imitated of living writers? Even in those days, a prince paid for my lecture notes! Incidentally, Julian says that he paid me for the lectures. That is not true. Julian paid one of my students who had a complete set of notes. He also engaged a shorthand writer to take down my conversation. I myself never took a penny from him. How tangled truth becomes.

Julian Augustus
Looking back, I seem to have followed a straight line towards my destiny. I moved from person to person as though each had been deliberately chosen for my instruction. But at the time I had only a pleasurable sense of freedom, nothing more. Nevertheless, the design of my life was taking shape and each wise man I met formed yet another link in that chain which leads towards the ultimate revelation which Plotinus has so beautifully described as "the flight of the alone to the Alone".
At Nicomedia I forged an important new link. Like most university towns, Nicomedia had a particular bath where the students assembled. The students' bath is usually the cheapest in town, though not always, for students have strange tastes and when they suddenly decide that such-and-such a tavern or bath or arcade is the one place where they most want to gather, they will then think nothing of cost or comfort.
I longed to go alone to the baths and mingle with students my own age, but Ecebolius always accompanied me. "The Chamberlain's orders," he would say, whenever we entered the baths, my two guards trailing us as though we were potential thieves in a market-place. Even in the hot room, I would be flanked by sweating guards while Ecebolius hovered near by to see that no one presented himself to me without first speaking to him. As a result, the students I wanted to meet were scared off.
But one morning Ecebolius awakened with the fever. "I must keep to my bed 'with only cruel pain for handmaid'," he said, teeth chattering. I told him how sorry I was and then, utterly happy, I left for the baths. My guards promised that once inside they would not stick too closely to me. They realized how much I wanted to be anonymous, and in those days it was possible, for I was not well known in Nicomedia. I never went into the agora, and when I attended lectures I always came in last and sat at the back.
Students go to the baths in the morning, when the admission price is cheapest. Shortly before noon I queued up and followed the mob into the changing room where I undressed at the opposite end from my two guards, who pretended to be soldiers on leave. As far as I know, I was not recognized.
Since the day was warm, I went outside to the Palestra; here the athletically inclined were doing exercises and playing games. Avoiding the inevitable group of old men who linger watchfully in the shade, I crossed to a lively-looking group, seated on a bench in the sun. They ignored me when I sat beside them.
"And you took the money?"
"I did. We all did. About a hundred of us."
"Then what happened?"
"We never went to his lectures."
"Was he angry?"
"Of course." "But not as angry as he was when…"
"… when all of us went back to Libanius!"
They laughed at what was in those days a famous story. Within a year of Libanius' arrival at Nicomedia, he was easily the most popular teacher in the city. This naturally enraged his rival Sophists, one of whom tried to buy Libanius' students away from him. The students took the man's money and continued to attend Libanius' lectures. It was a fine joke, until the furious Sophists applied to friends at court who had Libanius arrested on some spurious charge. Fortunately, he was soon freed.
Libanius: This was the beginning of my interest in penal reform. Over the years I have written a good deal on the subject, and there is some evidence that I am beginning to arouse the conscience of the East. At least our rulers are now aware of the barbarous conditions in which prisoners are held. I had never realized how truly hopeless our prison system is until I myself was incarcerated. But improvements are hard to make. Despite all evidence to the contrary, I do not think human beings are innately cruel, but they fear change of any kind. And now I am digressing.
Is this age? Just yesterday I had a most curious conversation on that subject with an old friend and colleague. I asked him why it was that nowadays whenever I address the assembly at Antioch, the senators cough and talk among themselves. I realize I am not a master of oratory, but after all what I have to say and the way in which I say it is—and I do not mean this immodestly—of obvious interest to the world. I am the most famous living writer of Greek. As quaestor, I am official spokesman for my city. "So why do people stop listening when I start to speak? And why, when the session is over and I try to talk to various senators and officials in the arcade, do they wander off when I am in midsentence, saying that they have appointments to keep, even though it is quite plain that they do not?"
"Because, my dear old friend, you have become—now you asked me to tell you the truth, remember that—a bore."
I was stunned. Of course as a professional teacher one tends to lecture rather than converse, but that is a habit most public men fall into. "But even so, I should have thought that what I was saying was of some interest…"
"It is. It always is."
"… rather than the way I say it, which may perhaps be over-explicit."
"You are too serious."
"No one can be too serious about what is important."
"Apparently the Antiochenes think otherwise."
We parted. I must say I have been thinking all day about what my colleague said. Have I aged so greatly? Have I lost my power to define and persuade? Am I too serious? I am suddenly tempted to write some sort of apologia for myself, to explain my unbecoming gravity. I must do something…. But scribbling these highly personal remarks on the back of Julian's memoirs is not the answer!