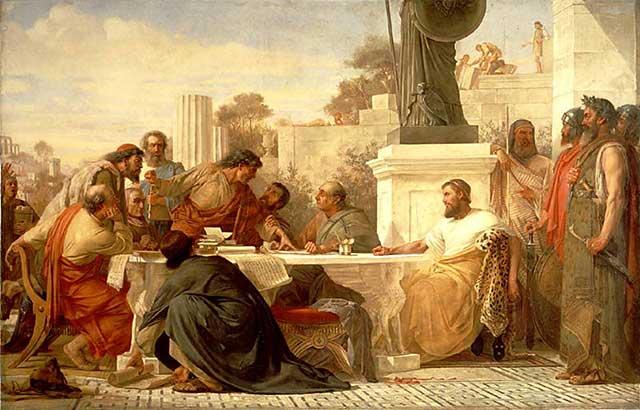 Julian presiding at a conference of Sectarians
(Edward Armitage, 1875)

We were nominally in the charge of Bishop George of Cappadocia who lived at Caesarea. He visited us at least once a month, and it was he who insisted that our education be essentially Galilean. "Because there is no reason why you should not be a priest." He pointed a long finger at me. He was a small thin man whose lean face always looked in need of shaving.
While I was respectfully trying to think of a number of reasons why I should not become a priest, Gallus with an engaging smile said, "Julian dreams of the priesthood, Bishop. It's his whole life. He does nothing but read."
"I was that way myself at your age." Bishop George looked pleased at finding this likeness.
"But I read philosophy…" I began.
"So do we all, of course. But then we come to the story of Jesus which is the beginning and the end of knowledge. But I am sure you have had a good training already from your late cousin, my old friend, the Bishop Eusebius. Those of us who are true Christians miss him greatly." Bishop George began to pace up and down the room, snapping his fingers, a characteristic habit. Gallus grinned at me, very pleased with what he had done.
Bishop George suddenly spun round; the long finger was again pointed at me.
"Homoiousios. What does that mean?"
I knew. I rattled my answer like a crow taught to speak. "It means that Jesus the son is of similar substance to God the father."
"Homoousios. What does that mean?"
"That Jesus the son is of one substance with God the father."
"The difference?"
"In the first case, Jesus was created by the father before this world began. He is God's son by grace but not by nature."
"Why?"
"Because God is one. By definition singular. God cannot be many, as the late Bishop Arius maintained at the council of Nicaea."
"Excellent." I received a series of finger-snappings as applause. "Now in the second case?"
"Homoousios in that pernicious doctrine"—I had been well drilled by old Eusebius—"which maintains that the father and the son and the holy spirit are one and the same."
"Which cannot be!"
"Which cannot be," I chirruped obediently.
"Despite what happened at Nicaea."
"Where in the year 325 Bishop Athanasius of Alexandria…"
"A mere deacon at the time…"
"Opposed my cousin Bishop Eusebius as well as Bishop Axius, and forced the council to accept the Athanasian doctrine that the father, son and holy spirit are one."
"But the battle is far from over. We are gaining ground every year. Our wise Augustus believes as we believe, as the late Bishop Arius believed. Two years ago at Antioch we Eastern bishops met to support the true doctrine. This year we shall meet again at Sardica and, with the Emperor's aid, the true believers shall once and for all destroy the doctrine of Athanasius. My son, you are to be a priest. I can tell. You have the mark. You will be a great force in the church. Tomorrow I shall send you one of my deacons. He will give you religious instruction, both of you."
"But I'm to be a soldier," said Gallus, alarmed.
"A God-fearing soldier has the strength of twenty," said Bishop George automatically. "Besides, religious training will do you no harm." And curiously enough, it was Gallus who became the devout Galilean while I, as the world knows, returned to the old ways.