by Savitri Devi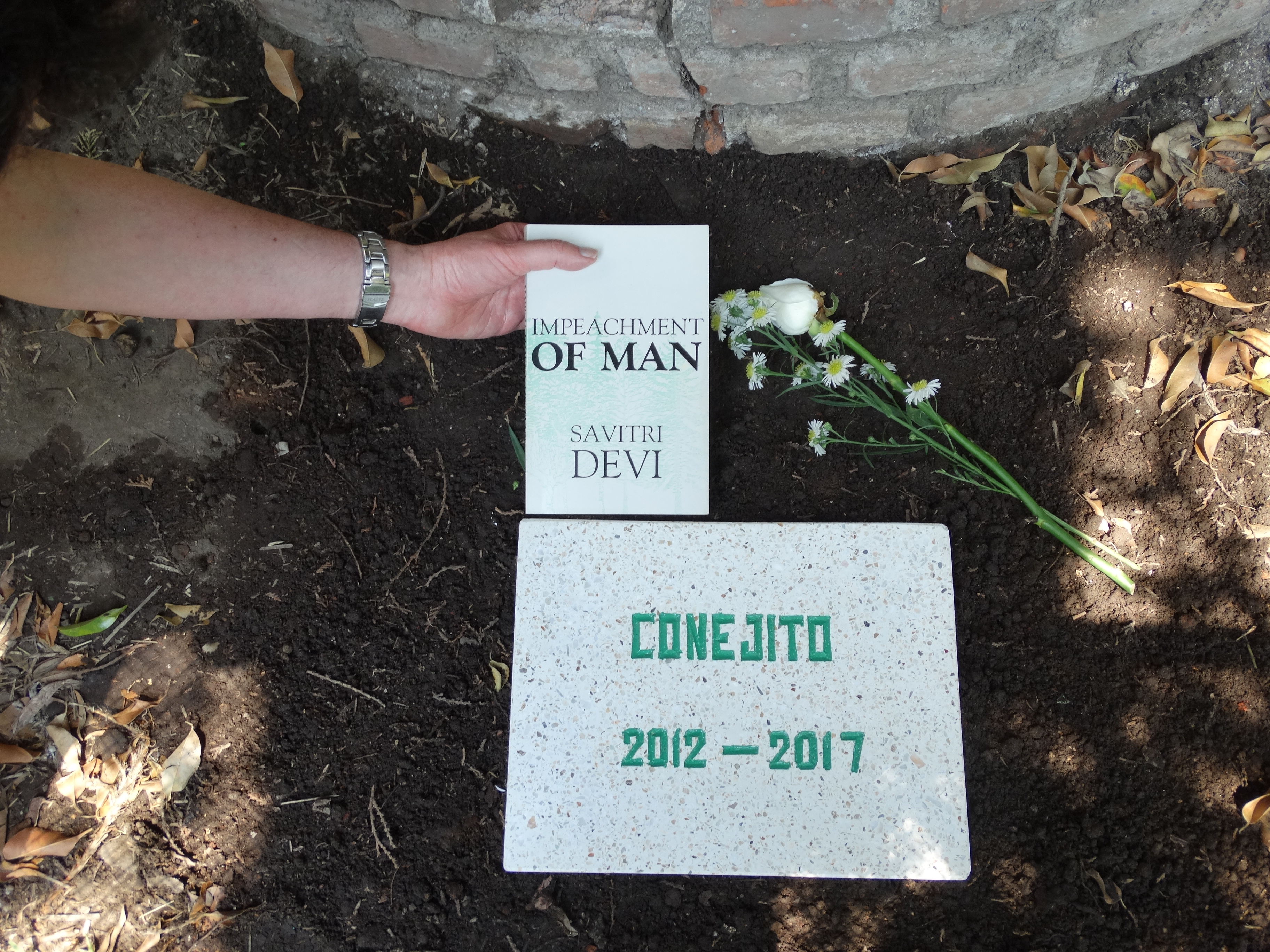 Excerpted from Chapter III: Joyous Wisdom
Western Free Thought, in all its different forms, has, as we pointed out, retained Christian ethics while doing away with Christian metaphysics. It is not other-worldly at all, but it has never preached or even conceived a love more comprehensive than that of humanity. And every one of its aspects, from Descartes to Karl Marx, is as man-centered as any philosophy can be.
In other words, there have been, and there still are philosophies "faithful to this earth." But we know of no historic civilization based upon a joyous earthly wisdom, implying active love towards all living creatures; upon a religion of this world and of this life in flesh and blood, which would be neither man-centered nor pessimistic, nor lacking truly universal kindness in the Buddhistic sense of the word. We only know of a very few individuals who have put forward such a philosophy, professed such a religion—consciously or unconsciously—from time to time.
With regard to animals—and plants—the believers in man-centered creeds seem to be governed by the mere consideration of gain and loss. They seem to be people for whom living things have a price in connection with some purpose for which they can be used, not a value in themselves. And the highest purpose they can dream of is the "service of humanity."
Why? Goodness knows. Probably because they themselves happen to be human beings. To admit the existence of something higher and more precious than "man"—and having more "rights" than he to health and enjoyment—would be to concede that man (i.e., themselves) can be justly used in the interest of that thing.
And they do not want to reach such a conclusion—surely not. They are willing to exploit living nature; but they shrink from the possibility of being themselves exploited in their turn, even in the interest of such superior beings as, for instance, inhuman Gods, or for the greater welfare of the less exalted but more tangible master races that might appear on the international stage. The result is that the only God they can think of, if any, is a man-loving God who created no master race save mankind itself, to which he gave as a birthright domination over the whole scheme of life.
Our votaries of man-centered faiths are the last people to understand the believers in the right of the superior or more efficient races to exploit the inferior or less efficient ones. Our philanthropists, burning with partial, fanatical love, who would willingly destroy the whole of the animal world in order to save one human idiot, are the last people to understand the ardent nationalist who would, with a smile, sacrifice mankind to his own country's pride. They have an altogether illogical yet undeniable fondness for human beings, but none at all or very little for other animal species, even for other mammals.
If, on the other hand, a man feels for humanity in general and for every one of his human neighbors in particular, why should he stop there? If he feels it is "wrong" not to treat other men as he would himself like to be treated, why does he not feel the same with regard to all sentient creatures?
The followers of man-centered creeds never think of that. They speak of human "rationality" and of the usefulness of human beings; yet they never ask whether the person whom they are about to help has actually made use of his capacity to better his surroundings or to work for others. They just help him—even if he be the most consummate imbecile, suffering the result of his own foolishness; even if he be the most useless, self-centered old bachelor, having never cared for anybody.
Hospitals and asylums are open to all. And in bad times food is distributed indiscriminately to all the distressed, without any enquiry into the life history of each one. It is just the fact that they are beings, outwardly at least, more like himself than others—specimens of the human race. The humanitarian is a fellow who has rejected the logic of racialism, but has kept all the sentimental partiality attached to every form of group loyalty. He has done away with the "white man's burden," and discarded the pride of the master races as too unchristian-like or too "unscientific" for him.
But he still clings—or tries to cling—to that elemental blood solidarity which is the essence of all racialism. He clings to it, after having distorted it and broadened it to such an extent that it loses all that was vital and stimulating in it, in its earlier stages, without it generously merging into the higher solidarity of all life.
Un raciste manque: that is what the humanitarian is, and nothing more, so long as he fails to transcend his man-centered ideology.