"Whites are dying because they have no defense in real life, just whining internet cowards. Every site that is pro White is White Nationalist infantile dribble. Until Whites can muster a defense without the vulgar and endless brooding [in] White Nationalism they will continue to die."
 
It's eight days now since I posted the "Syssitias" article. At a very generous estimate, pro-white discussion over the net, whether race realism, white nationalism, southern nationalism or neo-Nazism is only a mood, not a movement.
Unlike what can be read in Hitler's biography, presently a sponsor for creating a boots-on-the-ground movement doesn't exist. But what is really alarming is that thousands of pro-white men discussing in the internet don't want to fight.
Jack Frost recently reminded us that William Pierce used to say that the only way to re-educate a brainwashed individual is with a stout oaken table leg. Nothing else will work. This is my take on the subject:
1.- Presently, whites are in Happy Mood (proof is that even white nationalists are unwilling to pick real fights, as Commander Rockwell did);

2.- Right after the dollar crashes, whites, in general, will be in Angry Mood;

3.- The following months, after hungry blacks chimpout and start attacking us massively in the big cities, in the countryside whites will switch their minds to Combat Mood, a mood that is basically defensive: they will defend their farms and families from feral niggers looking for food and white pussy;
My crystal ball cannot see beyond this scenario. But if racists were not as spineless as they are today, they would know that Chaos is Opportunity and that, if Syssitia-like groups were already formed, a big window of opportunity would be opened to form cadres for these whites in Combat Mood (which again, is merely defensive provided that private guns will not be confiscated). We would educate them about the causes of the unfolding societal collapse.
Combat Mood is preliminary. My ideal brothers-in-arms would be those who are so fanatic that they are already in:
This mood has been illustrated in Pierce's The Turner Diaries. The ultimate goal for those in this mood is fighting a guerrilla war, of decades if necessary, until obtaining control of the nuke bombs of a western nation. (Which is why I am not considering Covington's novels, as he believes that a non-nuclear, neo-Nazi nation at the corner of the US, can survive without such weapons of mass destruction.)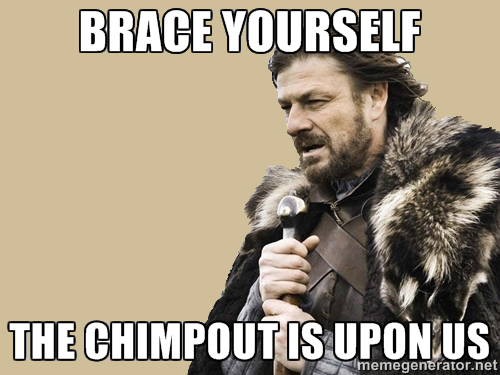 I am already in this Killing Mood but, if I won't become violent for the moment, it's because the masses of westerners are in Happy Mood and wouldn't understand such action. (See these excerpts of Pierce's second novel that illustrate my point, and also his 1968 article.)
Forming Syssitias would be the first baby step in the direction of bracing ourselves, but isn't it depressing that racially conscious whites are not preparing for The Day?