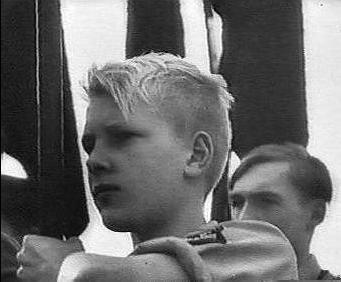 From Faith and Action (1938) by Helmut Stellrecht for the Hitler Youth:


You live by honor, not by bread. Slaves believe that they only need food and drink to live. The free man knows that he needs honor first of all.
§ Your honor is your standing with your comrades and fellow citizens. It is just as much your standing with yourself.
§ To be honorable is to be courageous. To be honorable is to be selfless and loyal. To be honorable is to be in control of oneself. He who does great things for his fatherland is honorable.
§ Honor comes not from money and possessions. But he who creates new values or gives other work through his spirit or the work of his hands can thereby win honor.
§ It is also honorable to be the son of someone noble, someone who has done much for his people and his state. But the son is unworthy of his honor if he does not win it anew.
§ Inherited honor does not last forever, but always demands work and struggle. Honor is like a crown. He who ceases to live and act like a king loses it—and has lost it, even if he still wears it on his head.
§ Not everyone can take honor from another. The insult of a boy cannot harm one's honor. But he who accepts an insult in a cowardly way loses honor before others.
§ We do not reply to an insult ourselves at first. That is why superior leaders and judges are there. But if someone hits you, hit back, and if someone strikes your face, strike him back. For we National Socialists in Germany today, there is only one honor, one concept of honor. There is no particular concept of honor for particular classes any longer. National Socialism has given us all a new common sense of honor. We know it. He who does not have it is not free, but a slave. The least important worker today can be free and honorable, the prosperous businessman a slave and a serf.
§ That is the new law, which gives honor only to the brave, the selfless, the loyal, the self controlled, those who do everything for Germany that they can.
§ The way to honor is open for every German.