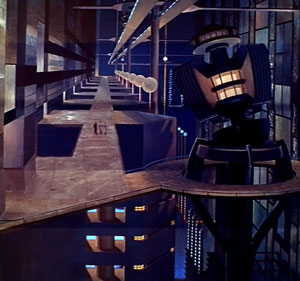 Inspired in the 1956 classic film Forbidden Planet, by "Monsters from the Id" I mean the not immediately manifest, invisible forces that are driving the white race into self-extinction. In his latest article, Sebastian Ernst Ronin wrote:
It is now two generations of White European non-birthers who ultimately have flung wide open the floodgates of mass, non-White immigration into our Occidental homes; a healthy host cannot be susceptible to a blood-sucking parasite; we are the Niggers of our own demise. This scribbler is included in this number; I am responsible.

Cultural Marxism, for all of its value as a propaganda meme to tackle the soft edges of Jewish political correctness, feminism, and popular culture, as a stand-alone discipline to shed light on racial suicide is a convenient and lazy philosophical afterthought. It is a probe of symptom rather than cause, an argument that it was a few snowflakes that blew off the iceberg onto the decks that was responsible for the sinking of the Titanic. It is an a priori juggling of first principles of most shallow dimensions. Worst of all, it is a mistake because it deflects and cloaks the necessity of having to assume responsibility for the soul sickness of self-induced racial suicide.
Recently I have leaned toward the "suicide" interpretation of what is happening to us, in contrast to the "homicide" hypothesis so popular in white nationalist circles.
International capital does not give a rat's ass for nor recognize in the least race, ethnicity, religion, gender, sexual orientation, etc., etc. What it does care for and recognize, via the economic and political decision-makers who stand behind it, is an ever-expanding consumer market and tax base to finance the Lib-Mod social programs that have been instituted in Western countries. For this reason have the doors of the Occident been thrown wide open. From the perspective of capital that has overseen and recognized a non-reproducing "market", i.e. an historically predominant White population, it was a matter of necessity, as understood by capitalists/Globalists, to fling open the doors. There is the betrayal!
And this reminds me what we have been saying about capitalism.
The betrayal of the White European race stems from deep, deep within, so deep that it is not visible or obvious for most.
My emphasis; that's why I call it a "monster from the Id."
There is little return to be had from a racial death wish, ergo little investment. Given such, why would our economic, cultural, and political elites not abandon us in droves, as they have? The first step of the revolution does not begin with the expedient and safe blurting of Jew, Jew, Jew; that is after the fact. The first step of the revolution begins upon the surface of a mirror to identify the source of weakness that has allowed the penetration of an alien and poisonous spirit. Why is it not understood by the finger-waggers that a strong and united front renders the Jew a harmless pooch? Manipulation can only occur with the full consent, be it conscious or not, of the manipulated.

From where does this existential strain of fear and self-loathing stem? The Jew, via the media and popular culture—some would claim via Christianity, may very well have implanted an extraordinary amount of shit into the White Euro psyche—, but the root of fear and self-loathing he did not. It is what makes the Jew's work so easy; it is the root of the racial death wish, and until such time as the root is dug up and discarded all else is for naught; it is pretend enlightenment. There can be no "awakening."
Ditto! And we better start acknowledging the presence of these monsters from the Id.
Much of White European nationalist discourse consists of grandiose projections about how political power will be taken back, seldom including the realization that this power has been biologically and willingly surrendered. And now, in the present? In the present, simply put, White Europeans do not have the numbers nor the requisite courage, wisdom, and commitment to counter a realistic challenge. Our racial and spiritual lifeblood bleeds in torrents from the wrist slashes that we ourselves have opened. We require a jolt of unimaginable scope and pain to possibly begin to reverse towards a gasp and grasp for life. Such a systemic jolt arrives, via the combination of Globalist cull and Gaian purge, but it is yet 20 years or so removed.
Fortunately Sebastian is wrong here. Very few nationalists have realized that Armageddon is around the corner. The dollar will crash sooner than expected, opening a window of opportunity for us.