I hate living in a parallel universe next to the white nationalist universe. If I am wrong about the central premise of this site, that Judeo-Christian morality is responsible for our misfortunes (white nationalists would simply say 'Judeo', omitting the 'Christian' part), they should refute me. But they don't: they simply ignore me.
Among the racial right folk I know online, Irishman Gaedhal has been the most erudite on the subject of Christian theology. He once said that white nationalists were more primitive than liberal Christians when it came to New Testament knowledge. Gaedhal's words came as a surprise to me. It was so obvious, but it was only when he wrote it that I realised it.
Even a famous writer who believes in the resurrection of Jesus, the Englishman Ian Wilson, is familiar with the criticism of the New Testament since the rise of biblical criticism in the Enlightenment. The white nationalists whose comments I have seen on the racial right discussion forums seem to ignore this textual criticism of the NT that began in the late 18th century (see these excerpts from Catholic Ian Wilson's book for example).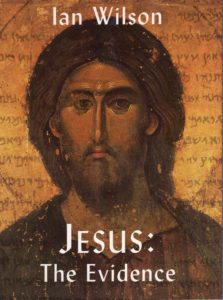 But of course: Wilson's book is only the first step in continuing to cross what I call the psychological Rubicon. If the white nationalist who holds to the faith of his parents is an honest fellow, he would not only read Wilson's introductory book, an author who remains a Christian, but those who have devoted their lives to studying the New Testament and have taken steps beyond mere Christian apologetics.
To the honest Christian who wants to save his race from extinction I would suggest, in addition to Wilson's book, to begin to familiarise himself with the videos interviewing Richard Miller (e.g., this one uploaded a couple of weeks ago), and pay attention to how the story of the Ascension to Heaven didn't originate with the pen of an evangelist, but particularly in the story of the founding God of Rome: Romulus.
For the honest Christian, these would be the first steps across the river.
The way I see the world, it is impossible to save the white race if a considerable number of whites fail to cross this Rubicon.