The kingdom of the Nibelungs
Wotan and Loge arrived in the underground realm where Alberich ruled. The Niebelheim, which means "Kingdom of the Mist", consisted of countless caverns carved out of the living rock, connected by an intricate network of long, narrow passages.
By the light of great torches that illuminated the dens, Wotan and Loge saw endless rows of Nibelungen dwarves carrying heavy chests filled with precious metals and stones.
As the two dwellers of Valhalla went deeper and deeper underground, the varied rumours of the immense workshops reached their ears, growing louder and louder and more distinct. When, at last, they came to an esplanade, they were confronted by an imposing scene: huge forges, in which great fires were burning, various metals were smelting, and upon innumerable clanging anvils, a veritable army of goldsmiths was beating. Everywhere the dwarves were bustling about, carving precious stones, filing metal edges, adjusting the locks of chests, chiselling jewels of all kinds, or carving miniatures in stone.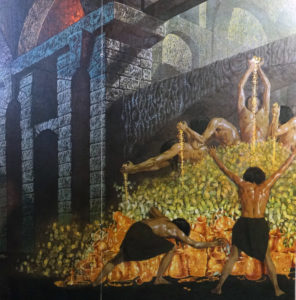 Alberich directed the activities of this grandiose workshop, encouraging the enthusiastic, stimulating the reluctant and punishing the listless who interrupted the hard work.
Mime, the most skilful forger, was the one who received the most severe reprimands. At this moment he was adjusting a burnished steel helmet that Alberich had commissioned from him. It was a magical helmet, capable of making the wearer invisible. It also had the virtue of changing its owner's countenance or form at will.
-Have you finished adjusting this helmet? -asked Alberich.
-Yes, replied Mime, I have just polished it; try it.
When the mighty Alberich had put on the magic helmet, he wished to test its virtue and uttered the mysterious command in a low voice:
Hear me, O magic helmet!
I want to see a change in me.
Listen well to my desire:
I want to be a mist.
As soon as he had recited the verses of the command, Alberich was transformed into a little cloud.
-Can you see me, Mime, he asked his assistant.
-No, I can't see you, replied the smith.
-You don't see me, but you will feel me.
And at the same instant poor Mime received a punch in the face that knocked him down.
Alberich's derisive laughter was heard, drifting away in the form of a little cloud carried by a gentle breeze.
Wotan and Loge approached the stricken dwarf, and the fire god spoke to him:
-How do you feel, Mime, resting on the hard ground?
-Resting, you say? There is no rest or tranquillity in this realm any more. Everything has changed since Alberich seized the gold of the Rhine. With that cursed gold, a ring was forged, and since then he is the master of us all. Nothing and no one dares to challenge his power. Look at the treasures his slaves are amassing.
-Why did he strike you if you are serving him, submissive and obedient?
-Because I took too long to carve him the magic helmet he ordered.
-A magic helmet? What virtues does it have?
-To make the wearer invisible, or to enable him to transform himself into another being.
-Into another known man, for example?
-In another known or unknown man, in a large or small animal, in a beast or a lamb. Didn't you see how Alberich went away from here, transformed into a cloud?
Then Mime saw the master coming and joined a team of smiths pounding on a huge anvil.
Alberich strode forward, arrogant and overbearing. From his waist hung the magic helmet. When he saw Wotan and Loge, he stopped. With a sour accent, he asked:
-Who are you and what do you want here?
-Ah, dear Nibelung! Pride and ingratitude should not accompany the great mighty. You would be ungrateful if you did not acknowledge my favours. Who lights your forges? Who heats your subterranean dens but me?
-Ah, you are Loge, the god of fire! I did not recognise you. But you have not yet told me why you have come to my kingdom.
-The fame of your power and wealth has brought us here. We have seen something, but we are finding that it has been somewhat exaggerated.
-Exaggerated? Have you seen the other caverns? Have you seen the huge row of chests full of jewels? Do you not see how my legions of miners, smelters, smiths, chisellers, carvers, setters and others work?
-Yes, yes, yes, yes! interrupted Loge in a mocking tone, to exasperate the Nibelung; we have seen all that, we know all about it.
-And so?
-Of what use is the treasure you are amassing in your subterranean caverns? No one on earth knows anything of your fabulous riches and your extraordinary power.
-The day will come when it will be known. When my treasures are enough to astonish the world, they will be brought out into the sunlight.
-How much vanity, my friend: and how much innocence! With your riches, you will arouse envy among mortals, and there will be none wanting who will kill you to seize them. It is not the first time that a rich and powerful man has fallen under the light dagger of an assassin.
-Ah, god of fire! You think you are the only cunning being. And well: to disabuse thee, I'll tell thee, that my predictions are taken. Do thou see this helmet? It is enough that I cover my head with it to transform me and even become invisible like a breath of air.
-Those are things they say, Loge replied with mock incredulity.
-Things that are said? Now you'll see!
And, putting on his helmet, Alberich pronounced the formula:
Hear me, O magic helmet!
I want to see a change in me.
Listen well to my desire:
Invisible I wish to be.
Alberich's figure disappeared from the sight of Wotan and Loge, and both gods heard the dwarf chuckle. When he regained his human form, he asked in a wry tone:
-Was the demonstration enough?
And the perfidious Loge replied:
-The prodigy of making things invisible is as old as the world among us. I would like to see how you manage to transform yourself into another being.
-Which animal do you prefer? -asked Alberich petulantly.
-An unusual animal… a dragon, for example.
-You will be pleased, Mr Doubter.
And, putting his helmet back on, the dwarf repeated the formula:
Hear me, O magic helmet!
I wish to see a change in me.
Listen well to my wish:
I want to be a great dragon.
At the same moment, a huge dragon with terrible jaws appeared in front of Wotan and Loge. Loge pretended to be terrified and signalled that he was finally convinced.
When Alberich returned to his normal figure, he awaited confirmation of his triumph from the lips of the incredulous visitor and his silent companion.
Loge took the floor and said:
-The danger of losing your immense riches is not conjured up in a dragon to guard them. It is told of some heroes who have vanquished terrible dragons and slain them. If the virtue of your helmet allowed you to take the form of a small, insignificant, harmless animal, able to hide in the crevice of a rock or the mud of a swamp… perhaps it would be more useful to free you from the lurks of your possible enemies.
-My helmet allows me any transformation. I have said it and I repeat it.
-A wretched toad, too?
-Even a toad. You shall see. And, putting on his helmet again, Alberich uttered the verses:
Hear me, O magic helmet!
I want to see a change in me.
Listen well to my wish:
I want to be a toad.
At the same moment, a disgusting toad began to hop around the two visitors.
At a signal from Loge, Wotan put a foot on the little animal and pinned it down. As soon as it returned to dwarf form, the god of fire snatched the helmet from its grasp. Alberich was pinned under the foot of the prince of the gods. Loge tied his hands with a rope, and he was pushed out of his underground redoubt.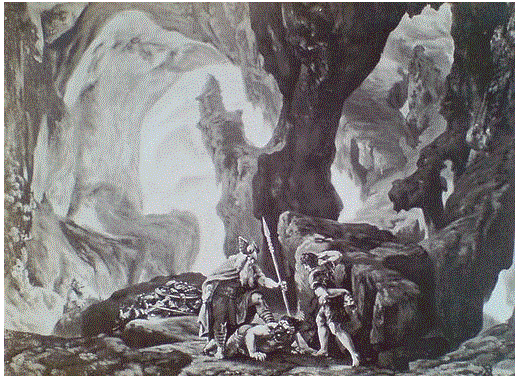 -Behold, Alberich, behold the world of men, which you wanted to dominate with your riches!
Thus spoke the god of fire, and the dwarf, begging for mercy, asked to be untied.
-You must first pay a ransom for your freedom. What do you offer?
-All my riches! -the prisoner hastened to reply.
In his mind, Alberich thought to himself: "By making the Nibelungs work, I shall soon gather new treasures."
-Well, said Loge, order your slaves to carry your chests to Valhalla.
To make myself heard and obeyed I must bring the Rhine-gold ring to my lips. Untie me.
-Endless rows of dwarves, like an army of ants with great leaves on their shoulders, carried the Nibelung's chests to the heavenly abode of the gods.
When Alberich considered his ransom paid, he demanded his freedom.
-I have nothing now; let me go.
-Not true, replied Loge; you still have something left.
-What do I have left?
-The golden ring.
-The ring I forged myself? My life before the ring! You cannot take it away from me, it is mine! Mine!
Then Wotan's voice thundered:
-Yours, you say? With what gold did you forge it? With the gold, you stole from the Undines of the Rhine?
And grabbing his hand, the god violently snatched the jewel from him.
-Away, you arrogant and perfidious thief! Sink into the black earth! That is your kingdom! Dark and miserable is your destiny!
Seeing himself free, Alberich ran towards a cleft in the rock to penetrate the bowels of the earth. Before disappearing, he turned to Wotan and uttered the following curse:
May that ring that made me powerful
May it always bring great misfortune
To him who wears it on his finger
May it be a guide to the grave.
Wotan was troubled by this curse. Ill winds had long been blowing for the gods of Valhalla. There was discord in the world among men, and they did not respect the deities as in the past. They neither worshipped the gods nor feared them.
More than once the lord of Valhalla had had to come down to earth and directly settle many matters arising from a lack of understanding among men. They had lost their cordiality. Good feelings had been stifled. Violent passions and crooked inclinations prevailed. Vices were rife.
Worst of all… was that some of the gods, subjects of Wotan, had also been caught at fault. He himself, the great lord of Valhalla, the keeper of order, the maintainer of discipline, the upholder of justice, had had to resort to violence to fulfil his plans.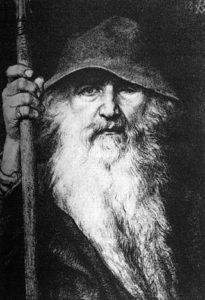 Odin/ Wōden/ Wotan, in his guise as
a wanderer by Georg von Rosen (1886)
Wotan thought that the infringement of the divine laws was going to have disastrous consequences for Valhalla: "Fate is not to be trifled with," he reflected; and as he remained mute and did not move from the rock on which he had dispossessed Alberich with the help of Loge, the latter asked him:
-What shall we do now? The treasure of the Nibelung must be stored up on the esplanade of Valhalla. Shall we call upon the giants to barter?
-Yes, answered Wotan, coming out of his reverie. We must get Freia back as soon as possible. We will offer Fafner and Fasolt all the riches of Alberich so that the goddess may continue to cultivate in Valhalla the fruits of eternal youth.
Arriving at the high abode of the gods, Wotan sent Loge in search of the giants and gathered all his subjects from Valhalla.
In the presence of all the gods, the great barter of Freia for the treasure of the Nibelung was to take place.