'He did not say anything to them without using a parable. But when he was alone with his own
disciples, he explained everything.' (Mark 4:34)
In my entry last Tuesday, I had said that I wouldn't post anything for the rest of the year, but a thought came to me that urgently needs to be communicated:
Is National Socialism dead, insofar as American neonazism is a caricature of it—see my book Daybreak? It's disturbing that, after my Tuesday post, I have received no feedback from the Germans who visit this site (except for one German who has been contacting me for years, other Germans haven't done so). Isn't it a scandal that someone on the other side of the Atlantic, who isn't even a pure Aryan (me), carries on his shoulders the mission to resurrect the core of NS (which can only be understood with the Führer's after-dinner talks)? Mein Kampf, a book for the masses of mostly Christian Germans, hardly criticises Christianity and does so, between the lines, until the second volume.
The literary side of National Socialism had two facets. An exoteric one: the long-winded Mein Kampf and an enormous number of inspirational and illustrated pamphlets. And an esoteric one: not only Hitler's table talks but what laconically he confessed to his inner circle of co-religionists, so well portrayed by Richard Weikart in Hitler's Religion. Since those who read no more than Mein Kampf are unaware of the more esoteric aspect of Hitlerism, which was taught formally in Himmler's castles for the SS, they are under the impression that Hitler's ideology is similar to American white nationalism.
Nothing could be further from the truth! But I don't want to go into detail on what has already been said in the first five books of the featured post. Rather, I'm writing this article because I don't see the core of NS anywhere: neither in Europe nor on the continent where I live. The reason for this, of course, is that the esoteric side was anti-Christian, as the Christian Weikart demonstrated in his book. It had to be hidden from the masses of Germans! However, since we are already living in the darkest hour for the white race, the time has come to reveal the Secret Fire, the esoteric facet, to every Aryan male who wants to do something for his race.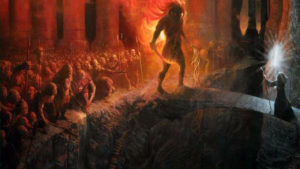 In The Fellowship of the Ring, Gandalf
invoked the 'Secret Fire' at Khazad-dum.
It's nowhere else referred to in the
trilogy, so its particular meaning
remains unclear.
That's why the second book on the list in the featured post will be Savitri Devi's, since she understood the esoteric side of NS perfectly (and unlike the anti-Nazi Weikart, Savitri was, to use the title of a biographical book about her, Hitler's priestess).
I confess that in our translation of Souvenirs et Réflexions d'une Aryenne I am eliminating all her very long sentences, shortening them into much shorter sentences. Reason: Savitri made countless parentheses within parentheses throughout her book written in her native French by merely using commas, and the train of her thought is lost in most of her sentences. Mine won't be a literal translation and once finished—yes: it's taking a long time—it will be a perfectly understandable text.
Souvenirs et Réflexions d'une Aryenne is the only post-1945, didactic introduction to the core of NS that conveys, with due numinousness, the new religion for the Aryan man that is to conquer the world. (Her best-known work, The Lightning and the Sun published seventeen years before, has the defect of being an immature work. It opens with a couple of chapters that function as an anti-rhetorical barrier for us: the idealisation of Genghis Khan and Akhnaton.)
Perhaps it's an excess to say that NS is dead if, at least, it survives in a couple of minds, like mine. But it is alarming that so far only one German has corresponded with me on the subject. Perhaps there are other Aryans, even outside Germany, who in the privacy of their hearts keep the Secret Fire alive. Do they have a code of secrecy and that's why they have failed to contact me?
Whatever the answer, I wonder if there is anyone on the planet willing to raise, at least, one Aryan boy and one Aryan girl and educate them strictly in NS, with all that such an education would entail. If there is anyone who harbours this fantasy please contact me (my email is in the single reply to my featured post). In case NS is already dead in Germany—that there is no such secret society of NS men—the Secret Fire must be revived, at least, in a couple of young Aryans…