'The Dragon and the Wolf' is the seventh and final episode of the seventh season of HBO's fantasy television series Game of Thrones, and the 67th episode overall. It was written by series co-creators David Benioff and D. B. Weiss (hereafter referred to as D&D), and directed by Jeremy Podeswa. In this episode the two bitches meet for the first time and agree to a truce while the Night King is defeated. Note that when the series began, King Robert Baratheon ruled the Seven Kingdoms that these two queens now dispute, although the threat north of the Wall has become a distraction that will be resolved in the following season.
We see the climactic scene of this episode when Littlefinger is executed: the man who, with his lies, had started the war between the Starks and the Lannisters although before his trial we see a memorable dialogue between Theon and Jon in the main hall of Dragonstone.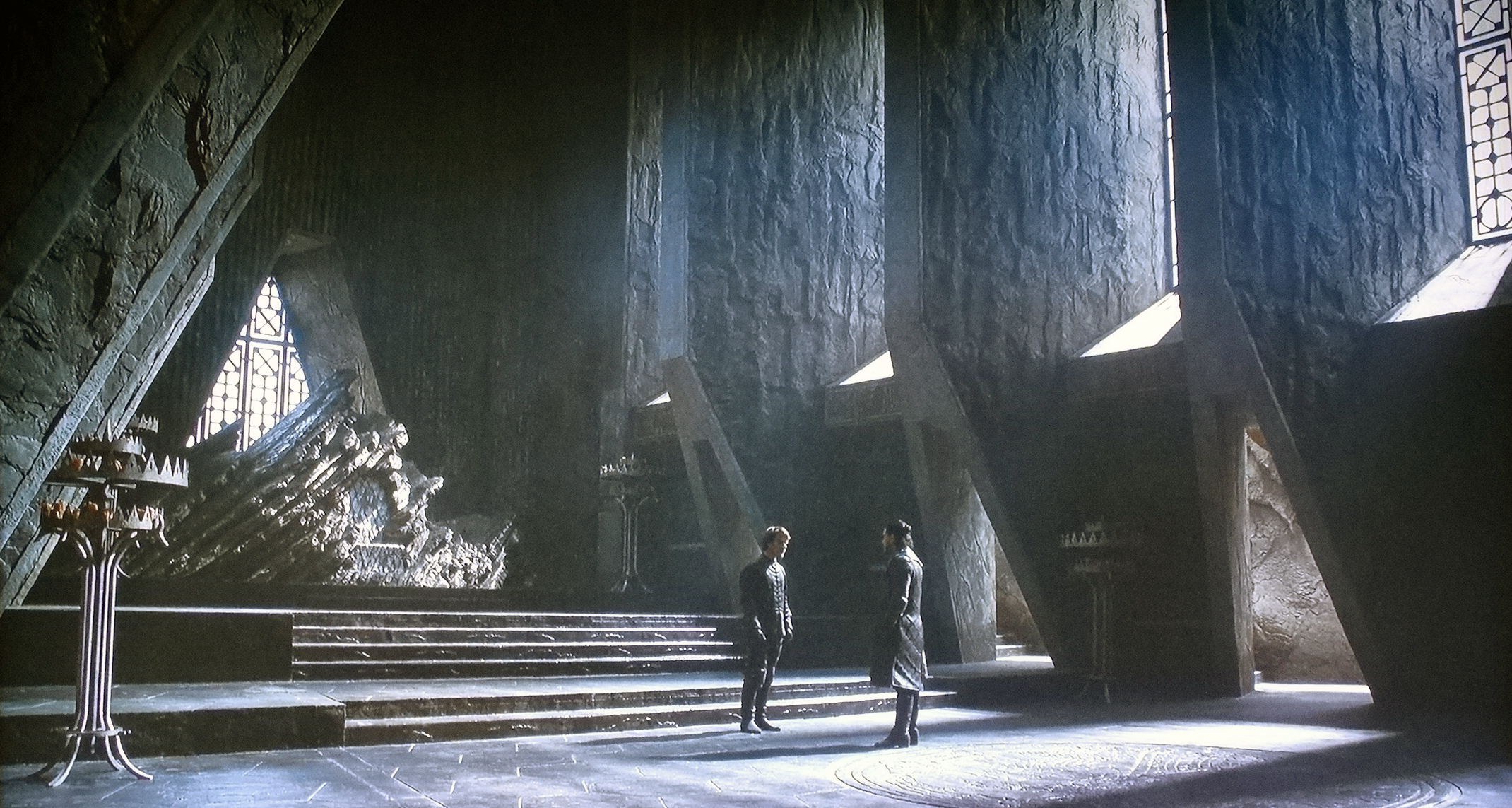 D&D and/or the director deleted a crucial scene showing that the real hero in uncovering Littlefinger's wiles had been Brandon Stark, as can be seen from what a fan wrote:
Bran Stark actor Isaac Hempstead Wright revealed in a past interview with Variety that he and his Game of Thrones co-star Sophie Turner, who plays Sansa, shot a sequence in which Sansa consults him ahead of Littlefinger's trial. You see, Sansa was first convinced that her own sister, Arya, was out to murder her in attempts to become the Lady of Winterfell. Arya felt certain of the same—and it was all thanks to the master manipulator Littlefinger. Viewers were sweating buckets watching the season 7 finale, believing that one of the Stark girls would turn on the other and commit fratricide within the halls of their House's ancestral seat. Sansa and Arya flipping the script and sentencing Littlefinger to death was a massive twist—and seemed to leave a wide plot hole that went completely unpatched. The deleted scene Hempstead Wright discussed with Variety would have stitched up the gap and detailed exactly how the Stark sisters knew what Littlefinger was up to and how they arrived at their plan to execute the former Master of Coin.

In the scene, Sansa consults Bran about what to do regarding the whole 'I think our sister is going to kill me' dilemma. Using his newfound abilities as the Three-Eyed Raven, Bran peers into Littlefinger's past and unearths every underhanded thing he's done to secure power.

As Hempstead Wright describes it, 'We actually did a scene that clearly got cut, a short scene with Sansa where she knocks on Bran's door and says, 'I need your help', or something along those lines. So basically, as far as I know, the story was that it suddenly occurred to Sansa that she had a huge CCTV department at her discretion and it might be a good idea to check with him first before she guts her own sister. So she goes to Bran, and Bran tells her everything she needs to know, and she's like, Oh, s***.

Though audiences can fill in the blanks without this scene, it makes Bran's powers all the more real, and, frankly, terrifying. Nothing can be kept from him, and as a result, nothing can be kept from his family. There is no secret Bran cannot uncover—and the biggest skeleton he drew out of the proverbial closet was the truth behind Jon Snow's birth. Bran knew of his brother-cousin Jon's true parentage and real identity as Aegon Targaryen, the son of Rhaegar Targaryen and Lyanna Stark, and his rightful claim to the Iron Throne over the wannabe queen Daenerys Targaryen before others did. His knowledge spread to Samwell Tarly, then to Jon himself, and (spoiler alert) quickly made its way to Sansa and Arya themselves.
Not all the audience filled the gap. Censoring that scene made some believe, at Littlefinger's trial, that Sansa had understood for herself the betrayal of the master of intrigues. The confusion was such that some fans commented that Sansa would never have been able to outwit Littlefinger. Sometimes I wonder if D&D abandoned the already filmed scene because of their feminist agenda.