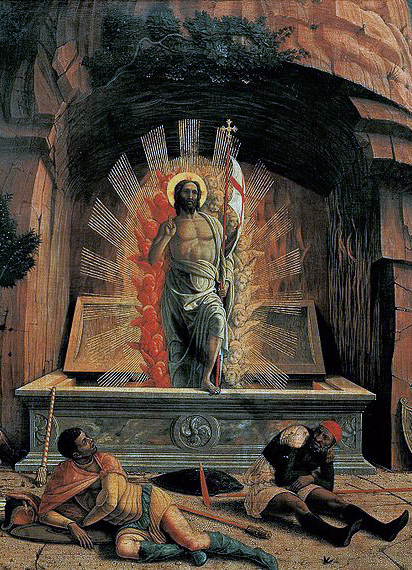 With the characteristic symmetry of the Renaissance, Mantegna composed this Resurrection in which the resurrected Jew is the luminous axis of the scene (see the complete painting: here), surrounded by the heads of red angels on his right and white angels on his left.
Always keep in mind that the doctrine of the Resurrection was plagiarised by the Jews who originated the Christian sect. They simply used the story of the founding hero-God of the Romans: Romulus. The idea of those who wrote the New Testament was simply to use the mythological biography of the white God to convince the Romans to better worship the god of the Jews.
The parallels between the old Romulus and the new Jesus invented by the rabbis are so obvious that a few are worth mentioning: Both are sons of God; their deaths are accompanied by prodigies and the land is covered in darkness; both corpses go missing; both receive a new immortal body superior to the one they had; their resurrected bodies had on occasion a bright and shining appearance; after their resurrection they meet with a follower on a road from the city; a speech is given from a high place prior to the 'translation to heaven'; there is a 'great commission' or instruction to future followers; they physically ascend to heaven and, finally, they are taken up into a cloud.
Every single Westerner has heard the story that these rabbis concocted about Jesus. But who knows the original legend, that of the Aryan hero-God Romulus?
Judea's victory over Rome is complete even among those racially conscious Christians who mistakenly fancy themselves as anti-Semites.