At this point, we must address the issue that will certainly be around the heads of many readers: the comparison Sparta-Athens. What city was better?
Often we are told that Athens represented the artistic and spiritual summit of Greece and Sparta the physical and warrior evolution. It's not as easy as that. We must start from the basis that it is a great mistake to judge the development of a society for its commercial or material advancement. This would lead us to conclude that the illiterate Charlemagne was lower than anybody else present, or Dubai the home of the world's most exalted civilisation…
Thus we come to the important subject of art. It usually happens that it is a common argument to vilify Sparta. The Spartans used to say that they carved monuments in the flesh, which implied that their art was a living one: literally them, and the individuals that composed their homeland.
But Sparta also had conventional art as understood in the present. It was famous throughout Greece for its music and dance (of which nothing has survived), as well as its highly prised poetry that has come to us fragmented. Its architects and sculptors were employed in such prestigious places as Delphi and Olympia, and imposed a stamp of straight simplicity and crystal clarity in their works.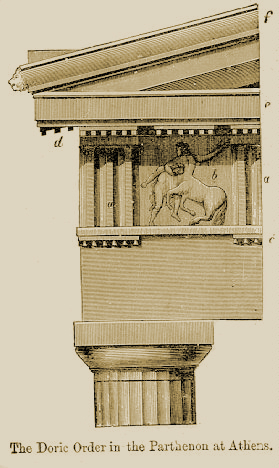 The best example of this is the sober Doric style, a direct heritage of Sparta that became a model not only for countless temples throughout Greece, as the Parthenon in Athens itself, but also for the classic taste of later Europe that has endeavoured to continue the legacy of Greece and Rome.
(Passages from one of Evropa Soberana's essays in The Fair Race's Darkest Hour.)