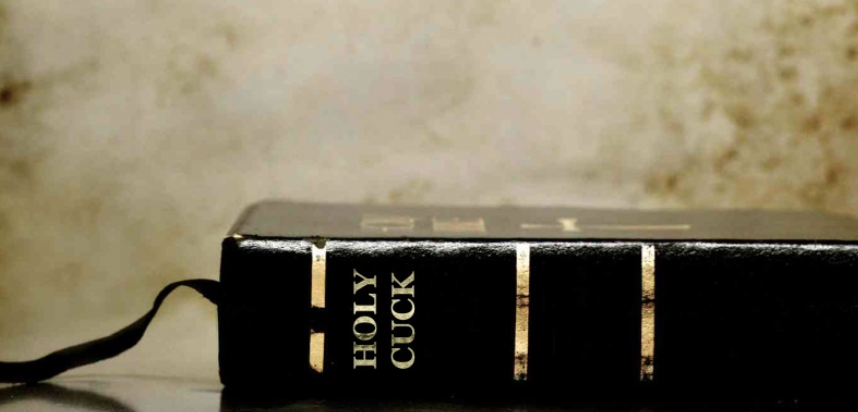 I intended to go through various Christian sites and social media pages in order to collect for you a massive amount of their lunatic statements, phrases and beliefs—but, I will be very honest here—I saved some, but I just couldn't finish the job. I had to think about my own health and seeing all the idiocy made me worried about my anger, blood pressure and various other things…
Alas, how does one help wake up a 2000 year old brainwashing? Well, one must be persistent and ignore the hardship that is involved in succeeding in it. If I were to look at this difficult task and wonder what exactly it would take me to achieve victory against this Jewish poison, I'd probably never even begin doing it. I'd find myself demoralized from not only the advantage of Time they have, but also of the generations of people that have been self-indoctrinating their own children with this infection. When that happens, when the lemmings poison themselves, then the Jews have won over their minds.
Or, look at this one [the author linked these words to a defunct page], which is from Psalms—and, if you remember, Psalms are the Scriptures in which it is said that they will destroy all Nations surrounding them. All Nations. So, here we have a spin on that mission by telling us that they will "sing their song" in all the Nations. Boy, that must be a particularly sick tune of Death, right? We have said already that "vibrations" are capable of changing the entire infrastructure of the Mind. Therefore, having the Jews sing among us is lethal and dangerous: their singing is primarily expressed nowadays through the Media. Ain't that a charming sound?
To those of us who still have working Aryan brains, their patterns are becoming ever more self-evident. For example, in Deuteronomy 7:6 we can read: For you are a people holy to the Lord your God. The Lord your God has chosen you out of all the peoples on the face of the earth to be his people, his treasured possession. So, we have a group of people walking among us who believe to be better than we are, yet at the same time are telling the rest of the Goyim that we are all equal. Of course, from the Jewish perspective, we are all equal: we are all the same Cattle and Animal to them. All these liberal, modern bullshit ideologies are viewpoints on life from the Jewish perspective.
This equality and diversity thing eventually accomplishes another commandment from the Jewish Bible which we find a few verses later, in Deuteronomy 7:16: You must destroy all the peoples the Lord your God gives over to you. Do not look on them with pity and do not serve their gods, for that will be a snare to you. Never does it enter the mind of the average Christian that Jews have destroyed their entire culture and are planning to literally genocide their people. It never enters their mind that the Jewish Semitic War God Yahweh might have "given over to the Jews" the European people.
But, just a moment ago we had seen that Christians use Deuteronomy as some kind of Jesus reference, which just goes to show us once more that they really, I mean really, do not know how to read or have a functioning brain anymore.
These are the modern liberal White women—they get raped and feel sorry for the invading immigrant who raped them. They allow a Negro immigrant into their house because he is a "refugee", who then kills their daughter, and they don't even get mad at him. If you wonder therefore why our Society is so fucked up, it is because it is Christian: it has a Christian mentality. No matter what horrible shit is done to our people, people as retarded as this bitch right here, she sees no evil in them.
Editor's interpolated note: Those white nationalists who claim over their forums that Christianity has only been recently hijacked by Jewry are simply ignorant of history. Here down the south the 16th century Spaniards brought the religious orders along with the soldiers. All of them—no exception—preached love toward those Mesoamericans that sacrificed their children and even ate them.

This pic shows my hand holding some possible sacrificial instruments: archaeological pieces from the Aztec world of my private collection. The Spanish not only preached love toward the Amerindians: they actually married their women, ruining their gene pool forever. This happened when the Spanish Inquisition targeted crypto-Jews in New Spain, now Mexico, which proves that whites can behave ethnosuicidally without the help of the tribe. Unaided Christian ethics does the trick!
Axe of Perun continues:
It would seem that God is trying to make all White European Nations saints. They sure are suffering right now under heavy invasion of biological weapons of mass destruction. But, here you have a simple choice: you either follow the early Christian fathers and become a passive faggot who doesn't defend himself or his people—or—you become a Jesuit and Church follower who does whatever the Church says even if it is wrong…
The problem is that Europeans were like this to each other always—especially the Nordic ones. We shared with each other, helped each other, we weren't as materialistically mad as Semites were. But Jews used that Nature of ours and turned it into weapon against us. Our good Nature is killing us…
Editor's interpolated note: Remember the slogan of this site: 'LOVE IS MURDERING THE WHITE RACE'.
…because we have been duped into believing that an African Somalian is our Equal with whom we should share everything in common, even our daughters.
The Christian belongs to nothing else but Jerusalem: you have no other family, no other nation, no other profession. You are a believer whose place is in Jerusalem. You are a Semite who loves Jews and Yahweh, who can't wait for Jesus to return and to establish a Communistic Kingdom on Earth ruled by the Jews. I don't know actually who I hate more: the modern day Christians or the old ones.
So, what really changed over the years? Not much. Christianity began as a hippy movement which managed to destroy all Civilizations surrounding the Jews. It then disarmed and destroyed all European people. As Europe lost its strength to resist Evil, Jews introduced Islam and used their Arab brothers to try and conquer us. As that failed, they changed tactics. They began using us to spread this hippy movement message around the world carrying Jews alongside—allowing them to gain influence in every single place of the Earth.
Once they established their control all over the world, it was time to immigrate non-White people into our lands—no matter what the cost was. It was also time to make the Bible publicly available, because remember, up to the 1600's it was forbidden to own a Bible—people had no fucking idea what it was saying. Well, as the message got out, the more liberal did Europe become through its various Christian movements…
Jews do not hate Christianity, they hate Europeans. I've said it many times before: they made the poison and won't drink it of course. Since they know it is poison, they can openly claim they hate it. Besides, if they were to follow Christ, they would have to lose their Jewish identity—at least according to the version Paul sold to non-Jews. It is actually absolutely irrelevant what the Jews think about it. What matters is what it has done to us and what it is still doing to us.
________
Read it all: here.