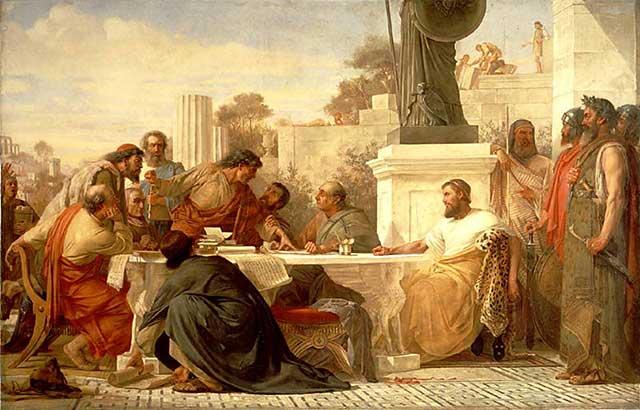 Julian presiding at a conference of Sectarians
(Edward Armitage, 1875)

Julian Augustus
After Aetius's visit to me, I met Maximus only in secret. I arranged this by seeing to it that the guards who accompanied me were brothers in Mithras. I don't think I was once betrayed during the three years I lived with Oribasius at Pergamon. I also made a point of becoming a friend of the bishop of the city. With him, I observed every Galilean festival. I hated myself for this deception, but I had no choice.
During these years, I was free to travel wherever I pleased in the East. I could even visit Constantinople, though the Chamberlain's office suggested tactfully that I not live there since it was, after all, the imperial capital without, at present, an emperor in residence, which meant that any visit I chose to make could be construed as… I understood perfectly and stayed away.
My request for permission to go to Athens was rejected. I don't know why. Gallus sent me several invitations to come to Antioch, but I was always able to avoid accepting them. I think he was relieved not to have me near him. However, he was most conscientious in his role as older brother and guardian, not to mention ruler. I received weekly bulletins from him asking about my spiritual health. He was eager, he said, for me to be a devout and good man, like himself. I think he was perfectly sincere in his exhortations. His fault was a common one. He simply did not know what he was; he saw no flaw in himself, a not unusual blindness and preferable, on the whole, to being unable to find any virtue in oneself.
My friendship with Oribasius is the only intimate one I have ever had—the result, I suppose, of having never known the ordinary life of a family. Oribasius is both friend and brother, even though we are not much alike in disposition. He is skeptical and experimental, interested only in the material world. I am the opposite. He balances me. Or tries to. And I think at times I give him some inkling of what the metaphysical is like. For nearly four years we lived together, traveled together, studied together. We even shared a mistress for a time, though this caused some disturbance since I found, to my surprise, that I have a jealous nature.
I had never forgiven the Antiochene at Macellum for preferring Gallus to me. Yet I should have. After all, Gallus was older and handsomer than I. Even so, I had been resentful. I did not realize to what extent, until I was again put in exactly the same situation. One afternoon I overheard Oribasius and our mutual mistress—a blue-eyed Gaul—making love. I heard their heavy breathing. I beard the leather thongs of the bed creak. Suddenly I wanted to murder them both. I knew then exactly what it was like to be Gallus, and I almost fainted at the violence of my own response. But the moment quickly passed and I was filled with shame.
During those years, Maximus taught me many things. He showed me mysteries. He made it possible for me to contemplate the One. He was the perfect teacher. Also, contrary to legend, he did not in any way try to excite my ambition. We never spoke of my becoming emperor. It was the one forbidden subject.