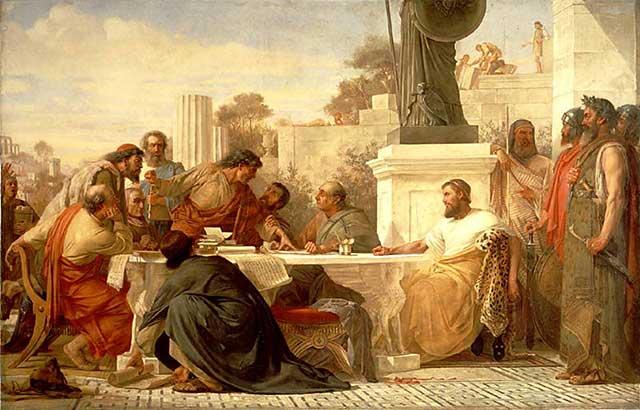 Julian presiding at a conference of Sectarians
(Edward Armitage, 1875)

In January 350, Ecebolius and I got permission to move on to Pergamon. We made the three-hundred-mile trip in bitter cold. As we rode through the perpetual haze of steam from our own breath, I recall thinking, this must be what it is like to campaign in Germany or Russia: barren countryside, icy roads, a black sky at noon and soldiers behind me, their arms clattering in the stillness. I daydreamed about the military life, which was strange, for in those days I seldom thought of anything except philosophy and religion. I suspect that I was born a soldier and only "made" a philosopher.
At Pergamon, Ecebolius insisted we stay at the palace of the Greek kings, which had been made available to me. But when the prefect of the city (who had most graciously met us at the gate) hinted that I would have to pay for the maintenance of the palace, Ecebolius agreed that we were better off as guests of Oribasius, who had also met us at the gate, pretending not to know me but willing, as a good courtier, to put up the Emperor's cousin. In those days Oribasius was far richer than I and often lent me money when I was short of cash. We were like brothers.
Oribasius took delight in showing me his city. He knew my interest in temples (though I was not yet consciously a Hellenist), and we spent several days prowling through the deserted temples on the acropolis and across the Selinos River, which divides the city. Even then, I was struck by the sadness of once holy buildings now empty save for spiders and scorpions. Only the temple of Asklepios was kept up, and that was because the Asklepion is the centre of the intellectual life of the city. It is a large enclave containing theatre, library, gymnasium, porticoes, gardens, and of course the circular temple to the god himself. Most of the buildings date from two centuries ago, when architecture was at its most splendid.
The various courtyards are filled with students at every hour of the day. The teachers sit inside the porticoes and talk. Each teacher has his own following. Unfortunately when we came to the portico where Aedesius was usually to be found, we were told that he was ill.
"After all, he's over seventy," said a raffish youth, dressed as a New Cynic. "Why don't you go to Prusias' lectures? He's the coming man. Absolutely first-rate. I'll take you to him." But Oribasius firmly extricated us from the young man's clutches. Cursing genially, the admirer of Prusias let us go. We started back to the agora.
"That's how a lot of students live in Pergamon. For each new pupil they bring to their teacher, they are paid so much a head." Just behind the old theatre, Oribasius pointed to a small house in a narrow street. "Aedesius lives there."
I sent one of my guards to ask if the philosopher would receive me. After a long wait, a fat woman with a fine grey beard and spiky moustache came to the door and said firmly, "He can see no one."
"But when will he be able to?"
"Perhaps never," she said, and shut the door.
Oribasius laughed. "His wife. She's not as nice as she looks."
"But I must meet him."
"We'll arrange it somehow. Anyway, tonight I've something special for you."
That something special was the woman philosopher, Sosipatra. She was then in her forties but looked much younger. She was tall and though somewhat heavy, her face was still youthful and handsome.
When we arrived at her house, Sosipatra came straight to me, knowing exactly who I was without being told. "Most noble Julian, welcome to our house. And you too, Ecebolius. Oribasius, your father sends you greetings."
Oribasius looked alarmed, as well he might: his father had been dead three months. But Sosipatra was serious. "I spoke to him just now. He is well. He stands within the third arc of Helios, at a hundred- and-eighty-degree angle to the light. He advises you to sell the farm in Galatia. Not the one with the cedar grove. The other. With the stone house. Come in, most noble prince. You went to see Aedesius today but his wife turned you away. Nevertheless, my old friend will see you in a few days. He is sick at the moment but he will recover. He has four more years of life. A holy, good man."
I was quite overwhelmed, as she led me firmly by the hand into a dining-room whose walls were decorated with pictures of the mysteries of Demeter. There were couches for us and a chair for her. Slaves helped us off with our sandals and washed our feet. We then arranged ourselves about the table. All the while, Sosipatra continued to talk in such a melodious voice that even Ecebolius, who did not much like the idea of her, was impressed.
"Do you know the beautiful story of Aedesius and his father? No? It is so characteristic. The father wanted his son to join him in the family business. But first he sent him to school at Athens. When Aedesius returned from school, he told his father that it was now impossible for him to go into business. He preferred to become a philosopher. Furious, his father drove him out of the house, shouting, 'What good does philosophy do you now?' To which Aedesius replied, 'It has taught me to revere my father, even as he drives me from his house.' From that moment on, Aedesius and his father were friends."
We were all edified by this story. Sosipatra was indeed a fountain of wisdom, and we were fortunate to drink of her depths.
Priscus: Did you ever meet this monster? I once spent a week with her and her husband at Pergamon. She never stopped talking. Even Aedesius, who was fond of her (I think he was once her lover), thought her ignorant, though he would never have admitted it. He, by the way, was an excellent man. After all, he was my teacher and am I not, after Libanius, the wisest man of our age?
Libanius: Irony?
Priscus: But though Sosipatra was hardly a philosopher, she was a remarkable magician. Even I came close to believing in her spells and predictions. She also had a sense of drama which was most exciting. Julian was completely taken in by her, and I date his fatal attraction to this sort of thing from that dinner party.
Incidentally, a friend of mine once had an affair with Sosipatra. When the act was over, she insisted that he burn incense to her as she lay among the tangled sheets. "For I am Aphrodite, goddess come among men." He burned the incense but never went to bed with her again.
Maximus also thought that Sosipatra was divine, or at least "inhabited from time to time by the spirit of Aphrodite". Which made her sound rather like an inn. I always found her tedious. But she was often accurate in her predictions. Lucky guesses? Who knows? If the gods exist, which I doubt, might they not be every bit as boring as Sosipatra?
Libanius: As always, Priscus goes too far. But I rather agree with him about Sosipatra. She did talk too much. But then, who am I to criticize her when one of my oldest friends has just told me to my face that I bore all Antioch?