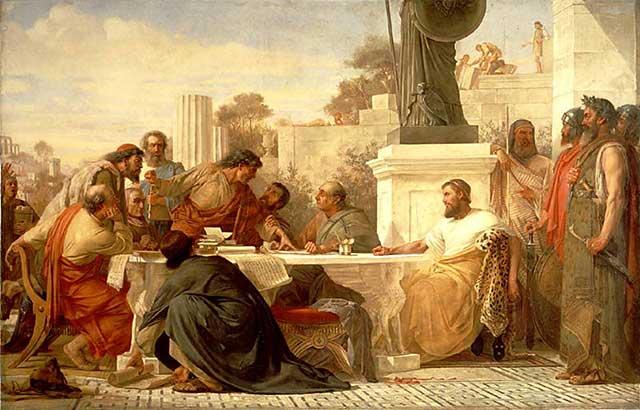 That same summer, Bishop George suggested that Gallus and I build a chapel at Macellum to be dedicated to Saint Mammas, a local shepherd whose remains were considered particularly potent: skin diseases were promptly cured by applying the saint's shinbone to the afflicted area. Bishop George thought it would be an inspiring gesture if Gallus and I were to build a charnel house for these scraps of dead shepherd.
So all one summer Gallus and I worked on this project. I enjoyed laying brick. But Gallus hated prolonged effort of any kind, and I'm afraid he spent a good deal of time cursing Saint Mammas as we sweated in the sun. Shortly after we completed the chapel, the roof fell in. I am told that the Galileans now say that only my section of the building collapsed, because I was apostate. This is not true. The whole thing collapsed—because of faulty design.
At that time I neither believed nor disbelieved. Yet Porphyry's eloquent case against the Nazarene was now lodged in my head. When I tried to argue doctrinal points with Bishop George, I was swiftly discouraged with this sort of thing: "The very idea of the trinity is a mystery. Only through faith can it be understood, and then never entirely."
I much preferred Plotinus, who four times in five years achieved that total consciousness of the One which is the ultimate goal of all religious practice. Despite Porphyry's wisdom, he experienced this heightened consciousness only once, at the age of sixty-eight. So far I have experienced it twice. I pray each day for yet another revelation.
* * *
Gallus and I had neither friends nor allies. Except for his dogged attempts to make me a priest, Bishop George showed no personal interest in either of us. Everyone else at Macellum treated us with nervous respect. We alarmed people; we reminded them of murder; we were such obvious victims.
I kept to my reading. I took little exercise, though I was naturally strong, particularly in the arms. Gallus continued to surpass me at all games and physical feats. He was taller than I, beautifully made, with the face of a god. The soldiers assigned to guard us were infatuated with him, and he flirted shamelessly with them. They took him hunting whenever he chose and I suppose that he had affairs with some of them, though we were both involved much of the time with the same girl—or rather woman.
She was the twenty-five-year-old wife of a civil servant who acted as comptroller to our household. She seduced me first, then Gallus. She was insatiable. Her husband was amenable; not that he had any choice. He used to giggle uncontrollably whenever he saw either of us. He was fat and small, and I remember asking her how she could bear to be touched by him.
"He has gifts," she said slyly. I can still recall how her black hair glistened as it fell over bare brown shoulders. Never before or since have I felt such smooth skin. I suppose she oiled herself but if she did she was an artist at it, for one's fingers never came away thick with perfumed grease as happens so often with women of her sort. She was Antiochene.
What else? Love-making is the only art the people of Antioch have ever taken seriously. She affected to find me attractive, but it was the golden Gallus who really enchanted her. He used to tell me with pride how "she does everything and I don't move". His passivity was baffling. But then I never understood Gallus. Later when he turned monster, I was not surprised. He could have been anything at all because at heart he was nothing.
Yet when he was in a room, all eyes watched him, for he was physically fascinating; men and women were equally attracted to him and since he felt nothing for anyone, every woman saw him as a challenge who must be made to love. So Gallus was able to take his pleasure as he chose… while hardly moving!
The Syrian woman was mistress to us both for three years. Though I am now celibate, I often think of her, especially at night. Where is she now? I don't dare inquire. She is probably fat and old, living in some provincial town and paying youths to sleep with her. But for a thousand days she was Aphrodite to my Adonis.