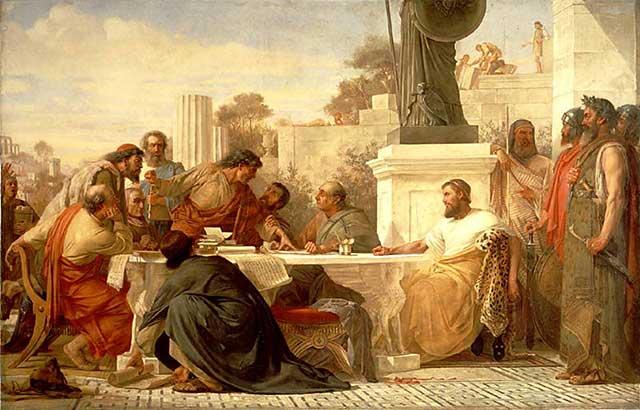 Julian presiding at a conference of Sectarians
(Edward Armitage, 1875)

But at that time I was hardly a philosopher. I studied what I was told to study. The deacon who gave me instruction was most complimentary. "You have an extraordinary gift for analysis," he said one day when I was exploring with him John 14:25, the text on which the Arians base their case against the Athanasians. "You will have a distinguished future, I am sure."
"As a bishop?"
"Of course you will be a bishop since you are imperial. But there is something even more splendid than a bishop."
"A martyr?"
"Martyr and saint. You have the look of one."
I must say my boyish vanity was piqued. Largely because of this flattery, for several months I was confident that I had been especially chosen to save the world from error. Which, in a way, turned out to be true, to the horror of my early teachers.
Bishop George was an arrogant and difficult man but I got on with him, largely because he was interested in me. He was a devoted controversialist. Finding me passably intelligent, he saw his opportunity. If I could be turned into a bishop, I would be a powerful ally for the Arians, who were already outnumbered by the Athanasians, despite the considerable help given them by Constantius.
Today, of course, the "pernicious" doctrine of the three-in-one God has almost entirely prevailed, due to the efforts of Bishop Athanasius. Constantius alone kept the two parties in any sort of balance. Now that he is dead the victory of the Athanasians is only a matter of time. But today none of this matters since the Galileans are now but one of a number of religious sects, and by no means the largest. Their days of domination are over. Not only have I forbidden them to persecute us Hellenists; I have forbidden them to persecute one another. They find me intolerably cruel!
Was I a true Galilean in those years at Macellum? There has been much speculation about this. I often wonder myself. The answer is not clear even to me. For a long time I believed what I was taught. I accepted the Arian thesis that the One God (whose existence we all accept) mysteriously produced a sort of son who was born a Jew, became a teacher, and was finally executed by the state for reasons which were never entirely clear to me, despite the best efforts of Bishop George to instruct me.
But while I was studying the life of the Galilean I was also reading Plato, who was far more to my taste. After all, I was something of a literary snob. I had been taught the best Greek by Mardonius. I could not help but compare the barbarous backcountry language of Matthew, Mark, Luke and John to the clear prose of Plato. Yet I accepted the Galilean legend as truth. After all, it was the religion of my family, and though I did not find it attractive I was unaware of any alternative until one afternoon when I was about fourteen.
I had been sitting for two hours listening to the deacon sing me the songs of Bishop Arius… yes, that great religious thinker wrote popular songs in order to influence the illiterate. To this day I can recall the words of half a dozen of his inane ballads which "proved" that the son was the son and the father was the father. Finally, the deacon finished; I praised his singing.
"It is the spirit which matters, not the voice," said the deacon, pleased with my compliment. Then—I don't know how it happened—Plotinus was mentioned. He was only a name to me. He was anathema to the deacon. "A would-be philosopher of the last century. A follower of Plato, or so he claimed. An enemy of the church, though there are some Christians who are foolish enough to regard him highly. He lived at Rome. He was a favourite of the Emperor Gordian. He wrote six quite unintelligible books which his disciple Porphyry edited."
"Porphyry?"
As though it were yesterday, I can remember hearing that name for the first time, seated opposite the angular deacon in one of the gardens at Macellum, high summer flowering all about us and the day hazy with heat.
"Even worse than Plotinus! Porphyry came from Tyre. He studied at Athens. He called himself a philosopher but of course he was merely an atheist. He attacked the church in fifteen volumes."
"On what grounds?"
"How should I know? I have never read his books. No Christian ought." The deacon was firm.
"But surely this Porphyry must have had some cause…"
"The devil entered him. That is cause enough."
By then I knew that I must read Plotinus and Porphyry. I wrote Bishop George a most politic letter, asking him to lend me the books of these "incorrigible" men. I wished to see, I said, the face of the enemy plain, and naturally I turned to the Bishop for guidance, not only because he was my religious mentor but because he had the best library in Cappadocia. I rather laid it on.
To my astonishment Bishop George immediately sent me the complete works of Plotinus as well as Porphyry's attack on Christianity. "Young as you are, I am sure that you will appreciate the folly of Porphyry. He was an intelligent man misled by a bad character. My predecessor, as bishop of Caesarea, wrote a splendid refutation of Porphyry, answering for all time the so-called 'inconsistencies' Porphyry claimed to have detected in scriptures. I am sending you the Bishop's works, too. I cannot tell you how pleased I am at the interest you are showing in sacred matters."
What the good Bishop did not know was that the arguments of Porphyry were to form the basis for my own rejection of the Nazarene.