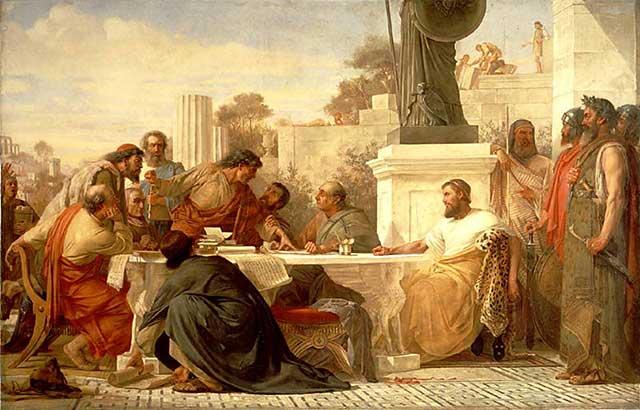 III
When I was eleven years old, my life again changed abruptly. One morning in May I was doing lessons with Mardonius. I was reciting Hesiod and making a good many mistakes, when Gallus came into the room.
"He's dead. The Bishop's dead. In the church. He died. Just like that!"
Mardonius drew a cross on his chest; so did I. A moment later we were joined by clergy, officials, servants. Everyone was stunned, and alarmed, for it is a great event when the bishop of Constantinople dies, and who succeeds him is a matter of national importance. The emperor—if he is Galilean—always has a hand in the choosing of a successor. But Constantius was a thousand miles away, on the borders of Persia. So for several weeks no bishop was appointed, and no one knew what to do with Gallus and me. Luckily, my uncle Count Julian was in the city, and the day after the funeral he came to see us.
"He's going to kill us, isn't he?" Under stress, Gallus could be reckless.
Count Julian's smile was not very convincing. "Certainly not. After all, you are the heirs of Constantine the Great."
"So was our father," said Gallus grimly. "And all the others."
"But the divine Augustus is your friend."
"Then why are we under arrest?" Gallus indicated the secret police who had arrived only that day; when Gallus and I had tried to go out, we were told politely to stay where we were "until further orders".
"They are for your protection."
"The only protection we need is from Constantius," said Gallus; but he lowered his voice. Though hot-tempered, he was not suicidal. Count Julian looked very nervous.
"That is not true, Gallus. Now listen to me carefully. Someone close to the Emperor, very close, has told me that Constantius believes that the reason he cannot have children is because he—because so many members of his own family were—because they, ah, died!"
"Yes, but since he's already committed enough murders to get him into hell, why stop at us? He has nothing to lose."
"Nothing to gain, either. After all, you are only children."
Gallus snorted. At sixteen he was physically a man, though in character he was still a child, a fierce destructive child.
"Believe me, you are safe." Count Julian was soothing. He was in an excellent mood, for he had just been appointed governor of Egypt, and I am afraid that was more on his mind than the fate of his nephews. But he did his best to comfort us, for which I at least was grateful. He left us with the hollow words, "You have nothing to fear."
When he was gone, Gallus deliberately smashed the cup he had used. Breaking things always gave Gallus physical relief; shattering this particular cup took on ritual significance. "He's like all the rest!" Gallus's voice cracked with anger as he stood there in the bright sun of a green May day, his long pale hair tangled across his brow, his startling blue eyes magnified with sudden tears. "There's no way out of this!"
I tried to say something hopeful but he rounded on me. "You're no loss, you little ape! But why do I have to die?"
Why indeed? Everyone asks himself that question sooner or later. No one can ever love us quite so much as we love ourselves. Gallus saw no justice in a world where a beauty and vitality such as his could be pinched out as casually as a lamp wick. Of course fate is cruel. But children cannot accept this, nor men like Gallus who see all things as incidental to themselves. I loved Gallus. I hated him. During the first years of my life I was so entirely absorbed by him that I was hardly aware of myself at all except as I was reflected in those vivid blue eyes, which saw nothing of me nor much of anything else.
But Count Julian was right. Constantius did suffer remorse for his crimes. We were safe, for the time being. In due course a message arrived from the Chamberlain Eusebius. Gallus and I were to be sent to Macellum in Cappadocia "to continue your education".
"Education for what?" asked Gallus when this message had been read us. But Mardonius silenced him. "The Augustus is merciful. Never forget that he is now your father as well as your lord."
We departed for Macellum that same day. I was most upset, for Mardonius was not to accompany us. I don't know the motive behind this act of petty cruelty except that as the Chamberlain Eusebius was also a eunuch he might have thought that a fellow eunuch would prove to be too subtle an ally for us. Sniffling wretchedly, I was bundled into a wagon with Gallus.
Mardonius was also grief-stricken but he controlled himself. "We shall meet again," he said. "And when we do, I shall expect Gallus to know as much Hesiod as Julian." Mardonius stood stiffly in front of the bishop's palace as we drove off, escorted by a cohort of cavalry, just as if we were important princes, which we were, or important prisoners, which we also were. I sobbed. Gallus swore fierce oaths under his breath. In the street a crowd of people were gathered, eager for a glimpse of us. To get a close view one bold burgher thrust his head over the side of the wagon. Gallus promptly spat in the man's astonished face. Then Gallus covered his head with his cloak and would not take it off until we were outside the city gate. No one expected to see us alive again.
All travellers agree that Macellum is one of the beautiful places of the world. I hate it to this day. Macellum is not a town but an imperial residence originally used by the ancient Cappadocian kings as a hunting lodge. Constantine enlarged it so that it is now a complex of many buildings set in lonely woods at the foot of Mount Argaeus, some four hundred miles south-east of Constantinople. When Constantius inherited the principate, he acquired the lodge, along with a number of other properties in the neighbourhood; in fact, our family's private income derives almost entirely from the Cappadocian crown lands.
Tonight when I was telling Priscus about my childhood, he said that it sounded enviable. "After all, you lived in a palace, with gardens, baths, fountains, a private chapel," he enjoys teasing me, "in the very best hunting country with nothing to do but read. You had the perfect life." Well, it was not perfect. Gallus and I might just as well have been hostages in a Persian prison. We had no one to talk to, except for a series of schoolmasters from nearby Caesarea.
None stayed with us very long because of Gallus. He could not resist tormenting them. He got on better with our jailers, particularly the young officers. Gallus could be very winning when he wanted to be, and he soon had them training him in the use of sword and spear, shield and axe. Gallus was a natural athlete, with a gift for weaponry. I would have liked to practise with him but he preferred to keep his military companions to himself. "You read your books," he said sharply. "I'm the one who's to be a soldier." So I read my books.