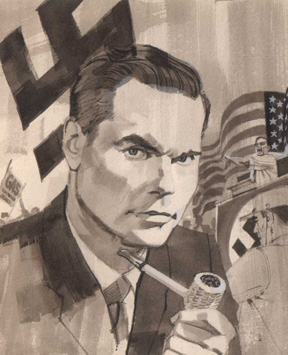 A passage from This Time the World
by George Lincoln Rockwell
But then, in 1939, I sat in "Sociology I" class and tried my best to make some sense out of it all. I had been happy at the chance to study sociology, as it appeared to me logical that there must be some fundamental principles of the development of the social relationships of life, as I had discovered simple basic principles of other affairs I had looked into. I was most eager to learn these basic principles of the operation of human society so that I could understand the events around me and perhaps even predict sociological occurrences in accordance with the principles I would be taught.
But it would be many, many years before I would fight my way into the intellectual sunshine of such simple, fundamental and logical presentations of the facts of social life. In Professor Bucklin's classroom on society, all was the most depressing darkness and confusion. It all sounded most enlightening, of course. There were lots of brave new words, ethnic groups, etc., but try as I might, I could not get to the bottom of it all to find any idea or principle I could get hold of. Everything was "by and large" and "in most cases" and "on the other hand" and "So-and-so says, but Dr. So-and-so says absolutely not." Muddiness of mind was not deplored, but glorified. I buried myself in my sociology books, absolutely determined to find out why I was missing the kernel of the thing.
The best I could come up with was that human beings are all helpless tools of the environment; that we are all born as rigidly equal lumps and that the disparity of our achievements and stations was entirely the result of the forces of environment—that everybody, therefore, could theoretically be masters, geniuses and kings if only we could sufficiently improve everybody's environment. I was bold enough to ask Professor Bucklin if this were the idea and he turned red with anger. I was told it was "impossible" to make any generalizations, although all I was asking was for the fundamental idea, if any, of sociology.
I began to see that sociology was different from any other course I had ever taken. Certain ideas produced apoplexy in the teacher, particularly the suggestion that perhaps some people were no good biological slobs from the day they were born. Certain other ideas, although they were never formulated nor stated frankly, were fostered and encouraged—these were always ideas revolving around the total power of the environment.
Slowly, I got the idea. At first, I just used it to get better grades. When I wrote my essay answers in examinations, I poured it on heavily that all hands in the civilization in question were potential Leonardo da Vincis, no matter how black they were, nor how they ate their best friends for thousands of years; and that with a quick change in environment, these cannibals too would be writing arias, building Parthenons and painting masterpieces.
But then I began to wonder "how come"? Certainly, environment was important. Anybody could see that. But it was obviously negative. You can make a helpless boob out of a born genius by bringing him up in a dark closet, but you can't make a genius out of a drooling idiot, even by sending him to Brown [University]. Was it just old man Bucklin who was insane with environment? Or was it the whole subject? I went to the library and read more sociology books. They were universally pushing the same idea.
I began to make fun of sociology in the college paper in my column and got into more trouble. Some of the columns were "killed" before seeing the light. I was still too ignorant to know that I was fighting Lysenko and Marx and the whole Soviet theory of environmentalism—which has captured and hypnotized or terrorized all our intellectuals—and I imagined I was battling just one foolish college course!
During my second year at Brown, my picture of the world darkened as I discovered more and more intellectual dishonesty in this university which had first seemed almost heaven itself to me. I still knew little or nothing about Communism or its pimping little sister, "liberalism", but I could not avoid the steady pressure, everywhere in the university, to accept the idea of massive human equality and the supremacy of environment. In every course, I was repelled by the intellectual cowardice of the faculty in failing to stand up for any doctrine whatsoever.
I majored in philosophy and, while I admired the intellectual brilliance of my professors, particularly Professor Ducasse, I was hugely disappointed in the headlong retreat of all the faculty whenever they were asked their own opinions as to the objective truth in any matter. I was told that "eternal seeking" is the way to knowledge and there is no denying that, but lively discussion is also vital to any advance of knowledge and you cannot have any lively discussion where the opposition either doesn't exist or melts away like a wraith when you seek to take hold of it.
I was running into the disease of our modern life: cowardice and pathological fear of a strong personality or strong ideas. Dale Carnegie has codified and commercialized this creeping disease as "how to win friends and influence people", which boils down to the essential principle of having no personality or strong feelings or ideas and becoming passive and empty so that "the other fellow" can display his ideas and personality. But he, too, is trying to become popular by being passive and dispassionate, so that the result is like connecting two dead batteries: no current. Such human robots are suited to enslavement by a 1984-type society, but not to life in a bold, free society of men. This is the way women should be, perhaps, but not our men and especially not our leaders.
I found the same feeble feminine approach in every subject except in the sciences, and for these last, I was very grateful. In geology and psychology I could find a few principles and laws which stayed there when I reached out to grasp them, and so I reveled in these subjects and rebelled to the limit of my capacity in the others. In sociology I went so far as to write an insolent examination paper which almost got me thrown out of Brown.