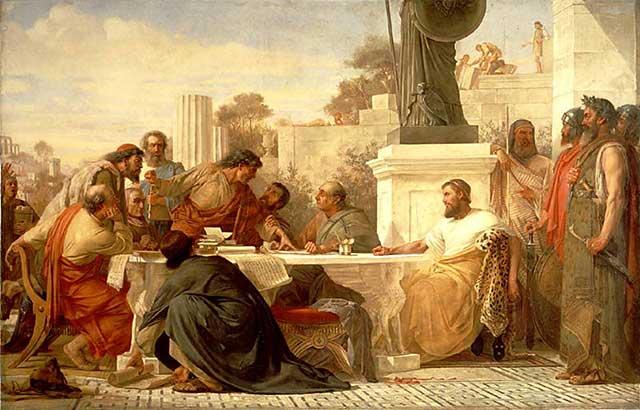 Julian presiding at a conference of Sectarians
(Edward Armitage, 1875)
Libanius to Priscus
Antioch, April 380
You cannot imagine the pleasure I experienced when your letter was brought to me this evening. So eager was I to hear your voice again, as it were, that I fear I ripped the fastenings and tore the long-awaited page itself. But rest assured, your precious letter will be mended with glue and cherished, since any utterance of your genius is an essential reflection of the Hellenic spirit to be passed on to those who come after.
Let me say right off how pleased I am to learn of your unflagging sexual vigour. It is always inspiring to the rest of us to learn that in certain rare human beings the usual cycle of sad decline does not obtain. You have been indeed favoured by the gods and in your obvious enjoyment of that favour will never sigh at eighty, as did Sophocles, "At last I am free of a cruel and insane master!"
Your master is obviously a good companion, made even more enjoyable by Hippia's acquiescence. Not many wives of philosophers would allow their husbands freedom to consort with those deliciously civilised ladies of Athens whose evening parties used to delight me in my student days. Now of course my life is devoted to philosophy and affairs of state. I leave to younger men the charms of Aphrodite… to younger men and now, Priscus, to you, who have held at arm's length the villain time! Fortunate man! Fortunate girls to be so loved!
Since I wrote you last, I have not been idle. Through the office of the praetorian prefect at Constantinople, I have proposed myself for an audience with the Emperor. Theodosius has met very few people of our set, coming as he does from Spain, a country not noted for culture. He also belongs to a military family and there is no evidence that he has ever studied philosophy.
Outside of politics, his principal interest is breeding sheep. But he is only thirty-three and his character, according to the best information available, is mild. Though we should not count on this. How often in the past have we been horrified by princes reputed to be good who, when raised to the throne of the world, have turned monstrous before our eyes! The late Valens for example, or Julian's own brother, the Caesar Gallus, a charming youth who brought terror to the East. We must be on our guard, as always.
The question that now faces us is: how seriously will Theodosius enforce the edict? It is customary for emperors who listen to bishops to hurl insults at the very civilisation that created them. They are inconsistent, but then logic has never been a strong point of the Christian faith. The extraordinary paradox is the collusion of our princes with the bishops.
The emperors pride themselves on being first magistrates of the Roman imperium, through whose senate they exercise their power; and though in reality we have not been Roman for a century, nevertheless, the form persists, making it impossible, one would think, for any prince who calls himself Augustus to be Christian, certainly not as long as the Altar of Victory remains in the senate house at Rome.
But confusions of this sort are as inconsequential to the Christian mind as clouds to a day in summer, and as a teacher I no longer try to refute them; since most of my students are Christian, I suppose I ought to be grateful that they have chosen to come to me to be taught that very philosophy their faith subverts. It is comedy, Priscus! It is tragedy!
Meanwhile, we can only wait to see what happens. The Emperor grows stronger in health every day, and it is thought that later this spring he may take the field against the Goths, who as usual are threatening the marches of Macedonia. If he decides to go north, that means he will not return to Constantinople till late summer or autumn, in which case I will have to attend him at Thessalonica or, worse, in the field. If so, I am confident the journey will be my last. For my health, unlike yours, continues to deteriorate.
I have coughing fits which leave me weak and longing for the grave. I have also developed a curious rash on the backs of my hands and forearms which may be the result of eating a bad flounder last week (shades of Diogenes and the fatal raw octopus!), or it may be the outward sign of a corruption in the blood. How I wish Oribasius were in Antioch! He is the only physician I ever trusted, in which I follow Julian, who used to say, "The god Asklepios gave Oribasius secrets known only to heaven."
Over the years I have made a number of notes for a biography of Julian. I have them before me now. All that remains is the final organisation of the material—and of course the memoir. Please send it to me as soon as the copy is ready. I shall work on it this summer, as I am no longer lecturing. I thought it wise to go into seclusion until we know which way the wind blows.
I don't need to tell you that Antioch has ignored the edict. Never in my memory has Antioch obeyed the imperial authority except at sword's point. I have often warned the local senate that emperors do not like disobedience, but our people feel that they are beyond law and reprisal. The folly of the clever is always greater than that of the dull. I tremble for Antioch, even though I am currently a beneficiary of its absence of reverence for the decrees of Caesar.
There have been no incidents so far. My Christian friends come to see me as usual (rather a large number of my old students are now bishops, a peculiar irony). Colleagues who are still lecturing tell me that their classes are much as usual. The next move is up to Theodosius, or, to be exact, up to the bishops. Luckily for us, they have been so busy for so long persecuting one another that we have been able to survive. But reading between the lines of the edict, I suspect a bloodbath.
Theodosius has outlawed with particular venom the party of the late Bishop Arius on the grounds that Galileans must now have a church with a single doctrine to be called universal… a catholic church, no less! To balance this, we must compose a true life of Julian. So let us together fashion one last wreath of Apollonian laurel to place upon the brow of philosophy, as a brave sign against the winter that threatens this stormy late season of the world. I want those who come after us to realize what hopes we had for life, and I want them to see how close our Julian came to arresting the disease of Galilee.
Such a work, properly done, would be like a seed planted in the autumn to await the sun's awakening, and a new flowering.
Apparently, the cost of copying at Athens has gone up incredibly since I had some work done there last year. I find eighty gold solidi exorbitant for what you say is a fragment, or a book of moderate length. Only last summer I paid thirty solidi for a Plotinus which, in length, must be treble that of Julian's memoir. I send now by a friend who embarks tomorrow for Athens thirty gold solidi and this letter. Again my best wishes to the admirable Hippia, and to you, my old friend and fellow soldier in the wars of philosophy.