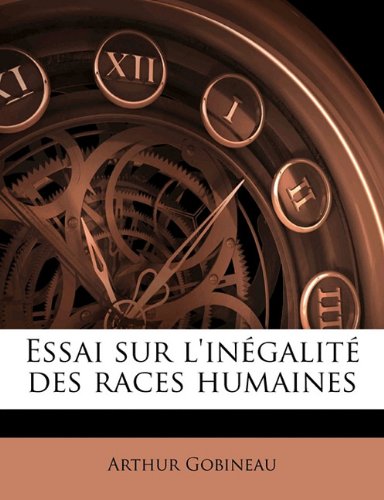 At the 19th century's end, scientific racism conflated Græco-Roman eugenicism with Francis Galton's concept of voluntary eugenics to produce a form of coercive, anti-immigrant government programs influenced by other socio-political discourses and events. Such institutional racism was effected via craniometric skull and skeleton studies; thus skulls and skeletons of black people and other colored volk were displayed between apes and white men. In 1906, Ota Benga, a Pygmy, was displayed as the "Missing Link", in the Bronx Zoo, New York City, alongside apes and animals.
The most influential theorists included the anthropologist Georges Vacher de Lapouge (1854-1936) who proposed "anthropo-sociology"; and Johann Gottfried Herder (1744-1803), who applied "race" to nationalist theory, thereby developing the first conception of ethnic nationalism.
The Dutch scholar Pieter Camper (1722-89), an early craniometric theoretician, used "craniometry"—interior skull-volume measurement—to scientifically justify racial differences. In 1770, he conceived of the facial angle to measure intelligence among species of men. The facial angle was formed by drawing two lines: a horizontal line from nostril to ear; and a vertical line from the upper-jawbone prominence to the forehead prominence.
Camper's craniometry reported that antique statues (the Græco-Roman ideal) had a 90-degree facial angle, whites an 80-degree angle, blacks a 70-degree angle, and the orangutan a 58-degree facial angle—thus he established a racist biological hierarchy for mankind, per the decadent conception of history. Such scientific racist researches were continued by the naturalist Étienne Geoffroy Saint-Hilaire (1772-1844) and the anthropologist Paul Broca (1824-80).
In the 19th century, an early American physical anthropologist Samuel George Morton (1799-1851), collected human skulls from worldwide, and attempted a logical classification scheme. Influenced by contemporary racialist theory, Dr Morton said he could judge racial intellectual capacity by measuring the interior cranial capacity, hence a large skull denoted a large brain, thus high intellectual capacity. Conversely, a small skull denoted a small brain, thus low intellectual capacity; superior and inferior established. After inspecting three mummies from ancient Egyptian catacombs, Morton concluded that Caucasians and Negroes were already distinct three thousand years ago.
In Morton's Crania Americana, based on craniometric data, he reported that the Caucasians had the biggest brains, averaging 87 cubic inches, Native Americans were in the middle with an average of 82 cubic inches and Negroes had the smallest brains with an average of 78 cubic inches.
In The Mismeasure of Man (1981), the historian of science Stephen Jay Gould argued that Samuel Morton had falsified the craniometric data, perhaps inadvertently over-packing some skulls, to so produce results that would legitimize the racist presumptions he was attempting to prove. A subsequent study by the anthropologist John Michael found Morton's original data to be more accurate than Gould describes, concluding that "contrary to Gould's interpretation… Morton's research was conducted with integrity". Jason Lewis and colleagues reached similar conclusions as Michael in their reanalysis of Morton's skull collection.
In 1873, Paul Broca, founder of the Anthropological Society of Paris (1859), found the same pattern of measures—that Crania Americana reported—by weighing specimen brains at autopsy. Other historical studies, proposing a black race / white race, intelligence / brain size difference, include those by Bean, Mall, Pearl, and Vint.
One of the first typologies used to classify various human races was invented by Georges Vacher de Lapouge (1854-1936), a theoretician of eugenics, who published in 1899 L'Aryen et son rôle social. In this book, he classified humanity into various, hierarchized races, spanning from the "Aryan white race, dolichocephalic", to the "brachycephalic", "mediocre and inert" race, best represented by the Jew.
Vacher de Lapouge's classification was mirrored in William Z. Ripley in The Races of Europe (1899), a book which had a large influence on American white supremacism. Ripley even made a map of Europe according to the alleged cephalic index of its inhabitants. He was an important influence of the American eugenist Madison Grant.
After the War of the Pacific there was a rise of racial and national superiority ideas among the Chilean ruling class. In his 1918 book physician Nicolás Palacios argued for the existence of Chilean race and its superiority when compared to neighboring peoples. He thought Chileans were a mix of two martial races: the indigenous Mapuches and the Visigoths of Spain, who where ultimately from Götaland in Sweden. Palacios argued on medical grounds against immigration to Chile from southern Europe claiming that mestizos who are of south European stock lack "cerebral control" and are a social burden.