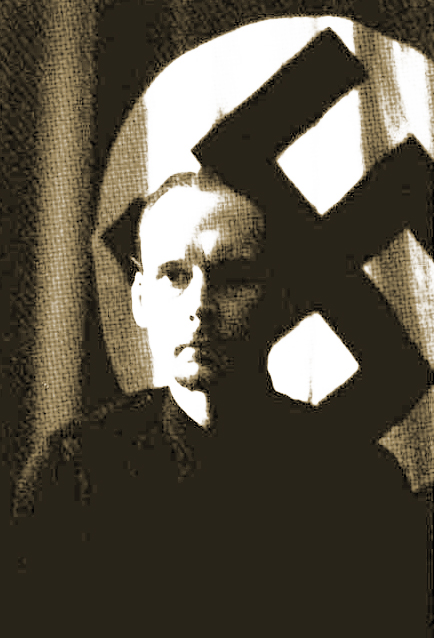 Mail-Order Revolution?
At the time of the first American Revolution the adversary was the King of England. This man could have been called a lot of things but he couldn't be called evil. The enemy today is the U.S. Government itself and it is, by every standard of measure, the most evil thing that has ever existed on earth. This, once it has sunk home, should be a good enough indicator of the sort of struggle we have ahead of us.
I'm not going to agonize over "How evil is it?" because that would be typically Right Wing and a waste of time. Rather, I'm going to tell you what that means, or should mean to you if you claim to have the three big essentials for accomplishing anything that were set forth by George Lincoln Rockwell over twenty years ago: sufficient intelligence to perceive and understand; sufficient strength, courage and resources to act; and sufficient will to persevere in spite of whatever obstacle or hardship.
It means this: they're not going to let us do it. It means that we're going to have to do it in spite of them. Over their dead bodies.
Will this be done by any legally chartered, tax-paying outfit? Will it be done by any outfits that own land and have public headquarters? Will it be done by those with big bank accounts (by "big" I mean those that read in figures greater than four digits) who deposit, withdraw and earn interest? Will it be accomplished by strings of P.O. boxes? The best, most sobering question I can hit anyone with is: will this, the most evil system on earth, allow anything even remotely dangerous to pass through its own postal system, to apply for and get special bulk rate mail permits, etc.?
The answer is a flat no. Those who point to the dozens of outfits currently operating in an attempt to belie that statement are in a hopeless fog. Those who agree but qualify it with, "Up to a point", may have hope left yet. Those who disagree totally would also believe we can win through the electorate, with the consent of the masses. Those who partially agree, I suppose, imagine we will have to fight a "partial" revolution.
Despite hopeful showings of any Nazi or Klan candidates at the polls, it amounts to nothing concrete; if they gain a lot of votes but fail to win the election they are as bad off as before because those voters haven't got the guts to do anything more than pull a lever in secret… they'll never make contact or provide support directly; and those that may win the election are in for the hassle of their lives dealing with "fellow Democrats", etc., who are rabidly pro-Jew, pro-Black, if not outright Red. (But hats off to those few who try as they do lend to the revolutionary climate and help reveal by their results what the national pulse-rate is like, and what kind of potential support we might expect once a full-scale revolt is launched).
And here again, can you picture a scenario like this: that great "Silent Majority" has at last gotten fed up, found its wits and given the Nazis or the Klan a voter mandate. The Jews, the Blacks, and the assorted fanatic Reds, etc. least of all to mention the entrenched Capitalist System manned largely by sick, liberal Whites give up, say it was a fair fight, shake hands and turn it all over to us.
It's just too crazy to contemplate. If it even started to look like we were verging on some kind of real power they'd go nuts and pull out all stops against us. It has even been predicted that they would go as far as to use H-Bombs against any large strongholds and I wouldn't doubt it a bit considering the stakes.
It'll be a real fight but it won't be a fair fight. Matters of survival seldom are.
Vol IX, # 4, August, 1980