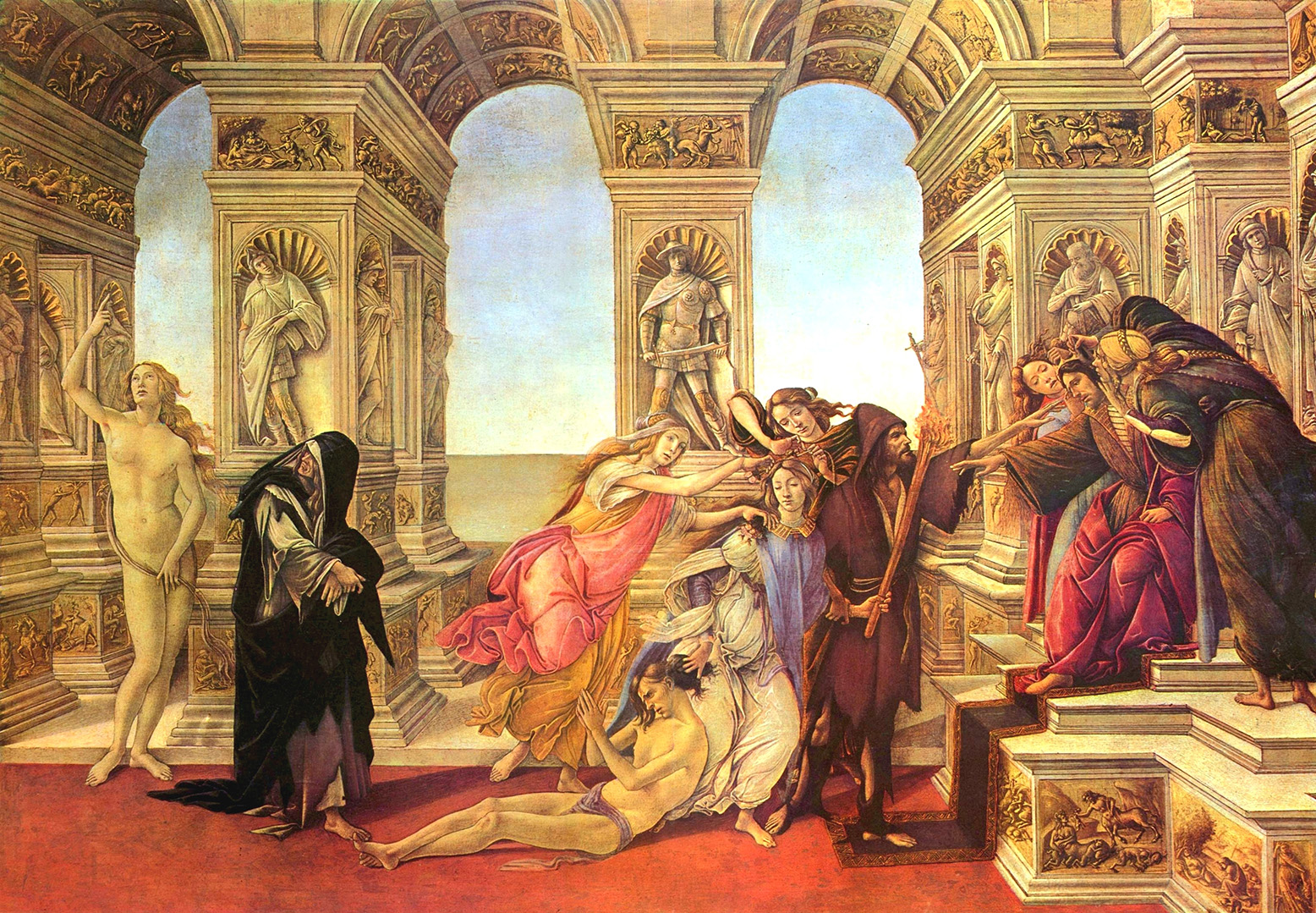 Above, Botticelli's 1494 painting Calumny of Apelles which depicts a wrongfully accused man on trial, surrounded by a series of menacing women, each one made to represent a different moral failing. Below, a couple of slightly edited posts from the comments section of The Occidental Observer. They were posted yesterday by a commenter whose native language probably is not English:
I think it is very clear that the more male influence there is in society, the more xenophobic that society is. The more female influence there is in society, the less xenophobic that society is.
Have a look at Sweden—the most feminised country on Earth. It has accepted much more refugees per capita than Germany itself. It is Number 1 in Europe for accepted refugees per capita. And many people are calling Germany crazy. Well, Sweden is even crazier than Germany.
What is causing this pathological altruism? Jews? There are very few of them in Sweden, although they do control some of the media. I think mister [Kevin] McDonald had trouble proving that pathological altruism in Sweden is caused by Jewish influence alone. It is not caused either by the fact that they are northern peoples either, since northern peoples were way more xenophobic a hundred years ago. [MacDonald's article: here] Then no Muslims were allowed in Northern Europe. No non-European minorities. It was totally populated by white people. And before a hundred years ago America was way more xenophobic as well. All of Europe was more xenophobic.
So what caused the decrease of xenophobia in the US and Europe? Simple: the increase in female influence. Since females are less xenophobic than males, the more female influence there is in society, the less xenophobic that society will be.
This is why countries in Eastern Europe are still hostile towards immigration and multiculturalism and are totally white. In Eastern Europe there is no feminism at all. Women there are more feminine. They are all male-dominated countries; most people in Eastern Europe even don't know what "sexism" is. White men there are still violent and to be a macho is not considered to be something bad…
I don't blame or hate women, since that's their nature. Don't expect them to fix the problems of the white people. But I do believe that any group that does not control the behaviour of their women—especially their birth-rates, marrying rates, and phenomena such as women politically siding with other groups against their own men—sooner or later ceases to exist.
So the problem is with white men, who don't keep their women under control, and instead idolise women and think they are angels, or perfect beings. They are not. They are simply humans, who can make mistakes, have weaknesses, and are far from perfect.
So it is white men to blame, for being unable to keep their women in check.