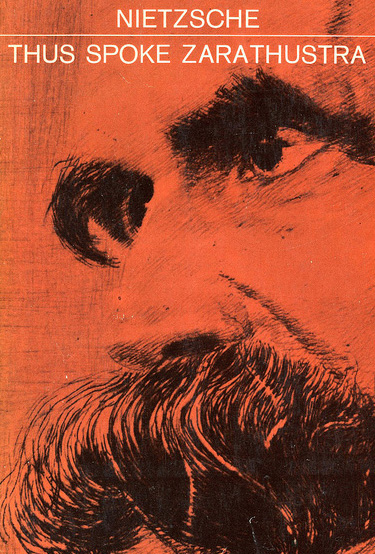 Revilo Oliver's texts on Aryan ethnosuicide and the need to create a religion of hate have moved me to translate some explanatory notes of Thus Spoke Zarathustra at the bottom of this entry (see also my first post in the comments section).


3
When Zarathustra came into the nearest town lying on the edge of the forest, he found many people gathered in the market place[1] for it had been promised that a tightrope walker would perform. And Zarathustra spoke thus to the people:
"I teach you the Overman.[2] Human being is something that must be overcome. What have you done to overcome him?
All creatures so far created something beyond themselves; and you want to be the ebb of this great flood and would even rather go back to animals than overcome humans?
What is the ape to a human? A laughing stock or a painful embarrassment. And that is precisely what the human shall be to the Overman: a laughing stock or a painful embarrassment.[3]
You have made your way from worm to human, and much in you is still worm. Once you were apes, and even now a human is still more ape than any ape.
But whoever is wisest among you is also just a conflict and a cross between plant and ghost. But do I implore you to become ghosts or plants?
Behold, I teach you the Overman!
The Overman is the meaning of the earth. Let your will say: the Overman shall be the meaning of the earth!
I beseech you, my brothers, remain faithful to the earth and do not believe those who speak to you of extraterrestrial hopes! They are mixers of poisons whether they know it or not.
They are despisers of life, dying off and self-poisoned, of whom the earth is weary: so let them fade away!
Once the sacrilege against God was the greatest sacrilege, but God died, and then all these desecrators died. Now to desecrate the earth is the most terrible thing, and to esteem the bowels of the unfathomable higher than the meaning of the earth!
Once the soul gazed contemptuously at the body, and then such contempt was the highest thing: it wanted the body gaunt, ghastly, starved. Thus it intended to escape the body and the earth.
Oh this soul was gaunt, ghastly and starved, and cruelty was the lust of this soul!
But you, too, my brothers, tell me: what does your body proclaim about your soul? Is your soul not poverty and filth and a pitiful contentment?
Truly, mankind is a polluted stream. One has to be a sea to take in a polluted stream without becoming unclean.
Behold, I teach you the Overman: he is this sea, in him your great contempt can go under.
What is the greatest thing that you can experience? It is the hour of your great contempt. The hour in which even your happiness turns to nausea and likewise your reason and your virtue.
The hour in which you say: 'What matters my happiness? It is poverty and filth, and a pitiful contentment. But my happiness ought to justify existence itself!'
The hour in which you say: 'What matters my reason? Does it crave knowledge like the lion its food? It is poverty and filth and a pitiful contentment!'
The hour in which you say: 'What matters my virtue? It has not yet made me rage. How weary I am of my good and my evil! That is all poverty and filth and a pitiful contentment!'
The hour in which you say: 'What matters my justice? I do not see that I am ember and coal. But the just person is ember and coal!'
The hour in which you say: 'What matters my pity? Is pity not the cross on which he is nailed who loves humans? But my pity is no crucifixion.'
Have you yet spoken thus? Have you yet cried out thus? Oh that I might have heard you cry out thus!
Not your sin – your modesty cries out to high heaven, your stinginess even in sinning cries out to high heaven![4]
Where is the lightning that would lick you with its tongue? Where is the madness with which you should be inoculated?
Behold, I teach you the Overman: he is this lightning, he is this madness! –"
When Zarathustra had spoken thus someone from the crowd cried out:
"We have heard enough already about the tightrope walker, now let us see him too!" And all the people laughed at Zarathustra. But the tightrope walker, believing that these words concerned him, got down to his work.
______________________
The above German-English translation by Adrian del Caro is taken from Thus Spoke Zarathustra (Cambridge University Press, 2006). This Cambridge edition lacks the more detailed notes by Andrés Sánchez-Pascual in Así Habló Zaratustra (Madrid: Alianza Editorial, 2014), translated below.
Notes:

[1] Markt is the word used by Nietzsche, here translated literally, market. It does not refer only to the place of purchase and sale of goods but, in general, to a spacious place where people meet, the public square. Even today the central square of many German cities is called Marktplatz.
[2] On the "Overman," a term that has led to many misunderstandings, says Nietzsche himself in Ecce homo: "The word 'Overman' as the designation for a type of the highest successfulness as opposed to 'modern' men, to 'good' men, to Christians and other nihilists—a word that in the mouth of a Zarathustra, the annihilation of morality, becomes a very thought-provoking word—has been understood almost everywhere with complete innocence in the sense of those values whose antithesis the figure of Zarathustra was meant to represent: that is to say, as the 'idealistic' type of a higher kind of man, half-'saint,' half-'genius'."
[3] An echo of fragments 82 and 83 of Heraclitus: "The most beautiful ape is ugly compared to man." "The wisest man is an ape compared to god."
[4] "Crying to Heaven" is a biblical expression. See Genesis, 4, 10: "And he said, What hast thou done? the voice of thy brother's blood crieth unto me from the ground" (words of Yahweh to Cain). As he almost always does with these biblical "quotes," Zarathustra gives it an antithetical sense from that in the original.