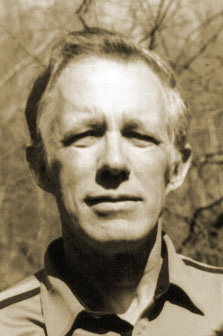 From The Fame of a Dead Man's Deeds:
An Up-Close Portrait of William Pierce
by Robert Griffin


Pocahontas County, West Virginia, where William Pierce has lived since 1985, is a mountainous area in the southeast part of the state. There are trees everywhere in Pocahontas County: black walnut, hickory, oak, eastern poplar, apple, pear, red maple, sugar maple, and buckeye. Pocahontas County is shaped like a bowling pin tipped to the right and is about fifty miles from top to bottom and thirty miles across at its widest. Nine thousand people live in the county's nine hundred square miles. The county seat and largest town is Marlinton, with a population of eleven hundred. Pierce's land is at Mill Point (population fifty) in the center of the base of the "bowling pin." His three hundred forty-six acres go up the side of Big Spruce Knob, which is between Black Mountain and Stony Center Mountain.
In a letter to me before I came to visit him that first time, Pierce had this to say about where he lived:
This area is off "the beaten path" in that it has no industry other than small farms, no transportation hubs, no transient population, and very little traffic, pollution, or crime. Although it is mountainous and very beautiful, the lack of tourist facilities other than a ski lodge in the northern part of the county leads to a blessedly small number of tourists and vacationers.

With the exception of four or five non-Whites imported by criminally insane Christian groups, the population is entirely White and sparse. The early settlers were Scotch- Irish, German, Dutch, and English, and a handful of family names—McNeill, Sharp, Pritt—dominate the telephone directory. It is extremely conservative in resisting outside influences, although television and the churches (which, unfortunately, have great influence here) are doing their worst to bring the New World Order to Pocahontas County.