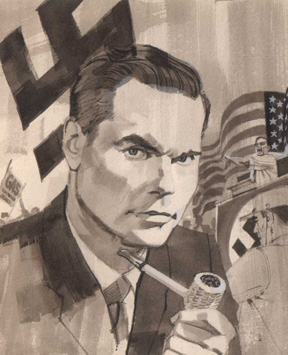 A passage from This Time the World
by George Lincoln Rockwell
I mounted the platform when the boys were ready. Then I knew what was going on. Like a hoard of locusts, almost in military formation, over two hundred of last week's burly Jew hoodlums and toughs swarmed around our stand and began an obviously organized chant of "Sick! Sick! Sick!" This was not too surprising, but what happened next was horrifying. The Jews began to push and hang over the ropes and swing at our men, and the police retreated even farther away with folded arms!
When I say it was horrifying, I do not mean that what the Jews were doing was horrifying. We expected them to try to kill us, if they thought they could and we were prepared to teach them the error of this method. But it must be remembered that to survive, we have to bend over backward to be legal. The minute the Jews can show that we have violated the law or even appear to have violated the law, they can bring more than enough pressure to have us stowed away and silenced. We must depend on the police to uphold the law, since we are forbidden to defend ourselves even fairly, by violence, much as we sometimes ache to do.
When the police suddenly "couldn't see" the most gross attacks on us, we knew that an honest police department had finally succumbed to intolerable Jewish pressure, and we were in for whatever the Jews could work up their courage to do. For over an hour and a half, I managed to hold the howling, spitting mob by arrogance and psychologically—calculated disdain for their overwhelming numbers. To say that we were not afraid would be untruthful, for we were only eleven and they were over two hundred and fifty, plus the fact that our whole future, all our struggles and sacrifices for over two years were lying in the balance. It was obvious that they were determined to have their riot this day and then claim that we had to be suppressed for "causing" such disorder.
Nevertheless, it took those Jews over an hour and a half to work up the courage to rush us and even then, they thinned our number first by having one big Trooper called out by falsely telling military police he was a Marine, thus reducing our number to ten.
In they rushed, like an avalanche of wild beasts, screaming and howling for my guts! The stand flew over as the Jews struck and I landed in a struggling mass of fighting men. Two yelling Jews grabbed me. One of my men, already down and fighting desperately, grabbed his feet and he went down. But the other Jew aimed a blow at my groin. I hit him in the head and, as he fell, another Trooper tackled him. How my boys pitched in! But the Jew still went for the same attack on me. This time, I replied in kind and gave that Jew a dose of his own medicine!
The fight lasted for only four or five minutes, after which the police rushed in from where they had been hiding and broke it up. Major Morgan was choked unconscious, was bleeding profusely and had his right knee permanently damaged by a number of kicks he received when he was under a pile of seven or eight Jews. Lieutenant Warner, National Secretary of the Party at the time, had the top of his left ear bitten almost off and all of us were cut and bruised. We later discovered that one of the large men who had recently joined us and loudly boasted how he would fight—Fred Hockett, by name—had run out of the ring in terror when the fight began, so that we had only nine men there to fight that murderous mob.
And we showed the Jews the caliber of those nine men when the police broke up the fight—for we immediately set up our stand and were prepared to speak. I mounted the platform again, broken and wrecked as it was, and would have spoken, but police called me down and I was arrested for "disorderly conduct". For the first time in my life, I found myself dragged off to jail, and as I sat in a cell awaiting bail, it was impossible not to think back on the chain of circumstances which had placed me here in the ugly, urine-smelling cellblock of the First Precinct of Washington, D.C.