by William Pierce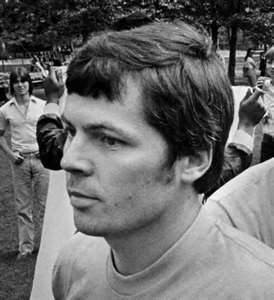 What Robert Mathews [1953-1984] did will remain incomprehensible to many White Americans. How can your average "yuppy," steeped in the values of the "me" generation, understand Mathews' concern for the type of world his son would inherit?
How can the clever lawyer in his $500 suit, accustomed to figuring all the angles before making a move, fathom the soul of someone who knew that he must act, regardless of the personal consequences, because it was his responsibility as a man to do so?
How can America's soft, feminized, materialistic masses have any idea of the thinking of a man who made a deliberate choice to die, when he might have lived—to die fearlessly and defiantly—solely so his death could set an example for other fearless and defiant fighters who would follow him in the years and decades to come?
No, many Americans will not understand. But some will. And they will also understand that in the final showdown there will be no other way but Bob Mathews' way.
No combination of clever lawyers, yuppies, and Joe Sixpacks will ever beat the Jews. Money will not beat them. Brains alone will not beat them. Votes will not beat them. But blood will, eventually.
The Jews know how to deal with materialists, who think the way they do. They have long experience at outmaneuvering clever schemers and outspending well-heeled opponents. They are past masters of intimidation and bribery. They will always whip those who try to fight them on the Jews' own terms.
But how will the Jews cope with the man who does not fear them and is willing, even glad, to give his life in order to hurt them? What will they do when a hundred good men rise up to take Bob Mathews' place? Where will they find enough secret police to protect them?
It is a hard truth to face, but America has gone far beyond the point where its problems might have been overcome bloodlessly or with relatively little sacrifice. The evil which has spread across the land can still be destroyed, but only by men like Robert Mathews—only when enough such men have been awakened and have said to themselves, as he did: "I have no choice. I must stand up like a White man and do battle."
________________
Excerpted from National Vanguard magazine,
issue No. 103, January-February 1985.