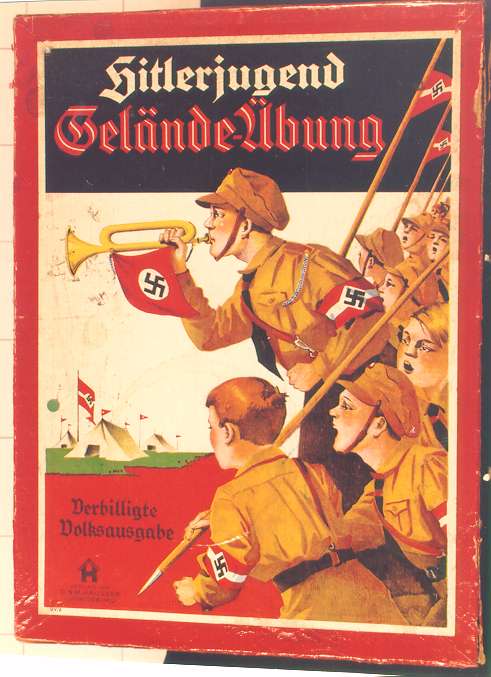 From Faith and Action
by Helmut Stellrecht
for the Hitler Youth:


Knowledge is that which can be measured by reason. Knowledge alone means nothing and is dead.
§ A wish that you can fulfill is called hope. Hope can easily come to nothing.
§ But faith can never fail, for faith is strength. Faith springs from your deepest feelings. It is that knowledge for which there is no explanation through reason. In faith the soul sees a part of the world order. It has a sense of that which should be, and sees through its eyes a part of the way that it should and can go. It knows that by going this way it fulfills god's command and is working toward the great work that is immeasurable, incomprehensible.
§ Because faith sees this and can do it, it is more than human strength. It is a part of the enormous power that fills all life and all worlds. With faith, a person walks with the assurance of a sleepwalker. Who can resist him, for he follows the path of the highest will. He will succeed when he believes. No hand raised against him will divert him from his way. The bullet aimed at him will not hit as long has he has not finished his path, as long as he has not turned from it.
§ Thousands do not understand the believing person because their souls cannot see. But what do the faithful care about the opinion of others, what do those who can see care about the opinion of the blind, what do those who have become strong care about what the weak think.
§ The way of faith is the way of everything great. Before our eyes Adolf Hitler went the way fate led him. He was filled with it and believed what no reason of the reasonable could see.
§ The path of faith is before each of us. Even if it is not the path of fame and honor, it is still the path of duty and of greatest happiness. To find it means to gain a part of the eternal strength that moves the worlds.
§ Because faith is strength, it can do what seems impossible. It is the foundation for every deed. No one can do anything without faith. No one can even jump over a ditch if he does not believe he can do it. The highest and most important in a person is not knowledge and understanding, but rather his faith. Each is worth only as much as the faith he has.
§ This new Reich began with faith. The first party rally after the seizure of power was called "The Victory of Faith." It grew and became great through faith. It no longer grew from the faith of one man, but from the faith of us all, and was borne by the strength of all. More than human strength was present.
§ Woe to those who do not believe. They are not on the side of the strength of creation, but rather annihilation. They are the destroyers of the Reich.
§ Faith is however stronger than all other powers that can be found in this world.