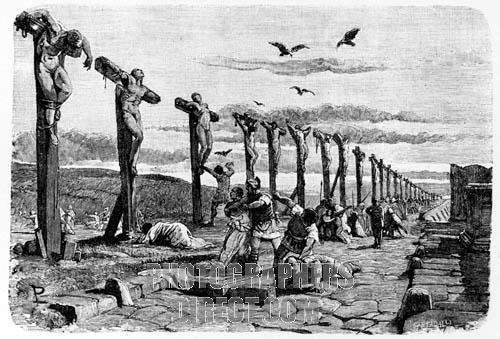 This is my response
to J. Varlaan in yesterday's thread:


Oh man, I must be with you and others like us in the aftermaths of the days of the rope! This is why I believe that white nationalist Christians are obsolete animals. Unlike Pierce, Covington and Linder, white nationalist Christians don't harbor this sort of fantasies. These nice guys are incapable of indulging themselves in hate because their fucking religion, especially the Protestant branch, forbids them such sentiment.
Seriously man, my big dream is to mark the end the Christian Era that is killing us by exposing, for a hundred years, thousands upon thousands of crucified white traitors along the roads from Paris to Berlin and from Washington to Atlanta. So, speaking of the future, the rotten corpses on the crosses that were killed long ago in the revolutionary days would produce the visual shock that the white race so desperately needs.
That's why I lean much closer toward Pierce's seminal novel than to Covington's quintet. The fanaticism required in the white psyche to survive the darkest hour must go far beyond Dave Duke's bullshit YouTube propaganda of being fair to non-white peoples and their shitty cultures. Instead of the gospel, the coming overman must find inspiration in Thus spake Zarathustra and in The Turner Diaries.
If conquering the world for the race is the ultimate objective, one must first crucify the most notorious members of wickedest generation of history, and give the strong message to the survivors that Constantine's abolition of the crucifixion practice in the year 337, out of veneration of a Galilean, is over.
Let the diamond speak!