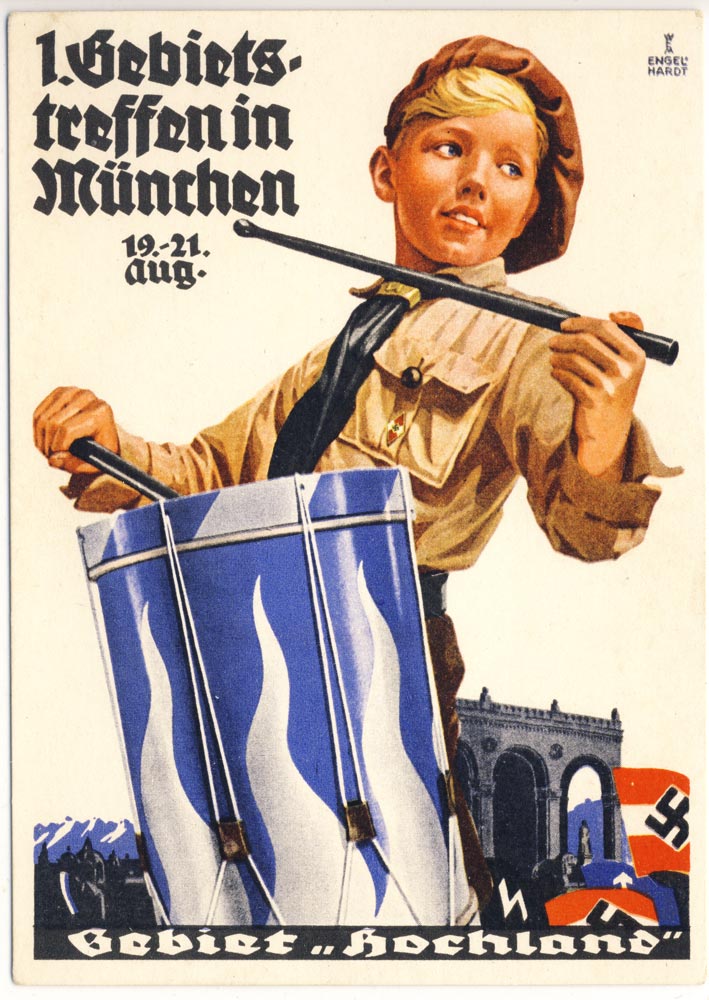 From Faith and Action (1938) by Helmut Stellrecht for the Hitler Youth:




"Oh holy heart of the peoples, O Fatherland!" You were created from the endless forests and wide moors that the glaciers of the ice age left us. It was poor land only made fruitful through sweat and toil, in joy and sorrow, in endless work.
§ One passed you on to the next and laid down in your earth from which new life grew. In you rest the endless ranks of past generations, the seed for new sowing in the wide land. The blood of the noble and brave who defended you fell on you. You were fertilized by the best that you bore.
§ From you, castles and cathedrals rose to the heavens, as if the earth itself wished to rise up to the god it was seeking. From our earth, from the seed of our dead.
§ The land is broad. Under the care of industrious hands it became a garden. They protected it lovingly, like the mountains and valleys protect their villages. Proud cities by the rivers, displaying the splendor of the old Reich. The market fountain has flowed for hundreds of years here. The gates still stand through which once the Kaiser, the knights and the nobility passed.
§ The silver stream of fate winds through. On the other bank is land that was lost. The heart almost stops. How one wishes to stroke the distant forests as one would an old and beloved face. But the heart beats once more on the plains and the coasts that German colonists won. The castle of the knights stands in the east, an eternal testimony of strength and virtue. There are the fields from which Frederick's eagle rose toward the sun, and there, far from the borders, is the wall of German dead, an eternal memorial of the nation that withstood the world as long as it believed in itself.
§ Everything is founded in and rests in you, Fatherland. Our strength and our greatness, but also our need and our misery. You are the ground that bore us and will bear those distant generations that will work and bleed for you.
§ No one can live without you, but each will gladly give his life back to you who gave it to him.