For those who liked a featured article I reproduced here under the title "Wagner's wisdom," Michael Colhaze has now written another piece on Wagner, but this time about "Barbarians who seem to lack any access to Beauty's divine joy, and therefore hate it, and thus try to destroy what they can't have."
However relevant to understand how these "gay" barbarians of San Francisco want to destroy Aryan beauty, below I omitted most of the images chosen by Colhaze in his recent article at The Occidental Observer: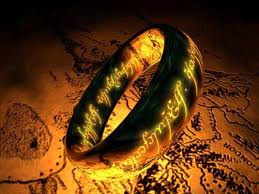 Let's assume, just for the fun of it, that they blindfold you, help you up the wide stairs of the San Francisco Opera and lower you carefully into a velvet fauteuil. You hear the murmur of many voices, a squeaking and scraping of instruments being tuned, and a few harsh coughs as mucous residues are brought under control. Then, on a more mechanical note, a different squeaking and scraping as the curtain opens. Silence! Suddenly the tentative moan of wind-instruments, perhaps oboes and bass clarinets. Horns, or possibly tubas, trumpets, bassoons, bass trumpets, trombones, contrabass trombones and contrabass tubas join the gradually accelerating symphony until a ringing crash shatters the ominous tonal procession. As an old Wagner aficionado you have already twigged the conundrum: this is Mime wielding his hammer while forging anew the sword Nothung that was broken. A sword intended for his mighty foster-son Siegfried who must kill Fafner the Dragon and divest him of his most precious treasure, the one Ring of Power. Which, as the nasty dwarf hopes, will thus end up in his own claws and so make him Master of the World! With a deep sigh you lean back, and while the powerful music overwhelms your heart and mind, its visual setting unfolds before your inner eye.
When Mime laments the Forced Drudgery! with a voluminous tenor while doggedly banging his hammer, you can't take it anymore. You jump to your feet and rip the blindfold from your eyes. And, from your Grand Tier Premium seat, what do you see?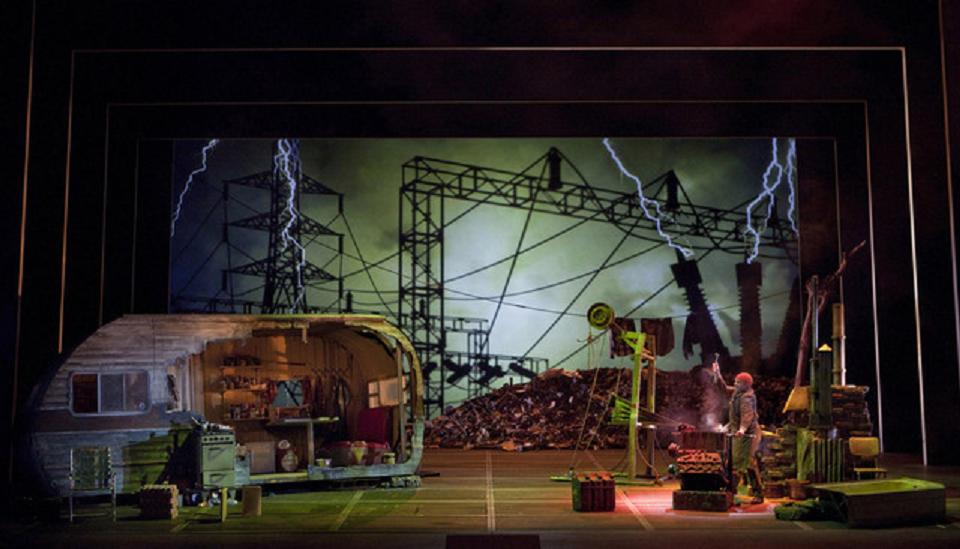 The above! A hideously illuminated scrap-yard with a smashed-up trailer and a stunted street-bum banging his Made in China Wal-Mart mallet onto a piece of rusty iron.
Stunned, you sit down again. And while you do so, the terrible truth dawns on you. Namely that you have been tricked into attending the modern production of a great classical opera.
Now let's assume you weren't in such a great mood anyway, because some run in with your Japanese SUV or Siamese tomcat or crooked solicitor had darkened the day already, and all it needed to blow your top was a piece of theatrical hogwash like this. Thus you jump to your feet again and, with all the power your lungs can muster, begin to curse the heathen hogs to kingdom come.
Which, for a while at least, has the desired effects. The orchestra stops playing. Harp, trombone and first violin allow for a sip from the pocket flask while the conductor opts for a line. Mime drops his hammer and pops another upper. The audience is in turmoil. Some people stand and stare. Others use the opportunity and rip off programs when nobody looks. Old Rebecca Greenberg-Traurig, granny to some of the House's foremost sponsors, goes down with the vapours. David Dunn Bauer, a celebrated art critic and rabbi, recognizes you as sincerely heterosexual and therefore, amongst other deviations, terroristically inclined. The House's General Director, David Gockley, widely derided in certain circles as one of the major innovators in American opera, appears on stage while frantically hissing into his diamond-studded I-pod. Francesca Zambello, the production's legendary artistic director, rolls into the main isle and yells insults at you that would make a harbour trollop blush. From your elevated position you glare down at her heavily powdered pizza-face and hurl your French fauteuil at it. But the damn thing misses by half a yard and only flattens her recently wed wife, Faith Gay (sic).
Finally the door is kicked down and all the world's cops jump on you, and you are blissfully saved from watching the rest of the outrage.
Well, too bad really! Because by refusing so callously to consider the SFO's magnificent production of Richard Wagner's Ring des Nibelung, you've missed one the season's cultural highlights. Just read what the assorted press had to say of the old semitophobe's most acclaimed oeuvre:
Wagner's Siegfried a Stunning Smasher, informs Opera Warhorses, which is most likely the most consummate praise ever.

Zambello's "decaying American landscape" and "world ravaged by greed and neglect"—on Michael Yeargan's sets with piles of garbage, polluted water and smoke-belching chimneys"—is OK, we are categorically assured by Janos Gereben in The Examiner.

Francesca Zambello, the first American woman to direct Wagner's macho four-opera epic, was loudly cheered (if also booed by a handful), writes Mark Swed in the Los Angeles Times.

A Siegfried of unparalleled physicality and imagination. Director Francesca Zambello and her forces have created a five-hour opera that plays like a two-hour action flick, enthuses Michael J. Vaughan in The Opera Critic.
And more of the same. But to get a real in-depth impression of the grandiose event, let us look at what one of the more subtle and thoughtful art critics has to say in his international journal for the arts where we are treated prominently to his curriculum vitae:
David Dunn Bauer is a rabbi, stage director, critic, and educator. He is an alumnus of Yale University, Reconstructionist Rabbinical College, and Pacific School of Religion, in addition to having studied with Nadia Boulanger in 1976 and at the Liz Lerman Dance Exchange in 2010 and 2011. Based in San Francisco, he coordinates the Jewish Queer Sexual Ethics Project at the Center for Lesbian and Gay Studies in Religion and Ministry and is the Bay Area Director of Programming for Nehirim, the leading national provider of community programming for gay, lesbian, bisexual, and transgender (GLBT) Jews, partners, and allies. He writes regularly on issues of Torah, sexuality, Queer culture and community, and the arts.
Truly impressive credentials, you will agree, and particularly appropriate to give the stunning, smashing SFO production its proper due. In addition, Mr. Bauer's journal styles itself The Berkshire Review, a somewhat misleading label since it clearly tries to give the impression that its editor is in some way akin to bygone critical genii like George Bernard Shaw who commanded the ethical and aesthetic clout to understand what the whole incredible Ring was really all about.
Here follows a brief compression of Rabbi Dunn Bauer's critical acclaim:
Francesca Zambello forged something new and wondrous from Wagner's tremendous and often toxic masterwork. I want to proclaim the true innovative triumph of the whole endeavour, the way in which Zambello told a worthy and contemporary feminist story through Wagner's Romantic score, his heroes and heroines. While the sung (German) text remained unaltered, SFO's (American) supertitles never referred to "the Rhine" (do you remember the Rhine?), only a nameless "river" and, as has become more and more the custom, often provided a slang and ironic commentary that bent the meaning of the original words.

For this Jewish Wagnerian who feels profound discomfort with Wagnerian anti-Semitism, I was deeply relieved at how thoroughly Zambello's production eschewed the racist stereotypes implicit in the text and score. The prime Nibelungs, Alberich and Mime, were not by nature ugly or evil, more troubled and embittered. The Valhallan Gods were not lofty in manner or motivation. Neither the Volsung Twins, Siegmund and Sieglinde, nor their love-child Siegfried shone with gilded character against the dark horde of their moral inferiors. The ethical playing field was rendered strikingly even for a game played among deities and dwarves, goddesses of wisdom, demigod heroes, and scheming murderers.

As if to mete out a further measure of Borscht-Belt retribution for repugnant Aryan sins past, Zambello introduced an unprecedented amount of shtick into this portentous musical mythology. There were enough precisely timed elements of low comedy and enough laugh-provoking prop gags (beer bottles, butt kicks to God, telephones, televisions, remote controls, croquet mallets, and lap dances) to fill a revival of Gianni Schicci. In a rough tally, we find that Zambello transported the Ring out of the Rhine to the American River; brought the gods down (and the gnomes up) to a very humane plane; spiked Teutonic mead with vaudeville borscht; enriched the quality of women's experience and agency beyond the stale limits of conventional heroine-ism; and erased the ethnic caricatures of the most offensively anti-Semitic work of dramatic art to hold an enduring place on the world stage.
And here a few visual highlights of the incredible extravaganza. The comments are lifted from Mr. Dunn Bauer's unabridged critical piece. [images omitted]
Which seems to be a persiflage of Conrad's "The horror! The horror!" and is therefore a perfect epitome of the entire hideous and miserable travesty.
Mr. Dunn Bauer, himself in danger to be labelled an ethnic caricature, and a damn queer one at that, has correctly identified Alberich as one of his own tribe. Though imperatives of loyalty forbid him to enlarge on the matter, he surely understands that the nasty dwarf is alive and well and wields the one Ring of Power to his heart's content. What better therefore to divert attention to Siegfried's heirs and crush a baby Nibelung for sport, an elegant simile clearly inspired by Elie Wiesel's masterwork Night wherein the famed Nobelist and crackpot saw with his very own eyes how lorry-loads of small babies were hurled into a gigantic furnace?
Seen in this context, it is of course small wonder that a vengeful schmuck like Mr. Dunn Bauer rejoices about the mountains of shtick that disfigure Wagner's incomparable magnum opus like plague spots a beautiful Rhinemaiden. Yet what seems odd is that he never mentions the generous sponsors who made this Twenty Five Million Dollar Enterprise possible. Because they are easy to make out. Just look at SFO's official website and you will find, among small fry like La Boulange who occasionally doles out a free espresso, the usual suspects, namely a few international investment corporations who obviously laid out most of the aforementioned millions.
Just as in other great houses where there are frantic and vain attempts to destroy Wagner's glorious legacy by presenting it as a theatrical garbage heap. Which gives us once again a clear idea about this particular type of barbarian who seem to lack any access to Beauty's divine joy, and therefore hate it, and thus try to destroy what they can't have.
As for those who are firmly grounded in Christian-humanist ethics and aesthetics, the smutty antics of the San Francisco Opera can't be anything but the convulsions of an utterly diseased counter-culture that will slide back into the gutter once its sponsors have been divested of the one Ring of Power. Which, according to the developments in Greece and elsewhere, will happen rather sooner than later.