In almost any war one side can be dishonestly demonized even by a truthful enumeration of its crimes, if the crimes of its adversaries are suppressed. —Irmin Vinson

Excerpted from Thomas Goodrich's 2010 book
Hellstorm:
The Death of Nazi Germany
(1944-1947)
A Sea of Blood
Defending Berlin was obviously going to be a very ugly business, and many civilians were going to die in the fighting.
♣
A short time later, Juliane learned much more about the "facts of life" when "an entire horde of Mongolians" stood facing her.
"The first time when they took me and forced my father to watch, I thought I would die… I shudder. For four years Goebbels told us that the Russians would rape us; that they would rape and plunder, murder and pillage. 'Atrocity propaganda!' we said as we waited for the Allied liberators."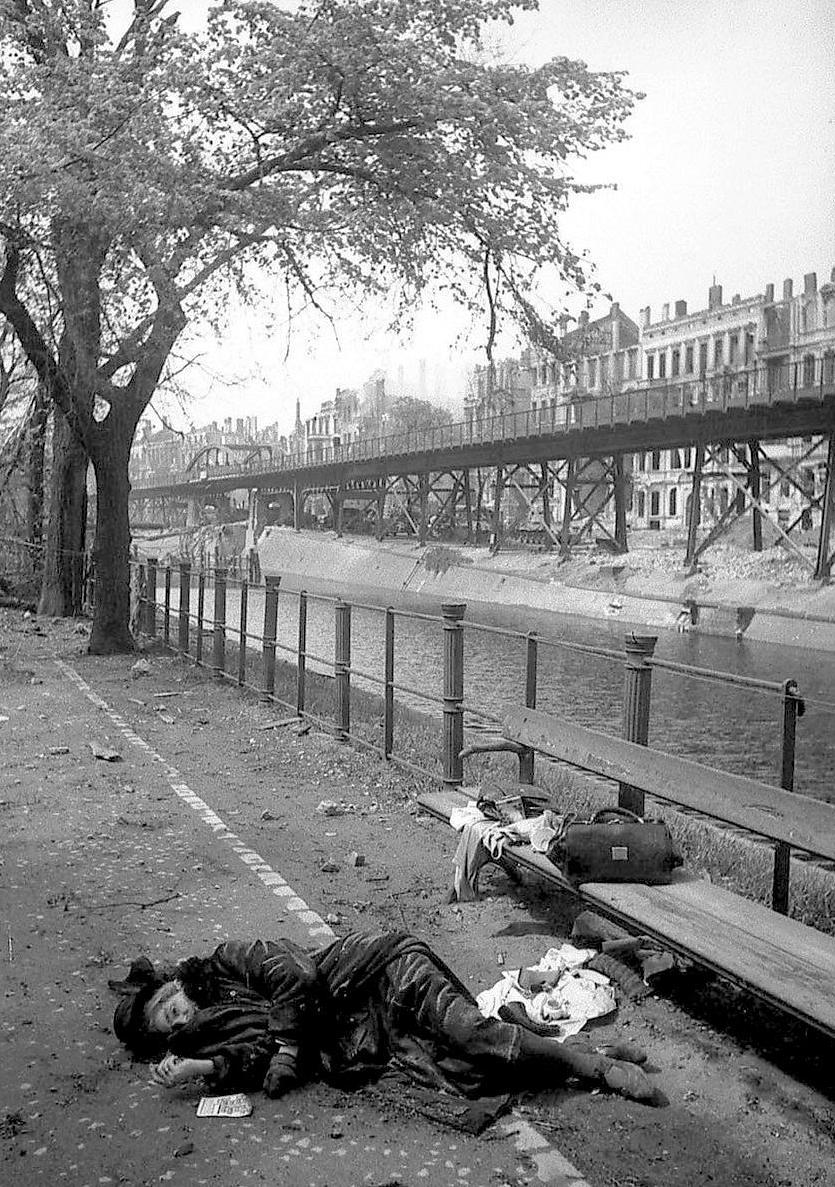 Like the frantic girl above, many females did indeed choose the ultimate escape. "There is no other talk in the city. No other thought either," revealed Ruth Andreas-Friedrich. "Suicide is in the air… They are killing themselves by the hundreds."
Compelled by hunger and thirst to leave their holes, Germans were stunned by what they saw in the streets. To many, it was if Berlin had returned to the Dark Ages. Primitive, Asiatic carts, piled high with plunder, stood side by side with American-made tanks and jeeps. Over open fires, Kulaks and Tartars roasted whole hogs and oxen on spits.
At approximately 3:15 P.M., April 30, Adolf Hitler retired to his room, placed a pistol to his head, then squeezed the trigger. Beside him, his newly-wed wife, Eva, also lay dead.
Finally, on the afternoon of May 2, General Weidling formally surrendered the city. Remembered Lothar Ruhl: "Now again, we heard shots… so I asked who was doing the shooting. I was told, 'the SS are shooting themselves'."
♣
"Stalin said," remembered Gen. Nikita Khrushchev, "that if it hadn't been for Eisenhower, we wouldn't have succeeded in capturing Berlin."
____________________________
Educate yourself about the Holocaust perpetrated on the German people by the Allied forces that the mainstream media has covered up for nearly seventy years.
Hellstorm is still available from the publisher.