In 'Under the Redwoods' I described the loneliness of crossing what I call the psychological Rubicon: from Normieland to the lands of NS. But today I received some printed material from the mailman, including a paper leaflet 'Introducing the New Order'.
Following my metaphor, I was very pleasantly surprised to discover that we are not so alone on the other side of the river. There are still people on this side after the fateful 1945!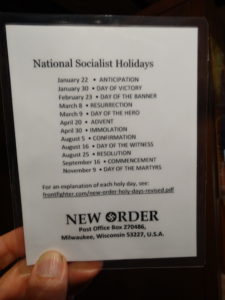 One side of the leaflet I received today can be seen here. On my paper printout, I marked the first three paragraphs of this 'Introducing the New Order', and most of what we can read under the heading 'A Community of Faith'. I also marked the words 'We come together privately in formal ceremonies, services and celebrations,' as they reflect exactly what I have been saying about how to found a new religion.
The text continues turning the page, which I could quote. But it is better for Aryans interested in becoming true National Socialists to get the leaflet.