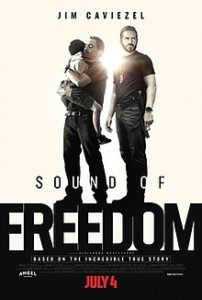 I don't go to the cinema any more, and the film won't arrive in the country where I live until the last day of next month anyway. But considering that long ago I wanted to be a film director; that the producer of this movie is Mexican, and that this film with a minimal budget beat the latest Indiana Jones monstrosity, I would like to say something.
In the first place, I'd never have added a post about this film but it struck me that the System was so bothered by it—I didn't understand why.
After a brief investigation, I remembered that Hollywood had promised that by 2024 only films promoting the LGBT+ agenda would be considered for the Oscars. As the Woke vanguard finds itself at the moment, the 'T' in the acronym above is no longer the spearhead in their ongoing Cultural Revolution but rather the '+' which includes the sexualisation of children. Recall, for example, how Netflix released a film that sexualised eleven-year-old girls.
A film like Sound of Freedom, which denounces child sex trafficking, makes a lot of noise on this agenda. It is as if the System wants, after normalising the 'T' of transgender adults, to take the next leap forward which already started with trans children and the mutilations of girls' breasts and boys' genitals that are still unbanned in most of the West. Sound of Freedom simply sheds light on another of the darkest forms of child sexualisation: child trafficking.
On this site, I have mentioned Agustín Laje, the Latin American equivalent of the American Matt Walsh. In this interview just uploaded today, he appears not only with the Mexican producer of Sound of Freedom but with Jim Caviezel, the lead actor (the same one who played Jesus in Mel Gibson's famous film).
Although it is laughable that Jim Caviezel talks so piously about the Virgin of Guadalupe, and the Judeo-Christian god in the Spanish/English interview linked above, the film contributes to denouncing one form of unpardonable child abuse.