The Betrayal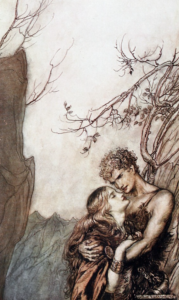 The days passed, slow and monotonous, and Brunhild waited anxiously for Siegfried's return.
Attentive to the slightest rumour, she thought she heard every moment the distant sound of the Grane's hooves. Deep melancholy darkened her face as she saw that her beloved was taking longer than promised.
One day she heard someone approaching on horseback. At once a Valkyrie appeared before her.
"Sister, have you come to visit me in disobedience to our father, or have you come down to earth with his permission? Has the wrath of the wrathful Wotan abated?"
"I have come down without permission to implore your help."
"What is the matter?"
"Happiness no longer reigns in Valhalla. All is sadness up there. Over our father Wotan and all the gods, there is the anguish of great desolation."
"I belong to the earth. The gods and Valhalla are indifferent to me. Besides, what can I do for the gods and the sons of the gods?"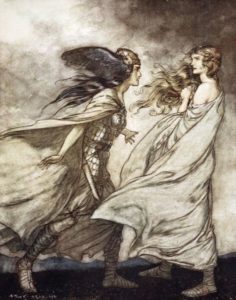 Towards evening the sound of a horn was heard coming from the deep valley.
"Surely it must be Siegfried's horn," thought Brunhild. And her heart swelled at the impulse of her immense joy. She saw an arrogant figure advancing through the fire. It could be none other than her lover; what would be her astonishment when she saw that the features were not those of the hero!
"I have conquered the power of fire and conquered you!"
Thus spoke the stranger to her, taking her by the arm.
"Who are you, that you dare to approach the wife of the strongest hero in the land? My husband is Siegfried, and the ring he left me as a pledge of his love will give me strength to resist your daring."
"I am Gunther, prince of the Gibichungs. I have conquered you and you will follow me. If that ring is an obstacle to my will, I will take it from you by force."
Brunhild resisted bravely in order not to be deprived of the jewel, but her resistance was in vain.
The knight who claimed to be Prince Gunther was in fact, Siegfried. According to their pact, he had taken the countenance of his friend using the magic helmet. The hero, having forgotten all his past through Hagen's brew, conquered Brunhild for the second time to hand her over to Gunther.
With desolation in her soul, the young woman descended into the valley followed by the false Gunther. In truth, he was on the bank of the river, in hiding.
Just as Brunhild was getting into the boat, the prince jumped on board and spread his sail. Meanwhile, Siegfried, who had returned to his true countenance, stood on the shore and watched the boat sail away. Then he embarked in a swift skiff and reached Gunther's castle before the latter. Hagen greeted him with mock cordiality and asked him:
"Where is Brunhild?"
"She is in the boat with Gunther."
"There were no problems?"
"None."
"What did she say to the young man when she was found?"
"She resisted. She called out my name several times. But I don't remember seeing her before."
The hero made an effort to evoke something of his past and felt his mind grow duller and duller, like a morning with dense fog.
Then Gutrune arrived and laid her head on Siegfried's chest. The latter was still enraptured by her through the effects of the sly Hagen's brew.
"Sister!" said the latter to Gutrune, "if Gunther and Brunhild are coming, it is only right that you should call the people to come and meet them."
"You are right, brother. All will rejoice noisily at the double marriage of their princes, Gunther to Brunhild, and Gutrune to Siegfried."
On a mound, Hagen blew his horn.
From every corner of the land the villagers came so that when Gunther and Brunhild reached the boat, they were greeted with shouts of welcome.
The Valkyrie advanced towards the castle as if in a dream. She was as if disturbed.
"Hail, dear Brunhild," exclaimed Gutrune, advancing towards her, "I am highly honoured to be your sister-in-law. I am sure my brother will make you happy." Brunhild did not answer. She was as if stunned amid the crowd's welcoming din.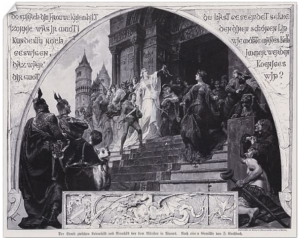 Gunther took the floor to respond to her sister's greeting:
"Hail Gutrune, to you and your noble husband Siegfried!"
At the sound of this name, Brunhild snapped out of her morass.
"Siegfried? Where is Siegfried?"
"I am here and welcome you, Brunhild."
Brunhild looked into his eyes, amazed that her beloved could speak to her so coldly. As she looked at his hands, she discovered the ring that the false Gunther had taken from her a short time before.
"Ah, it was you! It was you, not Gunther, who broke through the circle of fire that protected me from intruders! You have conquered me twice! And for what? To give me to this presumptuous man, who has taken advantage of your fearlessness to make me his wife? And you lent yourself to this infamous game? Traitor! Infamous traitor!"
A surge of anger kindled in the hero's fierce face as he heard these insults, but he could not understand why Brunhild said that he had conquered her twice. He remembered nothing of his former adventures. He strove to draw from the depths of his mind some light that would clear up the mystery. In vain!
Brunhild was weeping now. She wept bitterly. When Gunther approached her, she turned him away violently.
"Vile and cowardly," she cried, rising with the ancient fierceness of the Valkyries, "this is a land of infamous traitors!"
"Why do you say that, Brunhild," asked Siegfried; "why do you claim that I have conquered you twice?"
"Yes, one morning you woke me with a kiss on my forehead, and last night you tore off the ring that you yourself had left me as a pledge of your love."
At those words, which the young woman uttered with a heart-rending accent, Gunther was startled. Gutrune was looking around, doubting everything, and Siegfried was still without understanding, without remembering.