by Gaedhal
The radical trans-exclusionary feminists are usually full-throated supporters of homosexuality.
Again, it is not my intention to whip up violent hatred either against Trannies or homosexuals. We have had internet pornography launched at us—by Jews—as a psychological weapon for thirty years now. Trannies and homosexuals are victims of this. Trannies and homosexuals who mind their own business have my deep respect and sympathy. I wish them no harm or ill will.
Who voted for thirty years of internet pornography? Nobody did. Fuck democracy. Do you think that Hitler would allow this?
That being said, Gluck's arguments that transanity is Pornogenic, i.e. a pathology created through porn use could easily be used with homosexuals. Pornography, as she says, is like heroin. You need harder and more concentrated doses of it to achieve the same effect. You start off with the nude women of Playboy. Before long, it is scat porn. It is lactation porn. It is gangbang porn. Some years go by, and then it is gay porn, then it is transexual porn. Some years go by and then it is so called "child porn". Gluck is correct when she says that we live in a pornified culture. I remember remarking to myself that the early 2000s were disgustingly pornified. All the Jewish "entertainment" media was exceedingly pornified.
Trannies are at the stage in their porn addiction, according to Gluck, where they need trans porn to be sexually stimulated. Trannies aren't quite at the "child porn" stage. In my view, though, homosexuals are only one stage behind the trannies, and only two stages behind the paedophiles.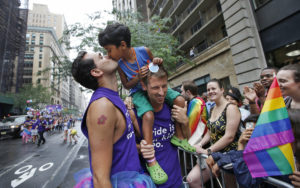 If Gluck advances pornogenesis and the contagion model for transanity, then why cannot I advance pornogenesis and the contagion model for homosexuality? If Gluck says that Trannies are on a trajectory that leads inexorably to paedophilia, then why cannot I say that homosexuals are merely one step behind trannies on this same trajectory? If transanity spreads by social contagion, according to Gluck, then why cannot I say the same thing about homosexuality?