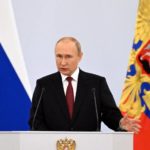 The United States is the only country in the world that has used nuclear weapons twice, destroying the cities of Hiroshima and Nagasaki in Japan. And they created a precedent.
Recall that during WWII the United States and Britain reduced Dresden, Hamburg, Cologne and many other German cities to rubble, without the least military necessity. It was done ostentatiously and, to repeat, without any military necessity. They had only one goal, as with the nuclear bombing of Japanese cities: to intimidate our country and the rest of the world.
It actually continues to occupy Germany, Japan, the Republic of Korea and other countries, which they cynically refer to as equals and allies. Look now, what kind of alliance is that? The whole world knows that the top officials in these countries are being spied on and that their offices and homes are bugged. It is a disgrace, a disgrace for those who do this and for those who, like slaves, silently and meekly swallow this arrogant behaviour.
_________
Source: here.