I rarely talk to normies or Jews on the internet. But now that I was checking my Twitter account, the software automatically feeds users with some recent tweets from notable people and I came across a recent popular tweet from Jew Lex Fridman ('Hate is a poison that destroys the mind. Choose love'). I responded by simply quoting Mauricio ('You need to transvalue your views on Hate and War. Hate is a source of pure, raw power. The best source of Power. Aryans need to re-learn how to tap into that source and use it effectively to destroy their enemies completely, forever'), although I had originally entertained the idea of quoting what Alex Linder says about hate: that defaming it is a psyop of our enemies to disarm us.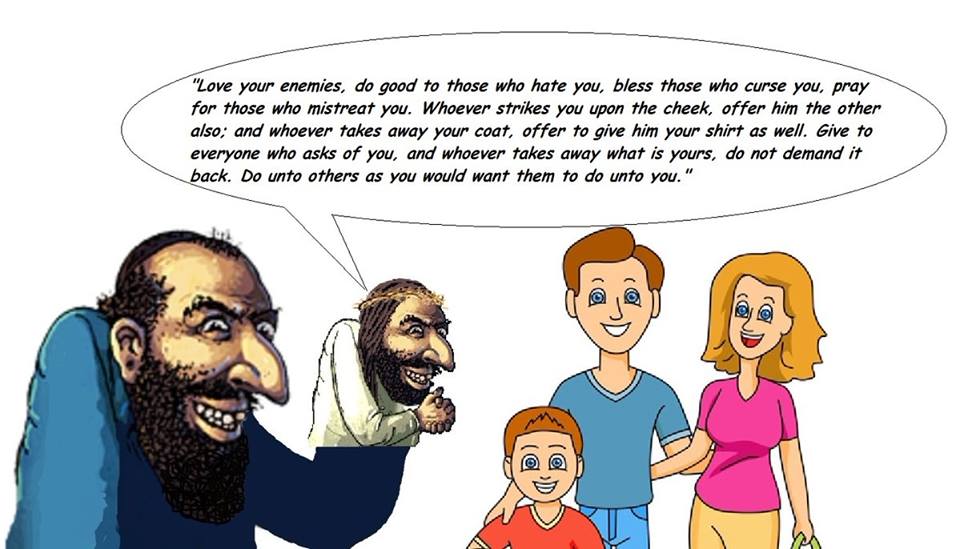 This is precisely what has happened throughout the West. Jung said that an archetype can literally possess the soul of humans through the collective unconscious. And the archetype that after World War II took over the white man, including atheists, is the Jesus-as-a-hippy archetype: peace and love (think of the best movie filmed about this archetype: Jesus Christ Superstar, a movie by Norman Jewison). Hence the cure is to show racialists, as we recently saw in Weikart's book on Hitler, that the German Chancellor knew that Christianity was, from its inception, a Semitic plot to brainwash the white man.
What is really alarming is that I have seen words very similar to Fridman's written by the admins of very popular blogs of the American racial right. That's why I have said that the Christians in the cartoon above are worse, in the sense of incredibly and unimaginably stupid and even more dangerous, than any subversive tribesman.