One of the most serious objections lodged against the interpretation of Hitler as a pantheist is his use of the term "Creator" in his writings and speeches. Hitler occasionally referred to an Almighty Creator or Eternal Creator, and he sometimes asserted humans were made in the image of God. If Hitler believed in a God who created nature as a distinct entity, separate from himself as deity—as monotheistic religions have traditionally taught—then he would not be a pantheist. He would most likely be a deist, since he generally spurned the idea that God intervened miraculously in history.
In his speech to the 1935 Nuremberg Party Congress, Hitler called God "the Creator" of the German Volk. However, he also implied that God would not intervene miraculously on behalf of his chosen people. They would have to work and fight to gain the Almighty's favor and blessing. Hitler stated, "In the long run God's favor will be given only to him who deserves it. He who speaks and acts in the name of a people created by the Almighty continues to act under this commission so long as he does not sin against the substance and the future of the work of the Creator that has been placed in his hand. Therefore it is good that the conquest of power is always bound up with hard fighting." Hitler's God was not one who intervened super-naturally in historical developments. Rather, he rewarded people according to the way they worked and fought. God did not break into the cause and effect relationship governed by natural law.
In January 1943, Hitler again called God "Creator" yet implied this version was not a miracle-working deity; rather, he expected humans to make their own way in the world… "In this mightiest struggle of all time, we cannot expect that Providence give us victory as a present. Each and every people will be weighed, and what is judged too light will fall."

______ 卐 ______

Editor's note: If this is true, and I believe it is, American white nationalism will fall: it is too timid an intellectual movement.
______ 卐 ______

God's judgment is thus not a decision of a personal deity but the result of natural causation: those who work hard and fight bravely win. It is also interesting to note that, according to this speech, one of the things Hitler's God established was the Darwinian law of the struggle for existence…
Hitler explicitly rejected the creation stories of the Judeo-Christian tradition. Finally, Hitler embraced an evolutionary account of the origins of humanity.
Let's explore these last two points in greater depth. Never did Hitler express belief in the biblical creation story—which, after all, derived from the Jewish scriptures. (We have already seen that Hitler's anti-Semitism led him to spurn the Old Testament as a Jewish document.) He obviously did not embrace young-earth creationism (which is what most Americans mean today when they use the term creationism), since on quite a few occasions he mentioned the earth existing for hundreds of thousands, or even millions, of years. For example, in Mein Kampf, he warned pacifists that their naiveté would have disastrous consequences, because "this planet once moved through the ether for millions of years without human beings and it can do so again some day if men forget that they owe their higher existence, not to the ideas of a few crazy ideologists, but to the knowledge and ruthless application of Nature's stern and rigid laws"…
In general, Hitler regarded the Old Testament creation stories as delusional inventions of the Jewish mind. On October 24, 1941, Hitler spoke at great length to his entourage about the controversy between science and religion, and specifically between evolution and Christianity. Hitler opened this lengthy monologue on evolution by claiming that the church's teachings are contrary to modern research. In fact, as Hitler expounded on this science-religion controversy, he clearly came down on the side of science and bashed the church, asserting, "The definition of the church is a misuse of the creation for earthly purposes." He also divulged his pantheistic tendencies: "Whoever sees God only in an oak or in a tabernacle and not in the Whole, cannot be pious deep inside; he remains stuck in the outward." In addition, Hitler praised the French Enlightenment thinkers' anticlericalism and the progress of science. After expostulating on the glories of science and the ignorance of the church, Hitler pronounced his belief in the evolution of humans. He stated, "There have been humans at the rank at least of a baboon in any case for 300,000 years at least. The ape is distinguished from the lowest human less than such a human is from a thinker like, for example, Schopenhauer"…

______ 卐 ______

Editor's note: Just what I meant in my previous post, 'On the hermit's cave'.
______ 卐 ______

[Hitler's secretary Christa] Schroeder confirmed in considerable detail that Hitler believed in human evolution through the process of struggle and selection. Two other associates of Hitler testify that belief in Darwinian evolution was integral to his ideology. Wagener remembered a conversation in the summer of 1931 when Hitler professed, "Everywhere in life only a process of selection can prevail. Among the animals, among plants, wherever observations have been made, basically the stronger, the better survives".
______ 卐 ______

Editor's note: And the Jews are proving to be stronger than the Aryans because of the Christian malware in the latter's head, the parasite that weakened them (compare today's Aryans with what Flavian dynasty member Titus did in Jerusalem).

______ 卐 ______

This not only demonstrates Hitler believed in Darwinian natural selection, but it also suggests he saw the process as nonteleological, i.e., not directed by some deity. Wagener claimed that Hitler based his support for killing the weak and the sick on this vision of natural selection. Otto Dietrich generally concurred, stating that Hitler's "evolutionary views on natural selection and survival of the fittest coincided with the ideas of Darwin and Haeckel." Hitler was not an atheist, according to Dietrich, but believed in a Supreme Being who "had created laws for the preservation and evolution of the human race. He believed that the highest aim of mankind was to survive for the achievement of progress and perfection." Thus, evolutionary thought was central to Hitler's goals and policies.
In his two books, Hitler discussed evolutionary theory as vital to his theory of racial struggle and eugenics. Several times throughout Mein Kampf, he specifically employs the term "struggle for existence" ("Kampf um das Dasein"); in fact, the phrase or its plural appears three times in a passage several pages long where Hitler described why the Germans should be both pro-natalist and expansionist. Historian Robert Richards, however, inexplicably claims that Hitler's views in this passage are un-Darwinian, because—according to Richards—a Darwinian should supposedly want population expansion only within restricted borders, which would allow the fit to triumph over the unfit. Richards argues expanding into new territory would lessen the struggle, allowing the fit and less fit "to have fairly equal chances."
Richards, however, miscalculates here because he leaves out one of the most important factors in Hitler's reasoning: the living space (Lebensraum) is to be taken from allegedly inferior races. Thus, expanding is part of the Darwinian racial struggle that allows the allegedly fitter Nordic race to outcompete allegedly inferior races. Contra Richards, Hitler's discussion makes perfect sense in a Darwinian world if unequal races are waging a struggle for existence. In fact, the whole idea of Lebensraum was first formulated by Friedrich Ratzel, a Darwinian biologist who later became a geographer. In addition, many pro-natalist eugenicists with impeccable Darwinian credentials, such as Alfred Ploetz or Max von Gruber, agreed with Hitler's position on expansionism (indeed, they may have influenced Hitler in this matter).

______ 卐 ______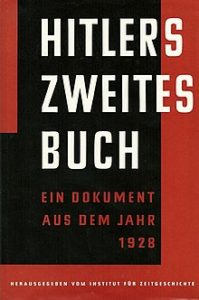 Editor's note: On the following pages (231-236) of Hitler's Religion, pages containing a very important quotation from Hitler's second book, we see that Hitler understood Darwinism perfectly.
The point is that this Darwinism will lead us to our exterminationist philosophy (remember what Darwin himself believed would be the fate of coloured people). Weikart continues:
______ 卐 ______
In June 1944, Hitler explained his views on war to an audience of army officers in a remarkably candid speech. He opened it by basing his philosophy of war on natural law:
"Among the processes that are essentially immutable, that remain the same throughout all time, and that only change in the form of the means applied, is war. Nature teaches us with every gaze into its workings, into its events, that the principle of selection dominates it, that the stronger remains victor and the weaker succumbs. It teaches us that what often appears to someone as cruelty, because he himself is affected or because through his education he has turned away from the laws of nature, is in reality necessary, in order to bring about a higher evolution of living organisms".
Hitler then insisted that humans must follow the ways of nature, not the allegedly misguided path of humanitarians. If they pursue humanitarianism, Hitler warned, they will be supplanted by other organisms that take the struggle seriously.

______ 卐 ______

Editor's note: Instead of 'humanitarians' or 'humanitarianism', the Christian author of this book didn't dare to write simply 'Christians' or 'Christianity'. If the ancient Romans would have had weapons of mass destruction and survived the next centuries instead of succumbing to Christianity, we can already imagine the fate of the Huns, the nascent Muslims or the Mongol invaders.

______ 卐 ______

As I have demonstrated above, Hitler did indeed believe in human evolution. It was not a peripheral element of his worldview, either. It helped shape his understanding of the human struggle for existence, natural selection among humans and human races, eugenics, pronatalism, killing the disabled, and expansionism. Of course, Hitler's evolutionary views were synthesized with many other influences, such as anti-Semitism and nationalism; it was by no means the sole influence on his ideology or policies.
But in addition to all the times Hitler explicitly broached the topic of human evolution, he even more frequently discussed the racial struggle for existence, the struggle for existence within the Nordic race, natural selection, and many other Darwinian themes. He often abbreviated these terms as "racial struggle," "struggle," and "selection," just as many of his contemporaries, including biologists and eugenicists, did, but key issue here is the concept, not the exact terminology. When Hitler spoke about the "selection" of the strongest organisms and the elimination of the weakest, it did not matter whether he used the exact term "natural selection" (though he did at times). He was obviously describing it, and that is the crucial issue…
"The ape is distinguished from the lowest human less than such a human is from a thinker like, for example, Schopenhauer." In a 1933 speech at the Nuremberg Party Rally, he stated, "The gulf between the lowest creature which can still be styled man and our highest races is greater than that between the lowest type of man and the highest ape." These last two comments paraphrase statements Haeckel made in many of his works; two examples are "the difference between the lowest primitive humans and the highest evolved cultured humans is in this respect greater than that between the former and the apes" and "the differences between the highest and the lowest humans is greater than that between the lowest human and the highest animal."
______ 卐 ______

Editor's note: Emphasis in the original. I hope that by now you understand my iterated statement on this site about "the extermination of the Neanderthals": something I have been telling myself for decades in the cave but only in recent years dared to divulge.
______ 卐 ______

Hitler asserts, "Nature knows no political boundaries. First, she puts living creatures on this globe and watches the free play of forces. She then confers the master's right on her favorite child, the strongest in courage and industry." In other words, nature is the source of living organisms—not some Creator God—and lets these organisms fight it out among themselves. Nature is not actively intervening or doing miracles but rather allowing its laws to prevail.