– For the context of these translations click here –
CHAPTER 5
The last Merovingians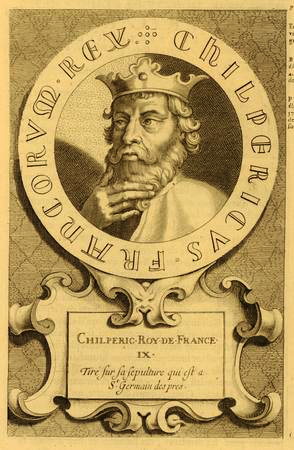 'No one rules more than the bishops, our glory no longer exists…' —Chilperic I
While the difference between Franks and Gallo-Romans disappeared little by little, although not the different legislation, the external borders of the Merovingian kingdom remained until the end of the Merovingian period. There were indeed political complications, as well as some attacks by the misers against Thuringia and by the Visigoths against southern France, as well as some outright riots and raids of prey beyond the borders. But the main objective was no longer expansion outwards, nor the expansion of the kingdom as a whole, nor the subjugation and exploitation of strange and distant neighbours.
It was the kings, once again four, and their numerous successors who sought to enlarge their possessions and territories at the expense of the territories of others, and in an almost uninterrupted way to harm and weaken them in this way. In a word, each was seeking supremacy.
This caused that at the end of the 6th century and the beginning of the 7th century almost all the Merovingian princes died a premature and violent death, that brutalities and large-scale outrages continued to occur in the kingdom, that civil wars and looting would incessantly break out, that many places were reduced to ashes, entire areas were devastated and innumerable looting, mutilations and murders were committed, to which were added plagues and famines.
The peasants hid in the woods and robbed for their own account. Amid this debauchery and impasse, all means were good for the combatants…