The ethno-suicidal ideology arose in Europe and the United States. Latin America is merely co-dependent on the fashions of the West. For this reason, the news south of the Río Grande rarely have relevance with the fourteen words, as they only imitate the North. But something happened last week at the Guadalajara International Book Fair that is worth mentioning.
Protected by the security agents of the Fair itself, on December 6, a group of vociferous feminists entered the fair, assaulted one of the exhibitors (containing copies of a book out of the pen of a conservative who writes about therapies for those who wish to heal from their homosexuality); they made a pile, and burned them in front of all.
Shocking as it is that the very security forces protected public vandalism, what caught my attention is that the Mexican journalistic notes failed to denounce it. When they finally mentioned it, they did it in such a way that the basic facts, such as the illegal assault on the exhibitors and their bookshelf, the theft of their books, and that the burning was illegal, were omitted to sugarcoat the facts before public opinion.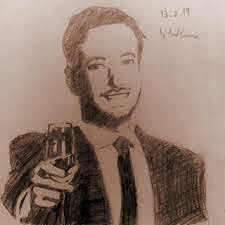 He who understands spoken Spanish can listen to today's video of the Argentinian Agustín Laje (drawing) about the event last week. In Latin America and Spain, Laje, who has visited Mexico and Guadalajara many times, is probably the best-known voice in denouncing gender ideology.
I mention this because not long ago a commenter told us that he did not care about women, as an issue, mentioned in an article in an old version of The Fair Race. The comemnter is clueless of course. The target of that text were not women but how we, men, literally go crazy in our interaction with them, as we are hard-wired to protect the fair sex.
Update:
I just spoke with my sister and she told me that at least some in the MSM of the country did criticise what feminists did. She mentioned the names of Joaquín López Dóriga, Ciro Gómez Leyva, Carlos Loret de Mola and a name that I don't remember from channel 40 of TV.