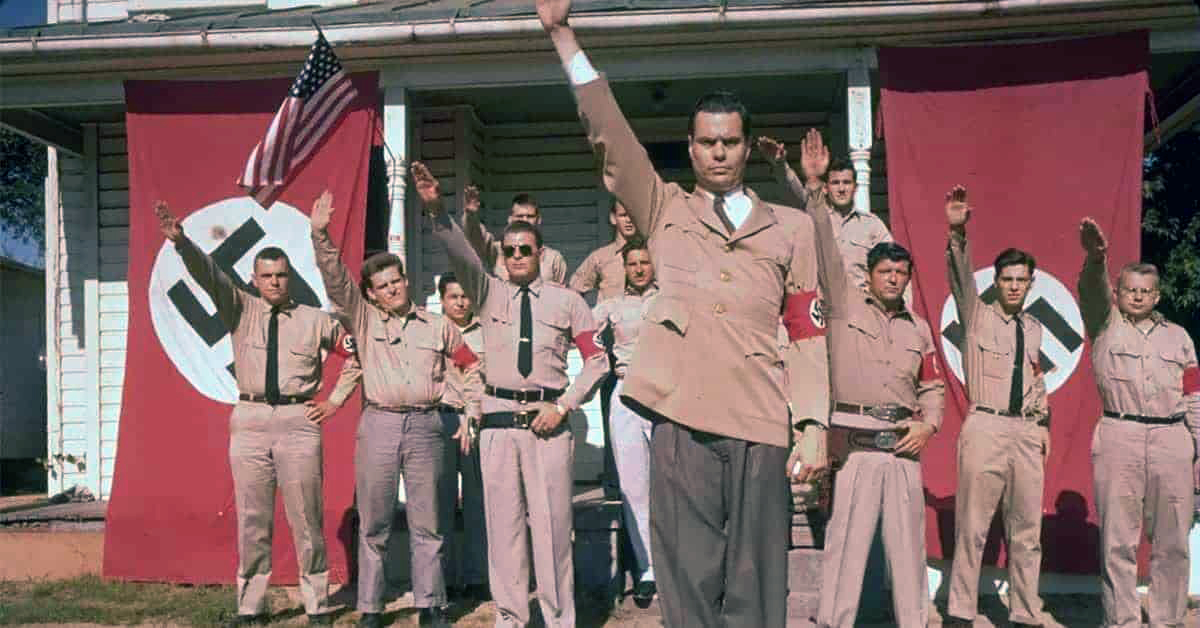 I don't know if I'm going to start a series about George Lincoln Rockwell's books, but yesterday that I read Chapter 12 of White Power some ideas came to me.
I realized, even then, that talking and educating are useless unless they are directed at the only worthwhile political goal, power. (page 297)
In other words, everything white nationalists do today is almost useless. With the exception of Harold Covington they don't even have a plan on how the United States will be reclaimed (well, in the case of the late Covington, at least part of its territory).
Although it is made to appear so, the battle between the "conservatives" and "liberals" is not a battle of ideas or even of political organization. It is a battle of force, terror and power. (page 299)
Completely true: as we can see in how the System used the Charlottesville event to imprison innocent young whites.
As long as the right-wing confines its fighting to being "nice", the great masses of the public will bow down like sheep to the left-wing which is not nice—which uses smear, economic persecution, legal harassment, and finally physical terror to maintain its domination of our national life and culture by force. The force is disguised, of course, in checkbooks, judge's robes, rigged party conventions, etc.—but it is still either the force itself, or the threat of force which has America down and afraid.

No amount of papers and pamphlets, were they all masterpieces of propaganda—and no amount of talk and meetings can stop this growing left wing force… (page 300)
It is amazing that these words were written in the mid-1960s! Rockwell was not a 'white nationalist': a term that didn't even exist when he lived.
What exasperates me greatly when reading the real white nationalists is that since Rockwell's time they have lost their manhood. Of the notable racialists currently active, only Alex Linder speaks as a man. And with the exception of youtuber John Mark, the vast majority have been so emasculated that they are not even able to talk about revolution within the limits of freedom of expression allowed by the US government.
Any man who spends thirty or forty years pretending to imagine there is such an easy way while our country and our White Race go down and down and down—is not a dreamer—or ignorant. He is a coward! (page 302)
Absolutely.
Before a mass of people will rise up and do anything effective and forceful about a tyrannical situation, there must be built up a certain emotional pressure. (page 304)
Since today's whites are degenerates, only the convergence of catastrophes can save them: the coming collapse of the dollar and, later, the gradual energy devolution throughout the century due to the growing oil shortage. (Hopefully, an international exchange of nuclear strikes during the chaotic societal circumstances will fulfil Little Finger's 'Chaos is a ladder'…)
There are plenty of people already awake in America. They are afraid and they are frustrated by their inability to do anything about the terrible evil they see growing.

Mercury magazine did indeed "inform" a lot of people. So does the Birch Society. But we don't need any more informed people who won't stand up and fight to oppose tyranny!…

As Hitler puts it so masterfully, "eight lame men walking arm in arm do not make one gladiator". These weak rightwing leaders, who, for forty or fifty years have been preaching a million different tricks to avoid the desperate, dangerous fight which is always the price of any victory, are approaching the end of the road. (page 305)
This reminds me of something else. Pace Rockwell, it is impossible to fight with defective people. Rockwell played a very risky gambit in the recruitment of soldiers in his movement, like that shirtless young man who entered his barracks and eventually became a good element. The risk was that one of them killed Rockwell in cold blood simply because the assassin was already suffering from a previous mental disorder.
Of today's revolutionaries, unlike the retired Norman Spear, who in the past had connections with the Covington group, the James Mason fans who formed cells have suffered fatal in-fight shootings (such as the fatal shooting Rockwell received by admitting an insane person among his ranks). In other words, only sound-minded revolutionaries will be able to do something for the cause, and it is almost impossible to find them among Siege fanatics (remember Mason's lacrimae lunae of which I spoke in another recent entry).
The people already sense this. But they do not yet want the all-out, bloody battle, in which they would probably lose their color TV, their two cars and their electric lawnmower. They still hope they can win by some easy way. (page 316)
William Pierce saw this in his two novels, which every revolutionary racialist must read to understand what is happening.
How long before our masses of great Americans get mad enough to say, as we must, "To hell with all the pretense and fancy talk!"…

Racism is not only not "evil"—racism is our only hope! America will soon be ready for a leader who has gone through hell to preach pure racism, to fight for our White people, as a race, without any pretty excuses or cover-ups. (pages 317-18)
If the approach of Mason's epigones is defective, Nick Fuentes' approach is defective too. Christian 'optics' has been tried before and did not work. For example, just for an innocent joke from Fuentes about the holocaust, the media is now trying to assassinate his character as a 'holocaust denier'—completely ignoring the core of Fuentes' message: the cultural and ethnic changes by mass migration; the charlatanry of American conservatism, and the return to moral values as far as sexuality is concerned.
To conclude, the System will always label us as Nazis and Holocaust deniers. If so, why not, once and for all, speak with brutal honesty as Linder speaks? Why not abandon shy white nationalism in pursuit of Rockwell's neo-Nazism?
It makes no sense to worry about optics while the only optics endorsed by the System is that of those who, as Rockwell said long ago, is enforced by totalitarian leftists.