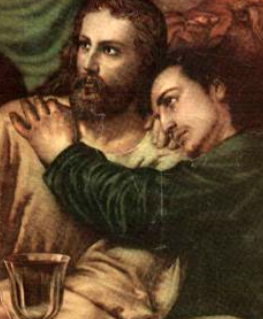 John leaning on Jesus' shoulder
Commenter Arch Stanton has stated more than once that he admires Jesus and Hitler. Recently he even used the word 'love' while referring to Jesus:
So what's not to love and respect about a man that successfully brought Jewish power to its knees through an act of selfless dedication to one's people. Cannot the same be said of Adolf Hitler?
In the same comment he also said about an anti-Christian commenter of this site:
Why do I get the distinct impression I am addressing one of the latest generation of Jewish troll-bots here?
When the commenter responded, Arch added:
What kind of logic is this if not Jewish logic? This is why I suspect Jewish troll-bots for some of the responses I see.
In the last months I've tried to communicate elemental realities to Arch; for example, that long ago I stopped reading his long posts (today he sent me a long email that I barely read), or that we don't take the New Testament as a reliable source of historical information. But he continues posting long comments (that I don't read) as if his preaching about Jesus will, finally, reach my ears.
This is the opinion of an anonymous visitor of this site:
I don't read Arch Stanton's comments at other WN sites, only yours, and while he puts quite a bit of effort into his long comments I am fed up of them because they are nearly always about Jesus, unhistorical nonsense. He is totally in thrall to the Jesus cult like so many Whites are. To be honest, when I see his name I mostly skip his comments. It's ridiculous to call Jack Halliday a Jew…
Arch Stanton is definitely, like you say, one of the very typical WN who can't see (or doesn't want to see) that Christianity is as problematic as the Jews, if not more so.
And in another communication:
I have a hunch that Arch Stanton's long comments justifying his Christianity whenever Christianity is the topic possibly betray a subconscious sense that he knows the Jesus figure is crap but just can't bring himself to give it up. Possibly. I could be wrong though but it is like he is giving a long explanation as to why he believes in Christianity all the time to justify himself before a crowd of stern anti-Christians.
Arch:
You have been pushing a persistent kerygma in the comments section of this site for a long time now. I have told you many times that the fact that Jehovah Witnesses knock my door, leaving brochures at my home, won't change my mind. Your behaviour in this site reminds me the behaviour of our ol' friend Matthew Crawford, the advocate of Christian Identity who, with amusing persistence, tried to sell us his theology even after, repeatedly, we asked him to stop.
I'll paraphrase my words addressed to you last month: Jesus of Nazareth is, like King Arthur, a semi-legendary figure. If you can provide non-biblical evidence that the Jesus of your novel is historical, you are welcome to continue to discuss with us (keyword: non-biblical). Otherwise, please stop. We don't believe in the stories of the New Testament.
I must tell you now what I told Crawford many times: there are plenty of white nationalist sites administered by Jesus lovers who, I am sure, will be delighted with your insights.